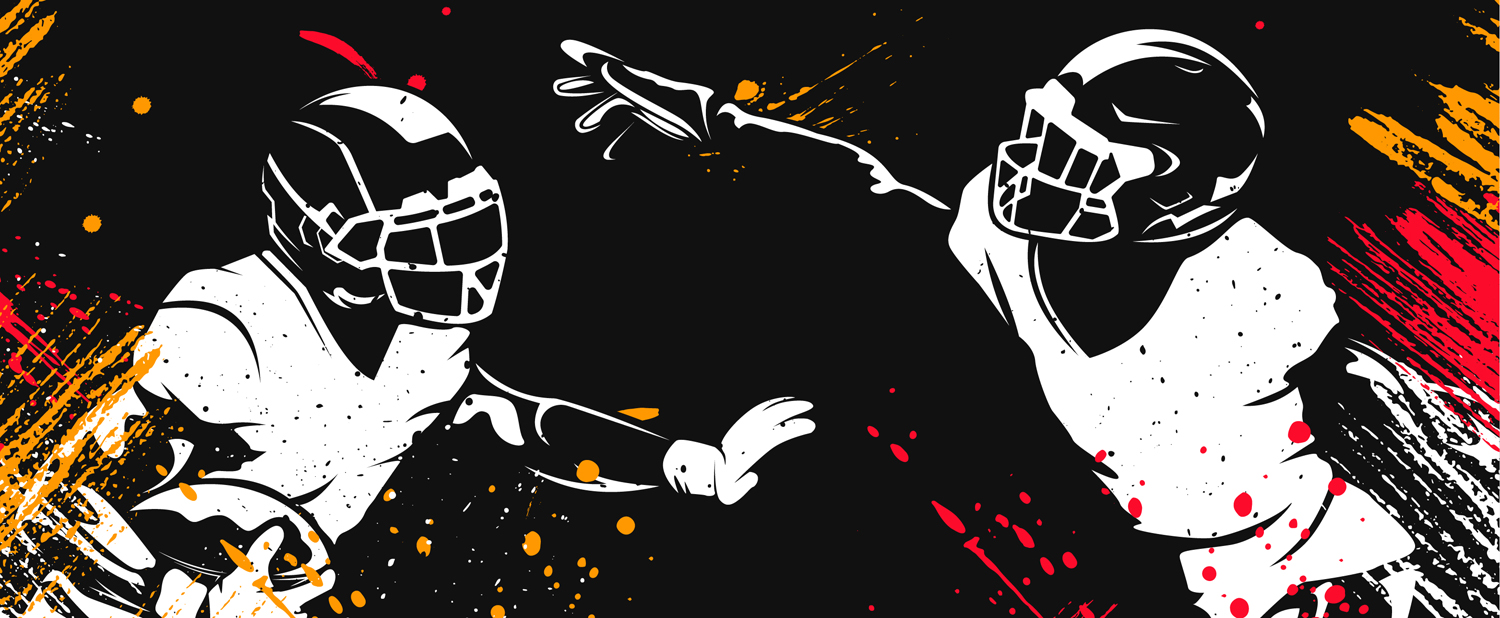 The best ways to stream the 2022 NFL season from anywhere
Has it been a year already? Honestly, it feels like an eternity and a half, but we're finally here. It's finally time to start the new season of America's favorite pass-time. Yeah, folks, it's finally time to kick off the 2022 NFL season. And we could not be more hyped!
The season kickoff is finally happening on the 8th of September with reigning champions Los Angeles Rams taking on the Buffalo Bills at SoFi Stadium. What follows is over five months of some of the most fierce competition the world of sport has to offer which will climax with the LVII Super Bowl on February 12th at State Farm Stadium in Glendale, Arizona.
The 103rd National Football League will undoubtedly be packed with excitement, as it is every year. If the training camps and the preseason (concluding on the 28th of August) are anything to go by, this is going to be a massively entertaining season. And fans all over the world are already stuffing their fridges with a season's-worth amount of hot wings and practicing their game face for Sunday
Despite the overwhelming hype that every NFL season comes with, it also brings about the ever-pressing issue: Where and how do you stream the games? Well, this year just might be that much tougher, and that much more confusing for all the fans that are pumped to gather around the TV every weekend. But hey, that's exactly what we're here to help you with!

ExpressVPN: The best way to stream the NFL 2022!
NFL 2022: New regulations, preview, and expected highlights
The National Football League released its 2022 schedule on May 12th. And for now, the line-up looks really exciting from the get-go.
In terms of regulations, the 2022 season will not see a lot of changes. Apart from the very welcome changes from the NFL Diversity, Equity, and Inclusion Committee, the only two big ones are:
Every team is guaranteed possession in overtime (applies exclusively to the postseason). This means that now every team will get its chance to respond even if the opponent scores an immediate touchdown.
The receiving team on kickoffs will remain limited to nine or fewer players.
As for this season's favorites, the Buffalo Bills are currently dominating the rankings. This is due to them having the best roster ever, as well as a great head coach Sean McDermott. Currently, all signs point to them owning the season and taking the Super Bowl. But you never know.
The Tampa Bay Buccaneers are hot on their tails, however. In large thanks to Tom Brady having the shortest retirement ever, but it must have been for a good reason. Plus, the Bucs do seem to have the overall most talented roster in the division.
And AFC West, to quote Jeffri Chadlha, "might very well end up being the best division in football history". Both the Broncos, the Raiders, and the Chargers have added great players to their roster, and The Chiefs are simply owning the entire division.
Actually, so far, every division looks as good as it can for the start of the season. And some teams are as peak as they have ever been. So this should make for a highly entertaining season.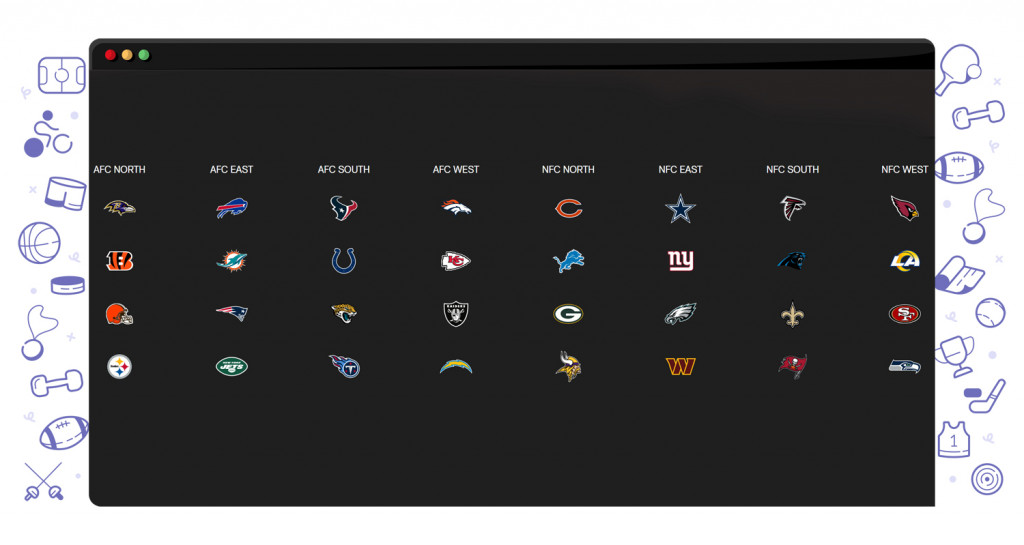 Now the question is: Where can you watch it? Or can you even watch it?
Who will be broadcasting the 2022 NFL season?
Streaming sports has always been difficult and confusing. And the NFL just might be the most difficult and the most confusing sport to stream. So far, 2022 is not doing anything better to help with that.
Up until 2022, every fan's go-to place to stream anything NFL used to be the NFL Game Pass. However, starting in 2022, the NFL discontinued the Game Pass in the US, launching the NFL+ app in its stead. This, however, is an objective downgrade to what the Game Pass used to offer.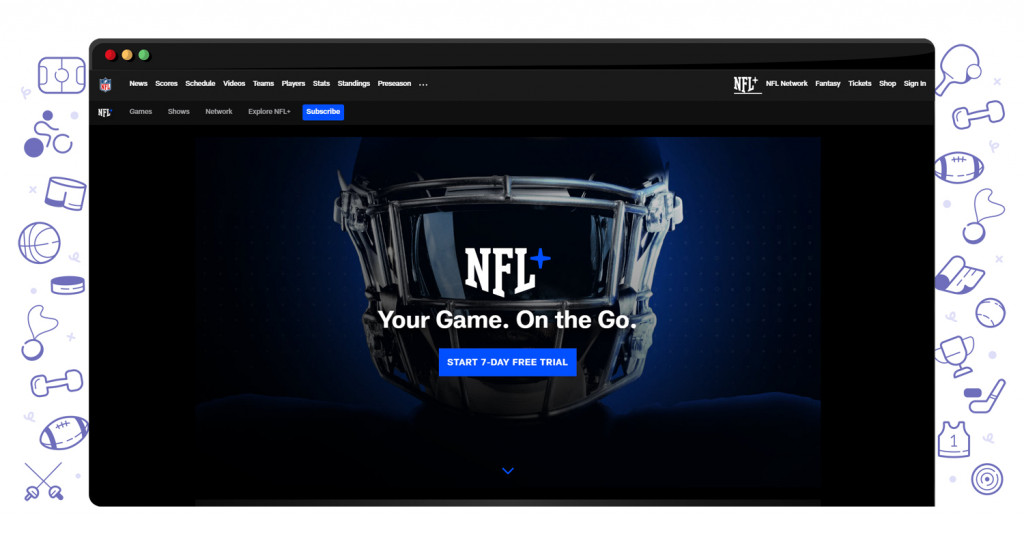 While cheaper, NFL+ only lets you follow one team within your home market, a lot of pre-season stuff, local and prime-time Regular Season and Postseason matches, and lots of additional content with the Premium subscription. It can cost as low as $29.99 a year, but then you can only watch the games on your phone or table.
Yeah, we can see it now: fighting with friends over who gets the old iPhone for the next five minutes. You had your turn, Sharon!
But it's not like the rest of the world has better options.
Believe it or not, there are NFL fans outside the US. Because it's an awesome sport. But they might not be fairing better than the American fans.
DAZN, for example, got its hands on the NFL broadcasts in Canada, Germany, Austria, Switzerland, Italy, and Japan. All of the NFL matches are locked behind a pricy subscription and there's no getting around it.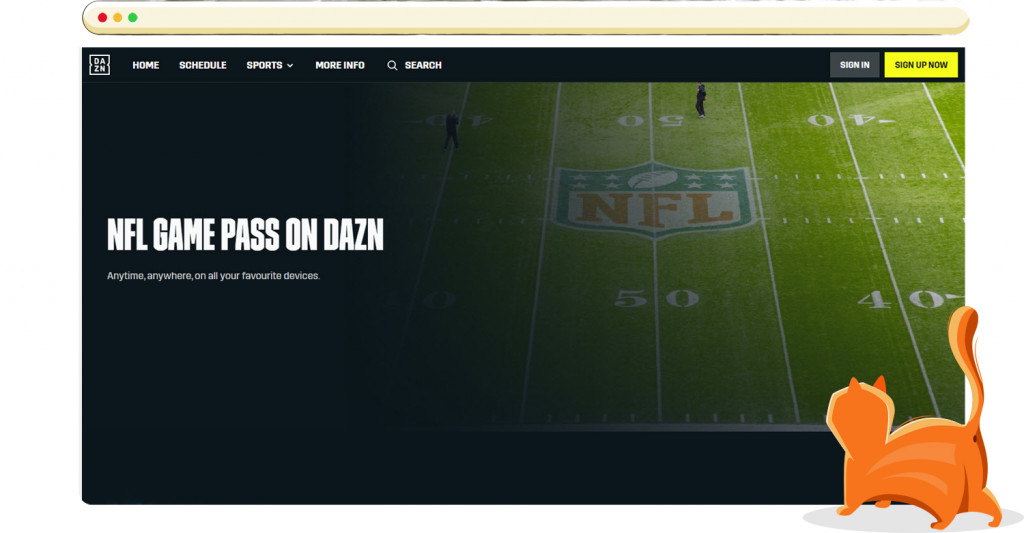 In the UK, the only way to follow the entire season is Sky Sports. In France it's beIN. And in some countries, it's a chore to even find who's streaming the NFL.
Why is that? But, even more importantly, how do you fix it?
Is there a better way to watch the NFL?
Sports rights are expensive. And when it comes to something as popular, as big, and as American as the NFL, they get the most expensive. Thus, anyone who can get a hold of them is fast to hide the stream behind a paywall and call it a good year.
Ironically, the more popular the NFL is in a country, the tougher it is to stream. Which is exactly why you're stuck with NFL+, USA!
On the other hand, other places might get much better coverage but have fewer options to follow the games on occasion if they're not willing to empty their bank account for an NFL streaming subscription.
It's a bit of a mess, actually. And the mess is called geoblocking.
Want to know more?
Find out how geoblocking ruins your day everyday
Geoblocking prevents most of us from enjoying our favorite sports, movies, and shows. And that sucks!
However, it's not all bleak on the horizon. There's currently one thing that can take your righteous side in your fight against geoblocking: a VPN!
---
Although, any VPN won't do. The NFL has the strongest blocks in the entire streaming world. So there's only one VPN provider for the job: ExpressVPN!
There are a bunch of reasons why ExpressVPN is best for this job, but we're going to stick to the main ones:
Sports blocks are tough, and ExpressVPN is currently the only VPN provider that makes overcoming them its business. So it can handle anything!
With a slew of super-speedy servers all over the world, this is probably the only VPN than can unblock anything from anywhere.
Speaking of speed, ExpressVPN is the prize running back of the entire VPN world. It's fast. The fastest, actually.
Want to know more?
Check out our mastodon of a review!
Now that that's out of the way, let's talk streaming!
The best ways to stream the 2022 NFL from anywhere
This was not easy. But to save you the trouble of going through the streaming labyrinth that is NFL streaming, we've done all the work for you.
So strap in, it's going to be a long one!
White 80!
NFL Game Pass International
This one goes out to you, America!
Blackouts were bad enough, but NFL+ is somehow even worse. However, the good old NFL Game Pass is only gone in the US.
And the rest of the world… well, it doesn't just still have it in all of its glory, in most places, it's not even subject to blackouts, giving you access to EVERY GAME in the season! Additionally, the International NFL Game Pass also gives you the NFL Red Zone, NFL Originals, and additional NFL programming. This is basically NFL heaven.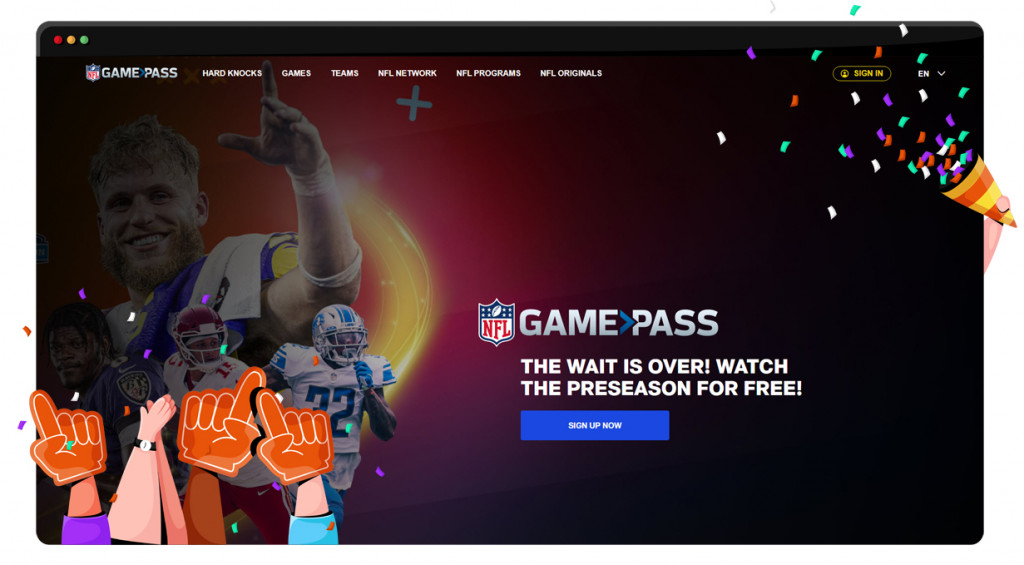 Maaaan, if only there was a way to get your hands on some of that goodness! Well, there just might be one.
Getting an International NFL Game Pass might seem like a hassle, but with the right tools, it's not. And, c'mon, if you are a true NFL fan, no mountain is high enough. Plus, if you play your cards right, you might even be able to snatch the Game Pass up for cheap.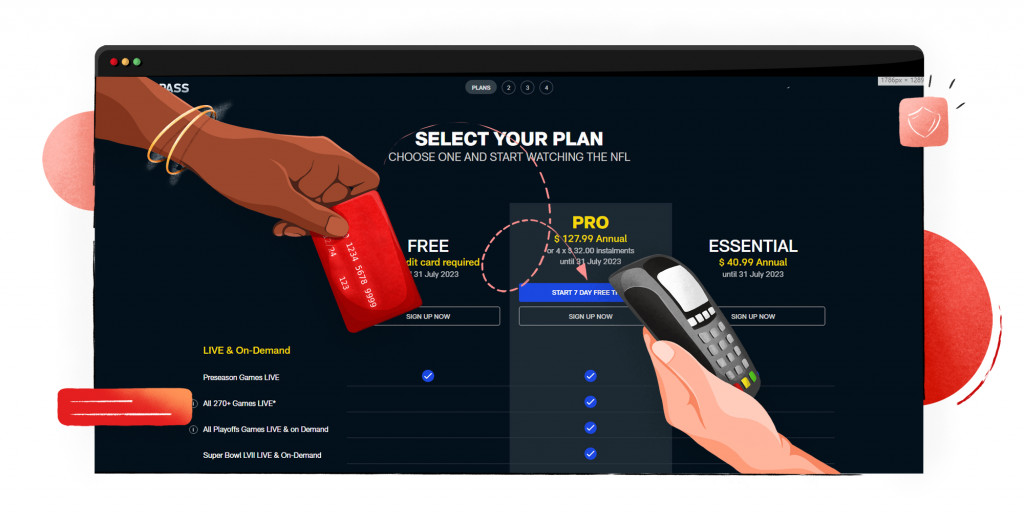 Here's everything you have to do:
Get ExpressVPN. This is the most important part of the game plan.
Connect to a server where the International Game Pass is available.
If you want to get all the games without blackouts, most European countries will do (except for the UK and Ireland).
However, if you want to get all of the games and the best Game Pass deal, you are going to have to venture out into the Asia-Pacific territory. Currently, India has the best deal, giving you a nearly 35% discount on the best plan.
In order to take out your brand new Game Pass subscription, you are going to have to pay for it using local payment methods. This might seem impossible, but it's not.
With a service like Wise, you can create a local bank that comes with all the credentials you need.
Sign up and enjoy! Just don't forget to keep your VPN enabled!
7Plus
What's better than a bargain?! When you get things free, of course! And while NFL isn't exactly known for handing out free streams, we found what just might be the best way to enjoy NFL 2023 for free. It's the Australian 7Plus streaming platform!
7Plus's amazing deal with the NFL has begun in 2014, and ever since then, it's been one of the best places to follow the NFL completely free!
7Plus (as well as 7Mate) will broadcast all of the Sunday games live and free, as well as plenty of additional action including the Playoffs, the Pro Bowl, and, of course, the Super Bowl.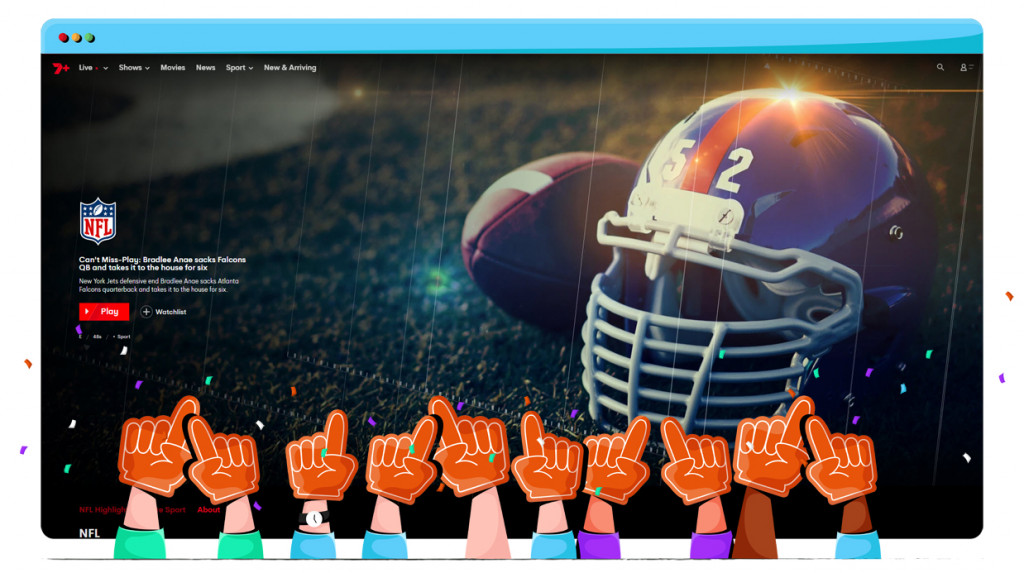 If you're a fan but are not willing to commit to a lengthy and expensive subscription, this, THIS is the place to be. The only problem is that the 7Plus is an Australian streaming platform and, thus, only available in Australia.
Problem? Never heard of 'em. So here's what you do:
Get ExpressVPN, download, and install the app on your preferred device.
Connect to one of ExpressVPN's stellar Australian servers (best in the industry, actually).
Open the 7Plus website and stream, oh my God!
ProSieben and Ran.de
After a detour down NFL street last year, Germany has seemingly taken a liking to American football. So much so, that in 2022 the country's many streaming platforms and services will be broadcasting a game every Sunday, instead of just the occasional match and the Super Bowl.
The best places to get the most out of 2022's season of the NFL are ProSieben and Prosieben Maxx which will be broadcasting all the playoff games, the Pro Bowl, the Super Bowl, and two games on each match day, and Ran.de. which will be streaming a Sunday game every week. Oh, and by the way, all of this is live and free!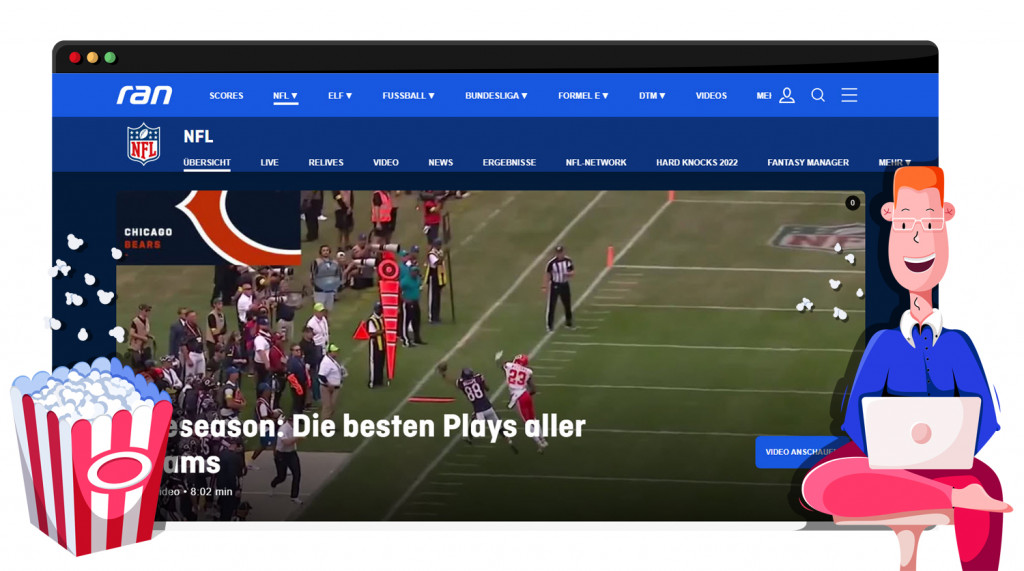 And, of course, ExpressVPN has got your back every step of the way to bring you the best of German NFL streaming. Here's everything you have to do:
Get ExpressVPN.
Connect to a server in Germany.
Join both ProSieben and Ran.de streaming platforms to get the best coverage by making a couple of free accounts.
Come match day: ENJOY!
Peacock TV
NBC's Peacock TV may have had a rough start, but that's all about to change. This year NBC and Peacock TV will be live streaming every single 2022 NFL Sunday Night Game!
Sure, this is not the entire season, but we all know that real football happens on Sundays! Additionally, the streaming service will also feature the Playoffs, occasional Thursday Night Games, and a metric ton of signature NBC content! And it's all just $4.99!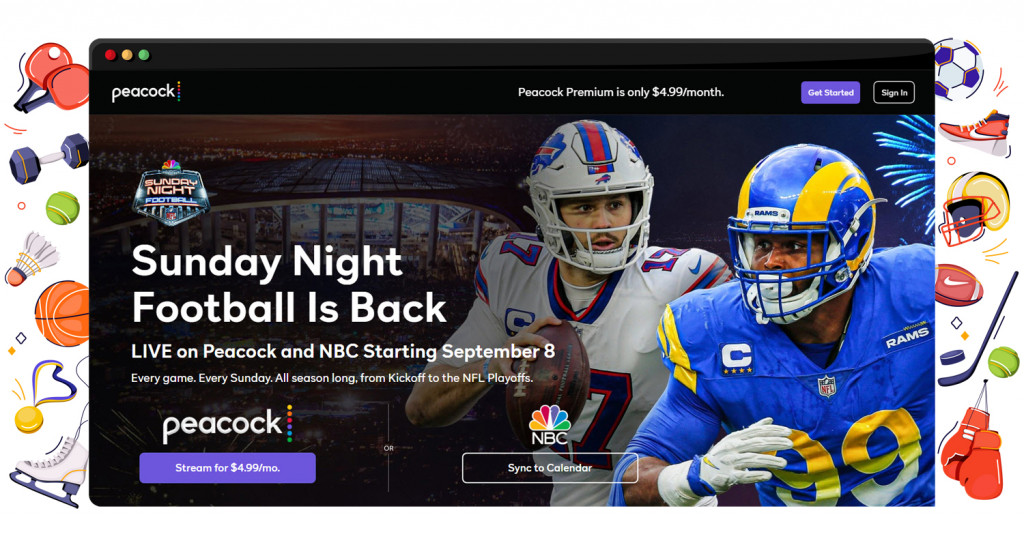 This is great news for any US NFL fan, but what about the rest? Well, here's what you do:
Get ExpressVPN!
Connect to a server in the US.
Head straight to the Peacock TV streaming service and create an account.
While Peacock does have a free subscription option, the NFL streams will only be available with the Premium subscription and you can only get one using a local payment method.
Not to worry, US Unlocked and Wise have got you covered. So pick your poison, create a virtual bank account and use it to subscribe.
Get your football-shaped pizza ready, it's game time!
Paramount Plus
If you are a fan of the AFC Division, Paramount Plus is the place to be!
This little platform snuck up on the streaming world and is currently taking it by storm thanks to it streaming every game CBS has to offer. This includes local Sunday afternoon games, any other games that are broadcast by CBS in the local market, The NFL Today, and so, so, so much more!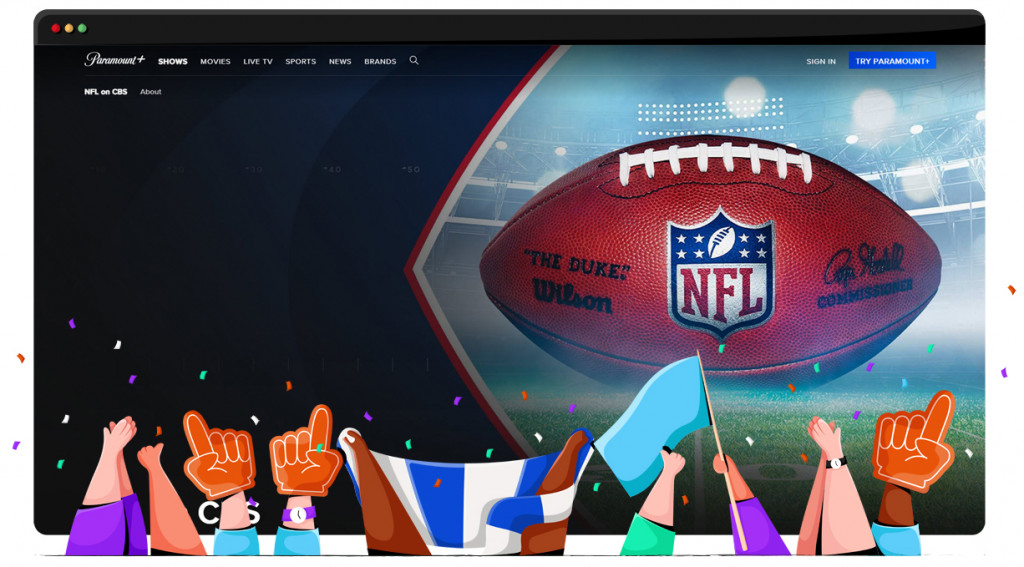 So far, Paramount+ just might be the perfect place to follow some of the most important games of the season without having to commit to a pricy subscription. Especially given that Paramount's monthly price can be as low as $4.99!
The problem? Well, obviously, Paramount Plus in all of its NFL streaming glory is only available in the US. So if you are looking to take out a subscription from outside of the country, here's what you do:
Get ExpressVPN!
Connect to a server in the US and head over to the Paramount Plus streaming platform.
Make sure the market you connect to has all the games you want to watch.
In order to subscribe to the platform, you are going to need a local, US payment method, which you can easily get using services such as Wise or US Unlocked.
Fire up your subscription and enjoy the games!
Amazon Prime US
Sunday games too mainstream? How about a full 2022 season worth of Thursday games?!
As you may have heard, Amazon Prime Video struck a deal with the NFL this year that gives it exclusive rights for streaming Thursday Night Games! So you know what you have to get to stop the family from fighting on Thanksgiving!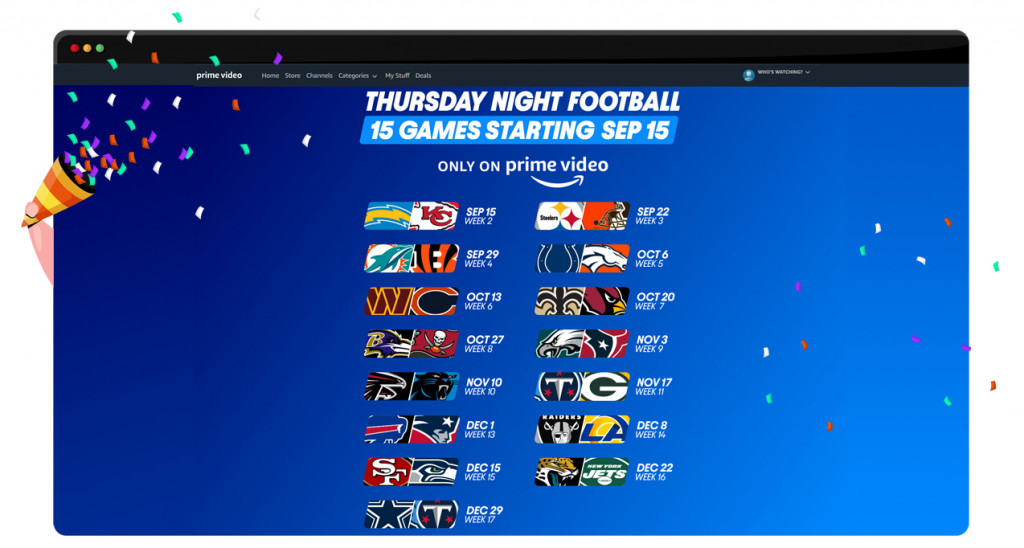 The catch in this case (because there's always a catch) is that while Amazon is a worldwide streaming platform, the Thursday Game streams are only available on the US version of the platform.
Fortunately, though, with a powerful VPN, you will be streaming Thursday Night Football in no time. All you have to do is:
Get ExpressVPN, of course.
Connect to a server in the US.
Open Amazon Prime and apply for a new account which comes complete with a 30-day trial version.
If you already have an account, log out of it, otherwise, the only thing you will be seeing is one of those "Out of service area"  libraries with nothing good on them and definitely no NFL.
Subscribe to the service (you might want to get a virtual American bank card courtesy of Wise or US Unlocked here too).
Enjoy!
Cord-cutters: YouTubeTV, Hulu + Live TV, Sling TV, and fuboTV
None of the options sound appealing so far? You don't want to compromise on the greatest sporting championship of the year? Money is no object? Well, if that's the case, you have our respect and we've got you covered!
Cable might still be the best place to follow the 2022 NFL season in its entirety. However, not everyone has American cable TV, especially if they're… well… not in America.
Fortunately, it's not 1989 and you don't have to wrestle the antenna to see the broadcast. These days, TV is perfectly streamable through cable-cutting services. YouTubeTV, Hulu + Live TV, fuboTV, and Sling TV all carry most if not all of the American channels that are broadcasting the NFL. And if you have the right tools, you just might be able to watch all of it outside the US as well!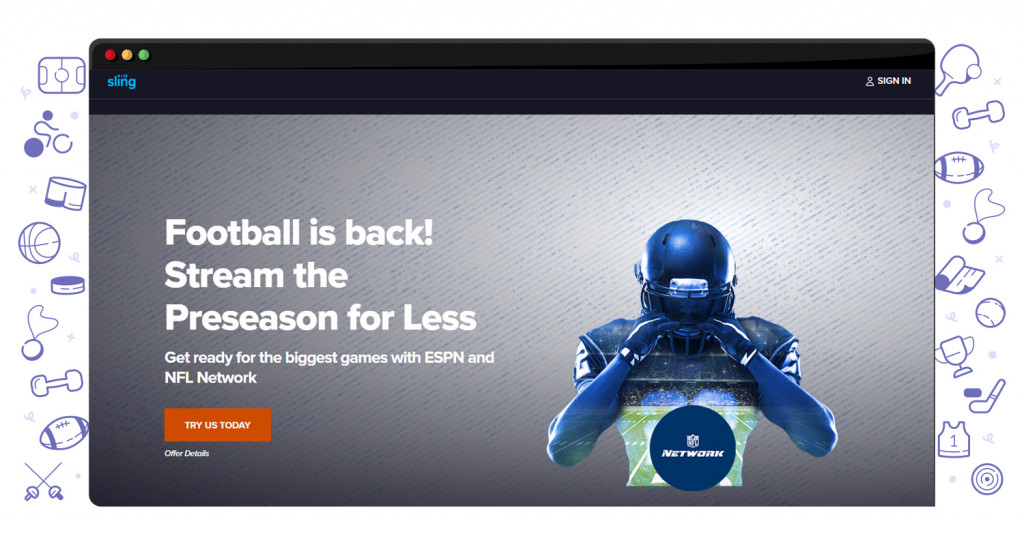 The cable cutting services are tough to unblock, and they are pricy, but for any fan with a dream (and the right streaming unblocking tools), that's no obstacle. So:
Get ExpressVPN!
Connect to a server in the US and apply for the cable streaming service of your choosing (our current personal favorite is Sling TV, because it's twice as cheap as the rest).
Usually, cable-cutters accept all kinds of payment methods, but if you don't want to be overcharged, you might want to turn to Wise and US Unlocked for their cool virtual bank card services).
Create an account and enjoy!
You might not think you have any use for this option in the US, but cable streaming services are as much subject to local blackouts as regular cable. With the help of ExpressVPN, you can alter your virtual location and stream out-of-market games without having to go on a road trip.
ITV
Maybe you're not one to religiously follow every single game, but are interested enough to watch the highlights, an occasional game, and some good commentary. Then, subscribing to a new paid platform is definitely off the table. But you know what isn't? – ITV!
That's right, we're moving across the pond for this one.
In the UK, this year the rights to some of the NFL broadcasts have shifted from their traditional home on BBC, to ITV for the coming three years. This year, ITV will be streaming the highlights of every game, two out of three London games, as well as the Super Bowl and a completely new weekly show with some of the best commentators in the business: Laura Woods, Osi Umenyiora, and Jason Bell.
So if the NFL has always had your curiosity and you want to see whether it'll grab your attention, ITV is the place to be! Oh, and it's free!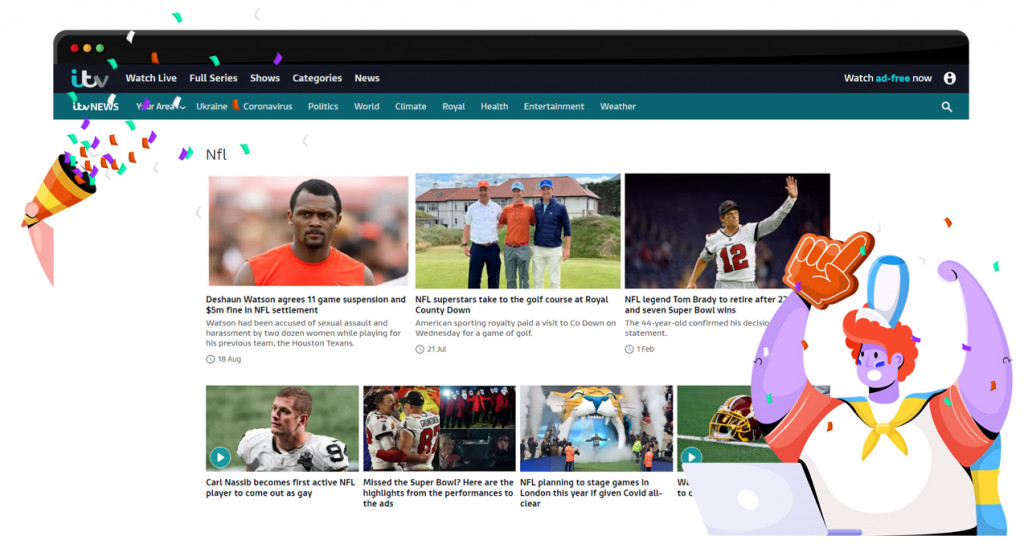 Awesome as ITV HUB might be, it's only available in the UK, and ever since it acquired the rights to the NFL it's been ramping up security like crazy. However, it's still no match for ExpressVPN, so:
Get ExpressVPN!
Connect to a server in the United Kingdom.
Visit the ITV HUB website and create a free account. As a formality, you are going to provide the platform with a UK postcode, so here're a few: KT1 4DW, PO39 0ET, KT14 7EN, OX1 3EX, NE37 2HR.
Watch it all, finally!
Juke the restrictions, stream the NFL!
This has been a long trip, but it's one that's worth it!
Streaming the NFL is a tough cookie to crack. The streaming options keep changing, the familiar streams get shut down, and your options of watching the Sunday Game keep getting slimmer and slimmer. We want to change that!
This year you get to watch everything on your own terms. Whether it's every single game, the highlights, or the free version –it's your call and you now know what you have to do!
Just don't let the beer get warm among all the excitement ?