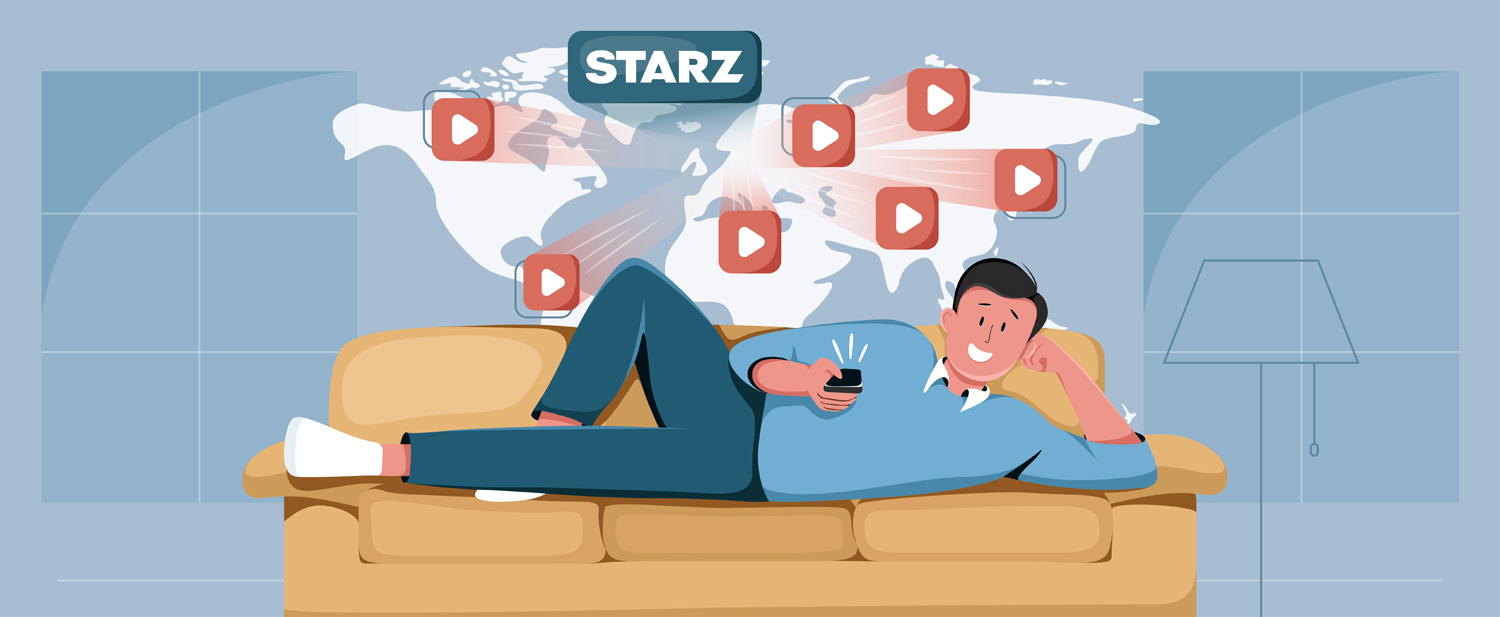 How to stream Starz outside the US?
Starz is one of the unrecognized cable and satellite television networks despite registering impressive subscriber growth in recent years. On balance, it commands a fair share of the US market being home to binge-worthy TV shows like 1st Amendment Stand Up, Outlander and Power. The latter highly-rated TV show is especially the beneficiary of Starz's emphasis on original programming after its acquisition by Lionsgate, having seen several shows spun around it.
It's difficult to emphasize how many original shows Starz has put out over the years. From a Milkyway's worth of historical epics, political dramas, white-knuckled sports series, to some of the best comedies you will find on TV. We are willing to bet anything that Starz is home to at least one of the series that you can't get enough of!
And yet, Starz doesn't seem to be getting all the love it deserves.
Perhaps it has something to do with Starz being lost in the sea of other streaming services. Or maybe the streaming platform has trouble reaching a wider audience. Or the aforementioned wider audience having trouble reaching Starz's cosmos of shows, movies, and broadcasts.
So we thought we'd give Starz a helping hand and talk about everything that makes it awesome, as well as help anyone enjoy everything the platform has to offer wherever they are.

Tired of reading?
Check out Srarz yourself with ExpressVPN!
What's on Starz?
As you would expect of any top entertainment network, Starz provides a mix of everything. The network's shift of focus to original programming since 2016 hasn't prevented it from delivering a cocktail of compelling content beyond originals and exclusives.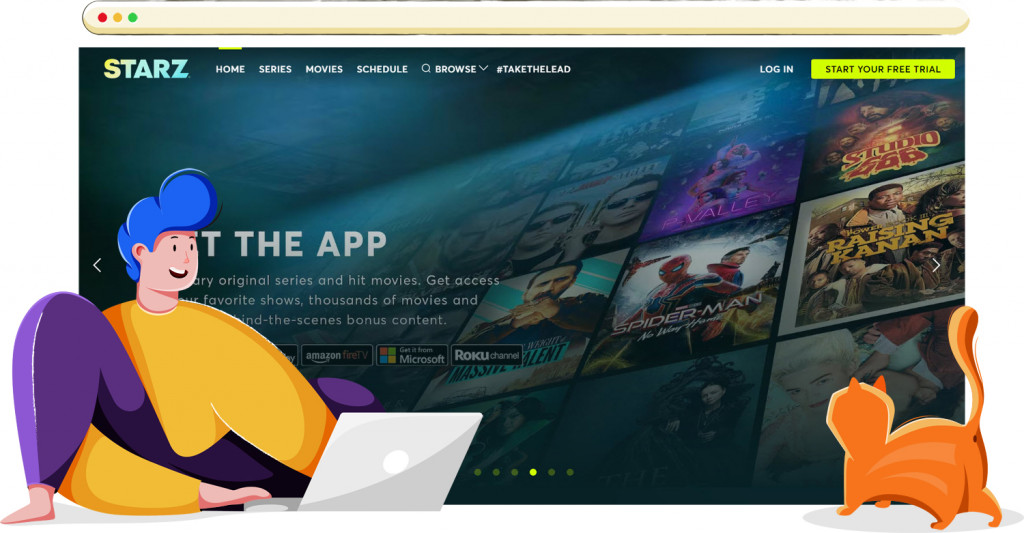 To give you an idea of the actual breadth of content on Starz, here's a bit of what you can expect on the platform.
Movies
Speaking movies on Starz, you will get some of Hollywood's best works, including the Spider-Man and Venom franchises. This should be enough to get any Marvel fan hooked, but we will keep going.
Other titles you can explore on the streaming platform include The Planet of The Apes franchise, Heat, Cage, The Equalizer, Destination Wedding, and Ghostbusters: Afterlife. Some of the latest additions on Starz are The Devil You Know, Alice, and Once Upon a Time in Hollywood – a modern classic in its own right.
This is but a fraction of all the movie action Starz has got going for it. In fact, Starz has enough films, and enough great stuff on it to rival the likes of Paramount+, Showtime, or any other movie-streaming platform.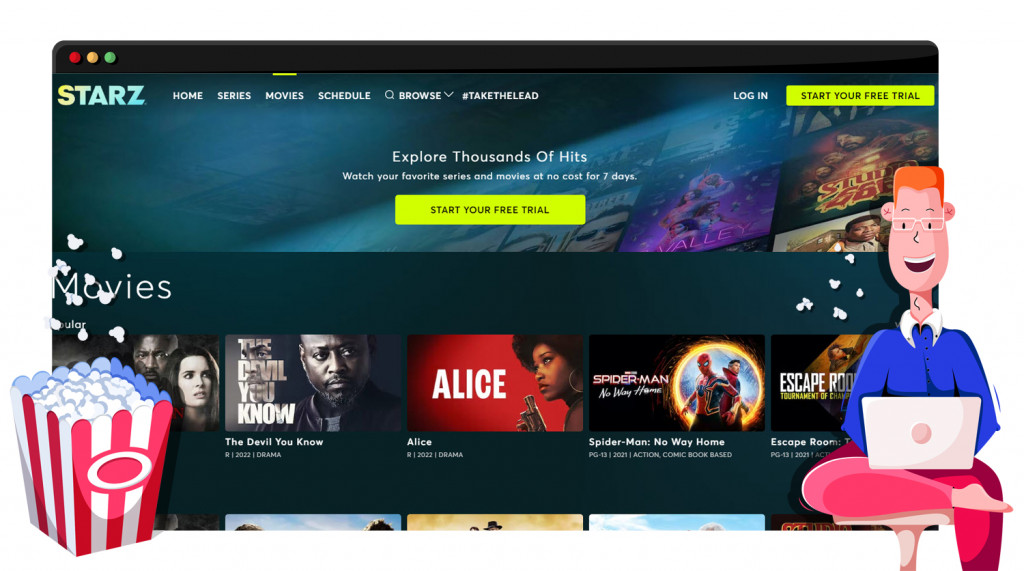 Series
However great the movie selection, the true test of any modern channel or streaming platform is the shows. And Starz can go toe-to-toe with just about any other streaming platform.
The network has turned out many awesome originals, and it has truly ramped up production in the last few years. Thanks to the platform, we have been treated to gems such as Black Sails, Davinci Demons, The Girlfriend Experience, and the awesome American Gods.
That's not all though. Other popular shows you'll find while browsing the platform's catalog are The Serpent Queen, Becoming Elizabeth, The White Queen, and Damages.
Oh, and we almost forgot – Starz brought us the Outlander series. And this alone should be enough to land this little streaming platform among the very best!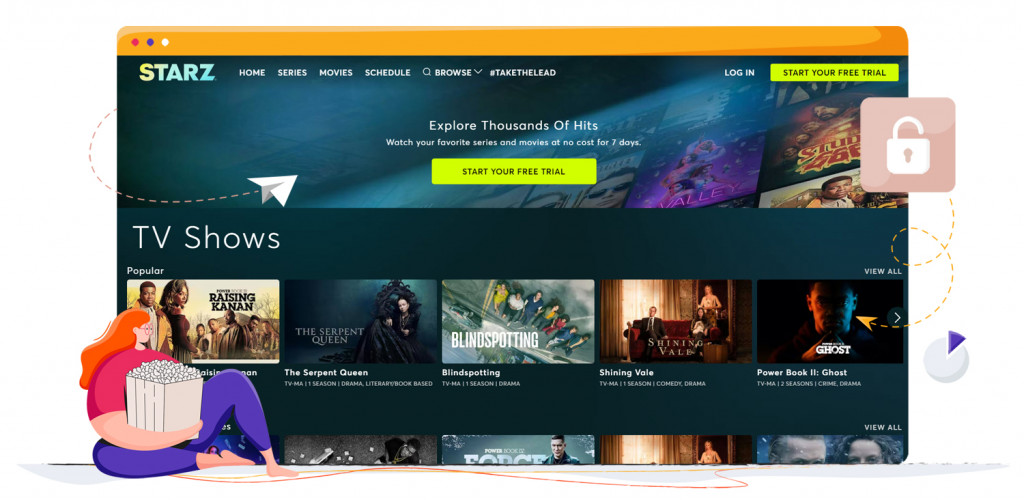 Scheduled broadcasts
There are so many streaming platforms around these days, it almost makes us miss regular TV. Fortunately, that's not an issue with Starz, as on top of its own asteroid shower of movies and hit shows, the platform also features scheduled programming for those who just want to tune in and catch the first thing that's showing.
Thanks to a slew of channels that Starz has under its umbrella, you will probably never run out of streamable options. And these include Starz Edge, Starz Encore, Starz Kids & Family, Starz Encore Black, Starz Encore Classic, Starz Encore Suspense, Starz Cinema, and Starz Encore Action.
That's enough to never stop watching!

Is Starz accessible from outside the US?
Starz's full-scale content might be too tasty a treat to let go of, but if you're leaving the US, say, traveling abroad, you might have to pause on that or not.
The network's subscription-based model is only selectively available to subscribers in the US and some of its territory. Any attempts to access content on the platform outside the US end up with the pop-up: 'STARZ online streaming services are only available through participating partners located in the United States or Puerto Rico.'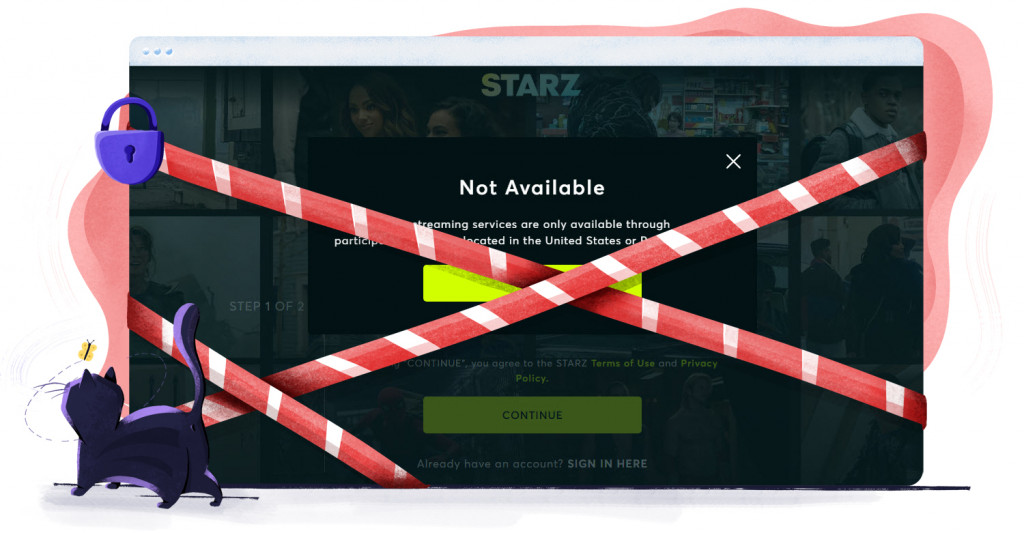 There are plans, albeit superficial at present, to extend this geographical scope to 35 other countries. The network's chief executive confirmed these expansion reports at the end of September amid an imminent separation from its parent brand Lionsgate. Lionsgate intended to spin off Starz but has since resorted to spinning off its studio.
The new service targeting a wider audience will operate as Lionsgate+ while the Starz brand will be retained for the existing US market.
---
That's not to say that every other country goes completely Starz-less. The platform's content can often be found on other streaming platforms that Starz struck a deal with. And this can be Sky, Amazon Prime, and sometimes even Netflix.

Want to get more out of Netflix?
Check out how you can get more content from Netflix!
However, honestly, this doesn't help much. Some of Starz's content is available in other countries and on other streaming platforms, but it's never all of it, nor does it compare to the original streaming giant.
So, what are we going to do here?
Can you still get Starz outside of the US?
We're not going to string you along for long. The answer is: Yes!
Even though at this point lots of places have a way to stream some of the content produced by Starz, it's rarely all of it, and it's rarely what you are looking for. To put it frankly, the latest season of Outlander will always be available exclusively on Starz. And it will take months, sometimes even over a year for it to make it to any other streaming platform anywhere else in the world.
But not everything is lost just yet. You can actually get your hand on the OG streaming platform and stream everything it has to offer without having to turn to the help of middlemen that are never as good. And all you need to make it happen is a proper VPN service!

Want to know what a VPN is and what ti can do?
Check out our complete guide to VPNs!
So which one won't let you down?
Choosing the right VPN for Starz
For Starz, just as you'd expect of any geo-restricted streaming platform worth your time, you need the best VPN there is. That is the only way you don't only get to stream what the platform has to offer, you can keep streaming it and it won't turn into a chore.
So if you are truly looking for the best VPN to stream Starz, there's no substitute for ExpressVPN!
There are some alternatives we will touch upon next, however, none of them measure up to this:
First and foremost, ExpressVPN works for streaming better than any other VPN in existence. And at this point, there's no point in trying to catch up.
Powered by the pioneering Lightway protocol, ExpressVPN offers the best speeds of any VPN in the market.
The VPN's fast connectivity and robust security features assure a smooth and secure streaming experience.
ExpressVPN has distinguished itself by enabling users to stream their favorite content conveniently, unlike most top VPN services that are not entirely open to supporting the same.
On top of that, ExpressVPN boasts an extensive fleet of servers in the US that are fully optimized for streaming.
Accessing Starz involves breaking down some strict restrictions and ExpressVPN's user-friendly system-specific apps get the job done regardless of your streaming device.
Want to know more about ExpressVPN?
Check out our monster of a review!
As awesome as ExpressVPN is (and don't get us wrong, it is awesome!), there might be more options for streaming some Starz.
Other VPNs that work
Sure, anything else we mention pales in comparison to the likes of ExpressVPN. We rank it as #1 for a reason, after all.
However, we can't help but mention a few other VPN providers that will get the job done (almost) just as well as the little red VPN rocket.
The word's most popular VPN!
Overview
NordVPN is as close as an alternative to ExpressVPN if the mission is streaming Starz. Its US network has a huge fleet of speedy VPN servers that are right for streaming. And unique technology such as SmartPlay makes unblocking platforms an absolute breeze.
Overview
CyberGhost is equally a reliable option for unblocking the Starz streaming platform. It might be on and off with streaming, but the provider's low price and massive 45-day money-back guarantee give it a slight advantage over the competition.
A VPN with a powerful bite!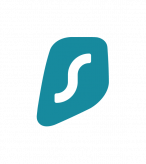 Overview
Surfshark is anything but the least alternative when it comes to unblocking streaming services. It might not have as many servers as the others, but it makes up for it with solid speeds, a slew of additional features, and some of the best streaming unblocking capabilities any of the VPNs can flaunt today.
Getting Starz outside the US
If you're already a Starz subscriber in the US who has traveled abroad and seen your access denied, your flow is rather direct here. All you have to do is choose a VPN, install it, connect to a server in the US, and you're ready to go.
However, if you reside outside the US, there are just a few more hoops to jump to tune your experience. Here's how to go about it:
1. The first step is the same: You start by choosing the right VPN. For the fastest, most reliable, and easy unblocking of Starz, your best bet is ExpressVPN.
2. Set up your account and connect to a server in the US.
3. All that's left is signing up for the service.
Starz supports credit card and PayPal payments, but it also requires local American credentials. Otherwise, the platform just won't let you subscribe. If you're having trouble with this step, you can turn to US Unlocked or Wise for help.
These virtual payment providers will hook you up with all the local payment credentials you ever need so you can subscribe to Starz like a true American!
Get a virtual bank account in seconds!
4. Now that you have your virtual payment card and your VPN, all that's left is to finish setting up a Starz account and start streaming!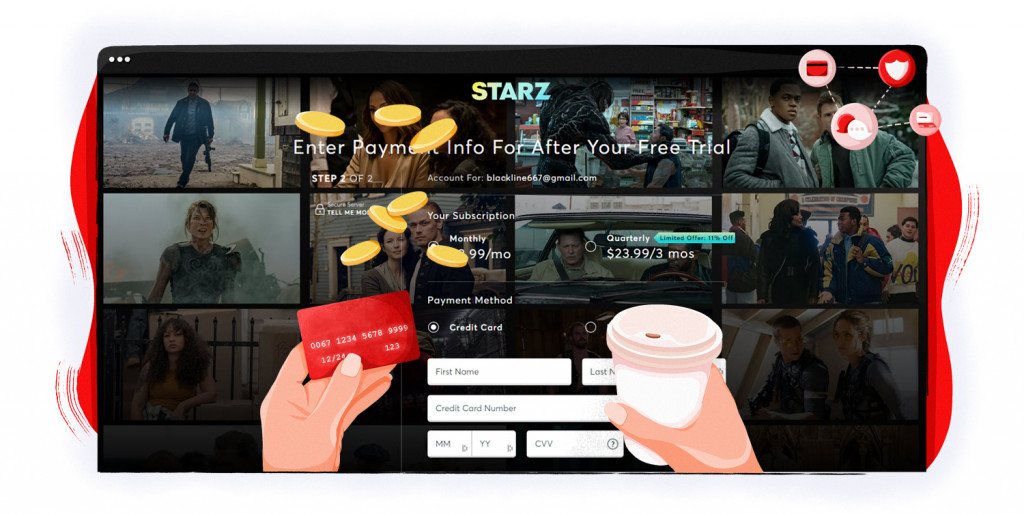 Reach for the Starz!
In a world where streaming platforms are popping up every single day, it's becoming increasingly difficult to find one that stands out. One that will provide you with legitimate entertainment, without having you question why you have a subscription at all. Luckily, Starz is one of those few, that still put value in legitimate entertainment.
Packed with some of the best movies, as well as an absolute galaxy of some of the best series, Starz definitely delivers. However, it might not deliver to everyone.
Fortunately, now you know what to do. You get yourself a powerful VPN, some awesome virtual payment providers, and 15-minutes of your precious time, and you'll once again have a series to get hooked on every night.
With Starz, the stars are the limit!