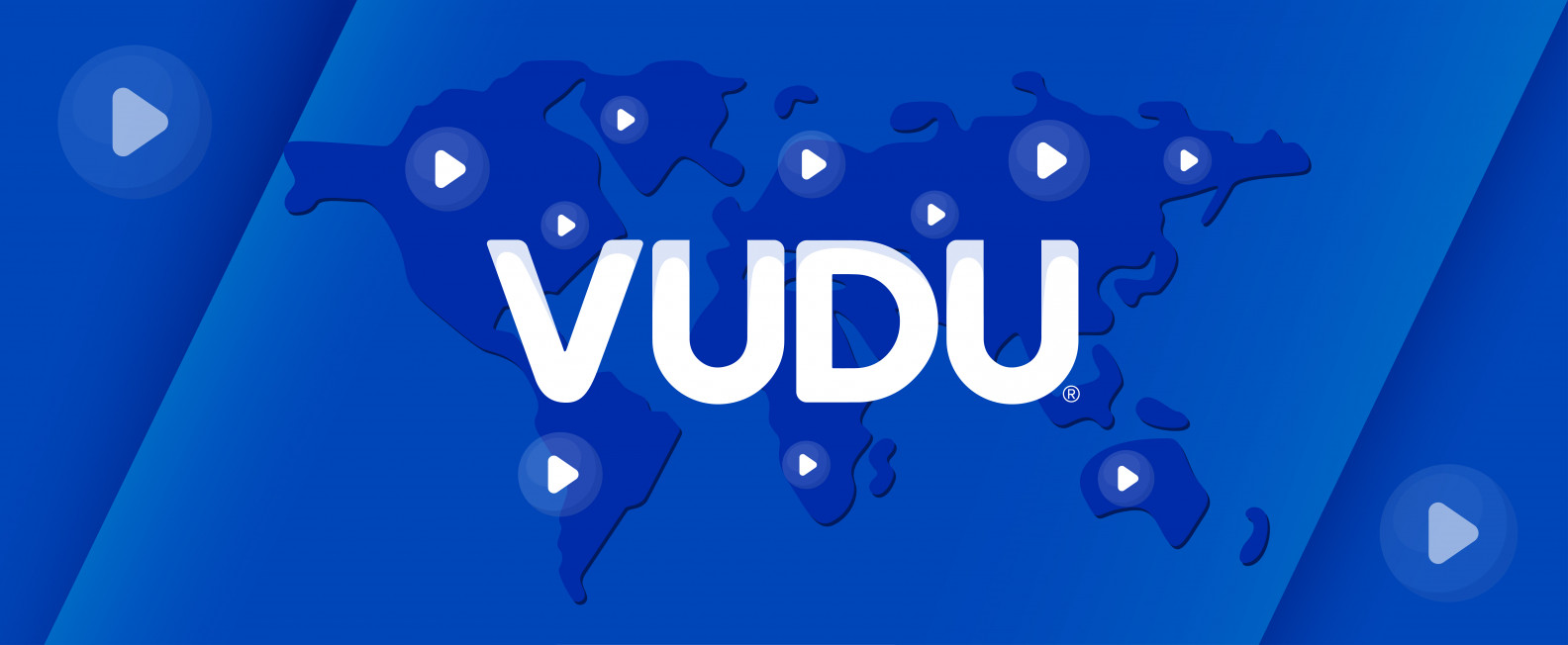 How To Stream Vudu Outside the US
Vudu has branded itself as one of the best streaming services in the US, but that is unfortunately as far as its reach extends – literally. And if you're here, you already know that this is a travesty that needs to change!
The platform has amassed and retained a loyal customer base over the years thanks to its convenient, and rather unique model, where users only need to pay for the content itself. In many senses, this is arguably much better than taking out a dozen streaming subscriptions only to watch the latest episodes of your favorite show. At the very least, it's certainly a great alternative.
Plus, there are exclusives, movies, shows, and free stuff! And who doesn't like free stuff?
This time we finally get into everything that is Vudu, what it has to offer, and most importantly, how you can enjoy it wherever you may be!

What's on Vudu?
Vudu has pretty much everything. You didn't hear this from us – but Vudu is the streaming platform that other streaming services go to increase their sales.

Want more streaming services?
Check out the best streaming platforms to stream movies!
It boasts a vast range of media content not limited to TV shows and movies from virtually all genres that users can rent, purchase, and watch.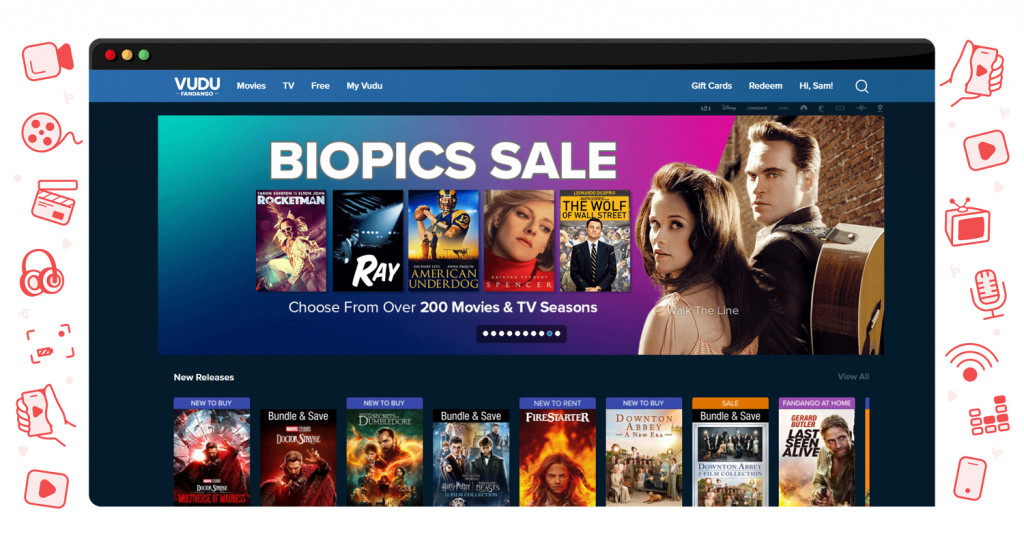 That's enough talking this platform up. We feel like specific examples are in order!
Movies
Vudu is all about movies, so you can be assured movies either yet to land or that have left other streaming services are bound to be here.
This is the streaming platform where you can find anything you can't find anywhere else!
In addition to new releases that end up on Vudu before they even leave the theatre, you can enjoy timeless movies from popular production names like Paramount, Universal Pictures, DreamWorks, Lionsgate, and Sony. We are talking the most epic of all epic franchises such as Sonic, John Wick, Sing, Despicable Me, The Jurassic World, Harry Potter, Jumanji, The Hunger Games, Shrek, both Marvel and DC movies in all their superhero glory, and more. So much more.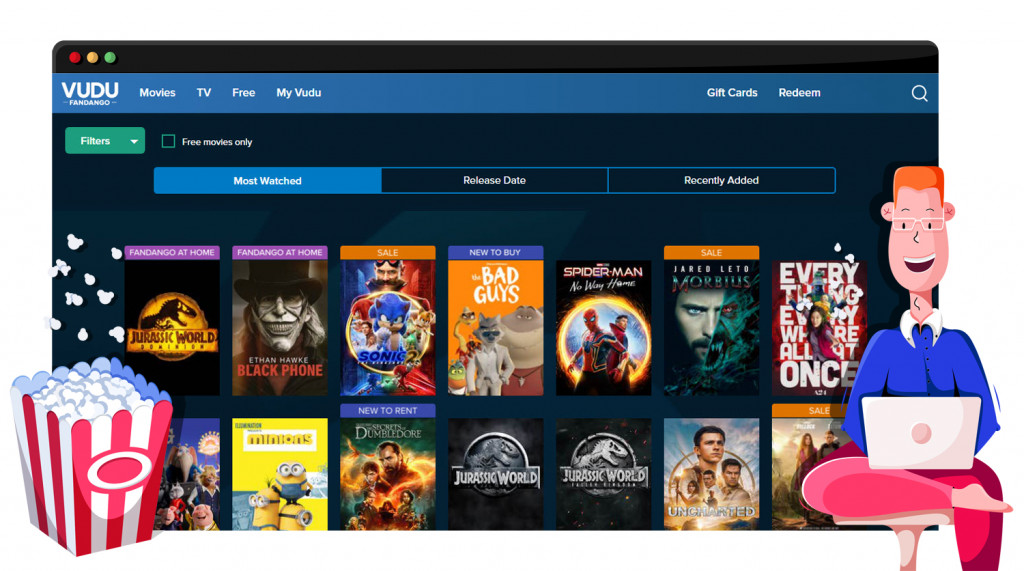 Shows
There is literally no top-rated TV show under the sun you won't be able to find on Vudu.
That does not mean you can't get other shows besides the crème de la crème of every genre. Pretty much anything that ever graced the small screen is available here to rent or buy no matter the streaming platform it came from originally.

Into series? Us too!
Check out the best streaming platforms for movies!
The list is endless: Game of Thrones and Succession from HBO, Yellowjackets from Showtime, and The Boys from Prime Video. Other streamable (that is an actual word, right?) shows include Better Call Saul, American Horror Story, The Office, The Americans, and Abbot Elementary.
Streaming heaven, isn't it?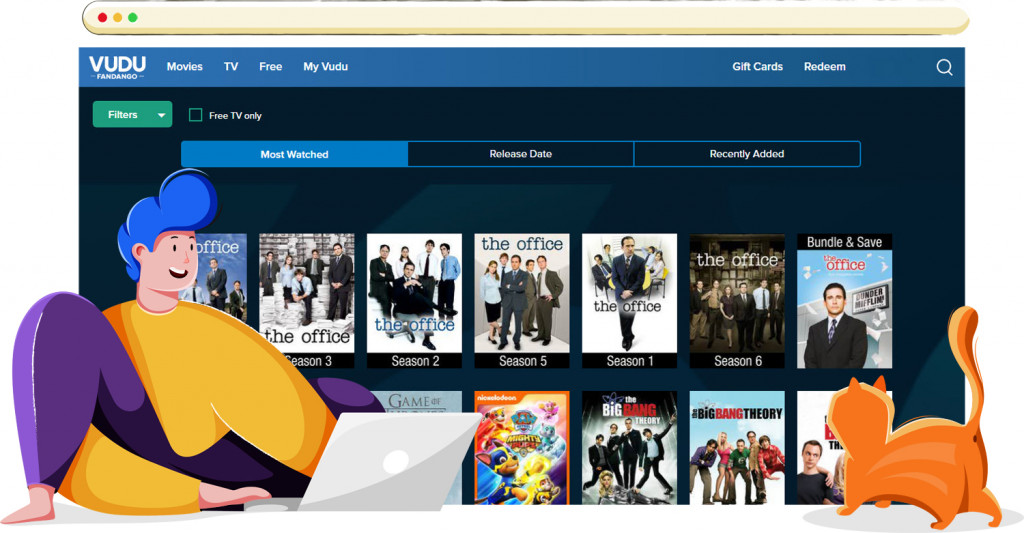 Free content
This may very well be the best part about Vudu. And it's already pretty sweet!
You can watch free (with ads) content on the platform, which is still a fair bargain. The movies and shows and movies that you can get for free do tend to fall into the B category most of the time, but, hey, free is free! And there's plenty to choose from!

Free streaming platforms? Is there such a thing?!
Check out the platforms you don't have to pay for!
Movies that you can stream with no issues or payments include Tekken, 24 Hours to Live, No Escape, Standoff, and the multi-media franchise Step Up. There are also a bunch of other things you can watch without a dime: TV shows like Hell's Kitchen and Sanctuary, standup comedies featuring various comedians, and documentaries like The Secret and Ancient World.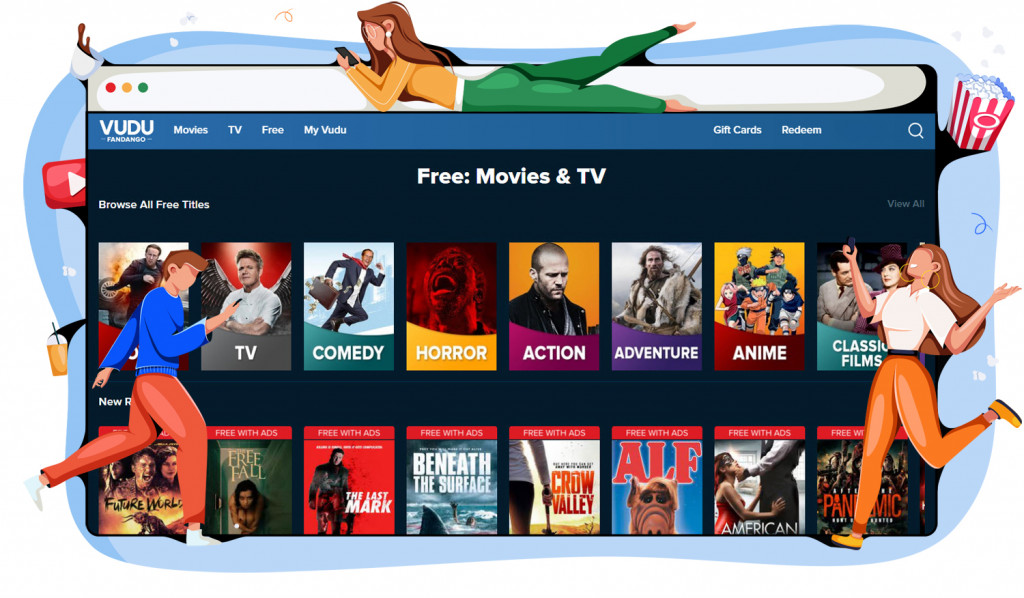 Is Vudu accessible outside the US?
For all the vast collection of high-quality movies and TV shows it hosts, Vudu is not available outside the US.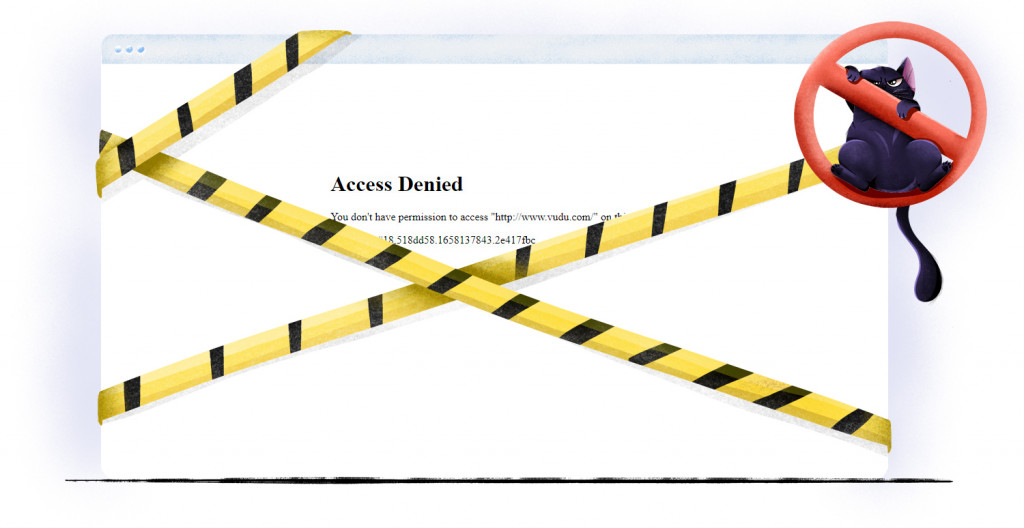 The previously Walmart-owned streaming video service announced plans to expand aggressively beyond North America in April 2012 to compete with the likes of Netflix. However, it has only managed to launch in one overseas home, Mexico, and as things stand, there is no intent to progress with the initial plan.
How to get Vudu in outside the US right now
As soon as you try to access outside the US, even on vacation, all you'll see is the most boring blocked page ever to be conceived by both humans and machines alike.
However, that doesn't necessarily mean that content on Vudu is inaccessible. In fact, it may very be but a click away. And to make it happen all you need is a VPN!

Haven't heard of a VPN before?
Check out everything you need to know about it!
But Vudu is like a vault of streaming goodness, so you can't just grab any old free VPN that you find lying around in the app store. You need the best. And the best VPN for streaming Vudu is undoubtedly ExpressVPN!
That's it. ExpressVPN stands out as the best VPN and we're not just saying that:
It's the best VPN all-around in the market. And part of why it remains unchallenged is its proven record in unblocking video-on-demand platforms and sports streams.
ExpressVPN has optimized US-based servers spread across 16 cities, giving you more than enough options to choose from.
It is also faster than any other VPN provider, thanks to its ultra-fast servers and pioneering Lightway protocol that makes the overall VPN experience worth every penny.
Want to know more?
Check out our full ExpressVPN review!
In addition, ExpressVPN's customer service is available around the clock. And it's not one of those "Your call is very important to us" customer supports either. ExpressVPN knows its stuff and will help you every step of the way with unblocking Vudu, or anything else you may want to.
This is truly the best VPN for Vudu!
Paying for content on Vudu from outside the US
Vudu has a bunch of good stuff available for free but to get the best, there is only one option – paying up. Because of course. Did you think it would just be giving the latest Marvel movies away?
For this, you need a local bank account. So if you just stepped outside of the US for a moment, you shouldn't worry. ExpressVPN will get you back to streaming in no time, and your US payment methods will work as usual.
For those outside of the US who want to get some Vudu streaming, things might not be as seamless. So how do you pay for Vudu content?
Glad you asked. Well, Vudu allows you to pay for a digital gift card with which you can buy movies using three options: – Google Pay, PayPal, and Credit Card. The credit card option is the most sensible as you can use a virtual prepaid card provided by a third-party payment system like US Unlocked or Wise.

Get an American bank account wherever you are!
All that's left to do once you have a fancy virtual bank account is load it up with enough funds. Depending on the TV show, purchasing a season in its entirety costs between $17 and $44, while standalone episodes are available for no more than $3.
Rental pricing for movies varies between $1 and $6, whereas purchasing price starts at $5, going as high as $25.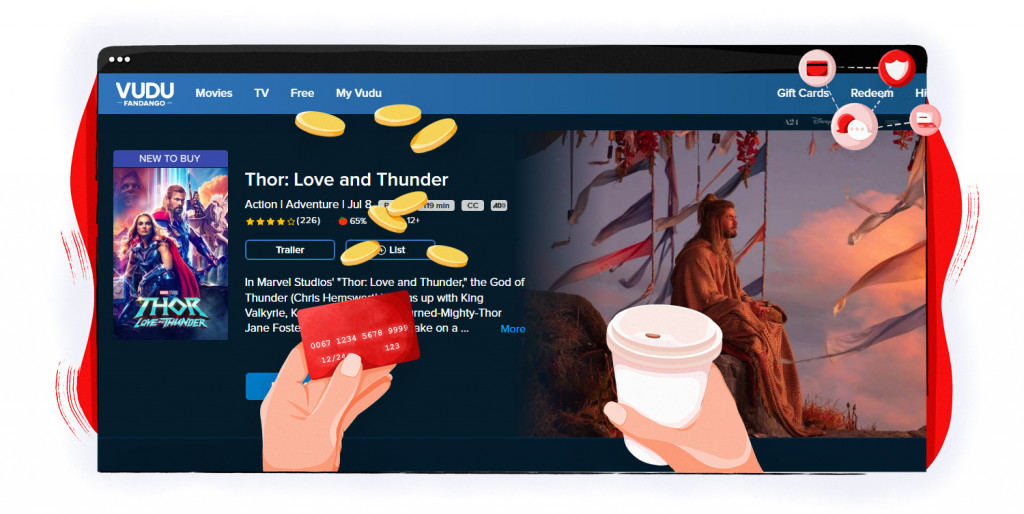 Magic People, Vudu People!
Right, this might not be the best way to end this guide, but when else will we get to use a Prodigy quote?!
Put simply, Vudu is awesome. And there's not much we can add to that. If you're done with bankrolling seventeen hundred streaming platforms just to be able to keep up with what all the zoomers are talking about at work, or if you simply long for the days when you could own something, Vudu is the streaming platform for you!
And if you thought that Vudu was somehow inaccessible to you, well, things are about to change. With the likes of ExpressVPN by your side, you can now unblock and enjoy anything wherever it might be streaming! So get to it, there's a lot to catch up on!