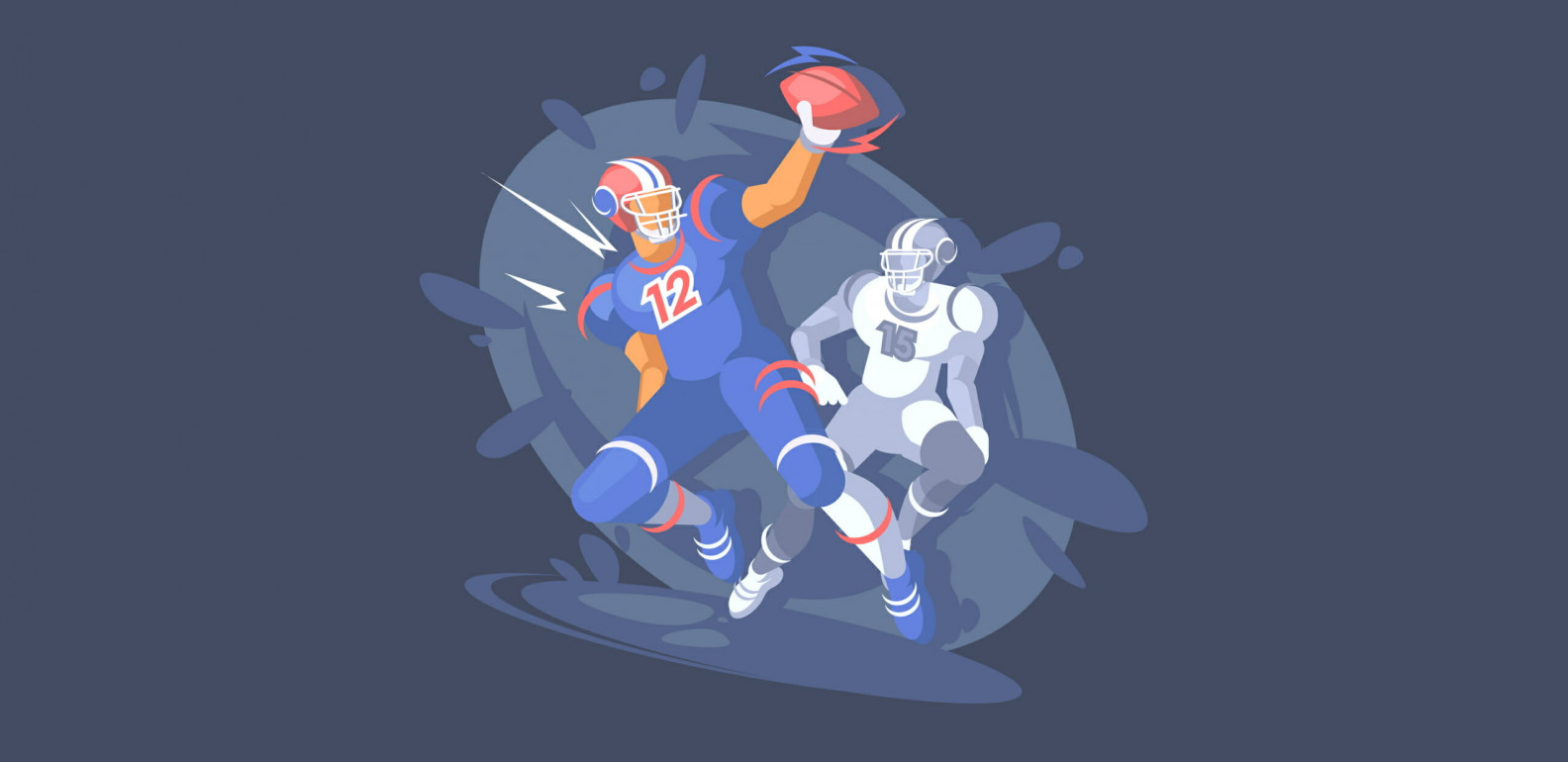 Every way you can watch the NFL for free from anywhere
The Roaring Twenties won't roar particularly loudly this NFL season. With stadiums packed at 22% of their normal capacity, the season will be a little quieter than usual.
Looking for a way to stream the NFL in 2021?
Some things will never change, though. The Jaguars will still stand around looking angry in between plays. DeSean Jackson will still look sexy in a black Nike top. Sciencey types will still reduce the entire season to numbers, and everyone else will pretend they understand those numbers. There's one important consistency, though: The season is going to dish up some thrilling play because you don't need a full stadium to dish up exciting action. With players like Peyton Manning and Brandon Bolden around, things are going to get hairy (or thrilling, depending on who you put your money on).
This year's broadcasting blackout restrictions are as complicated as a Diophantine equation, though, so you might miss it all.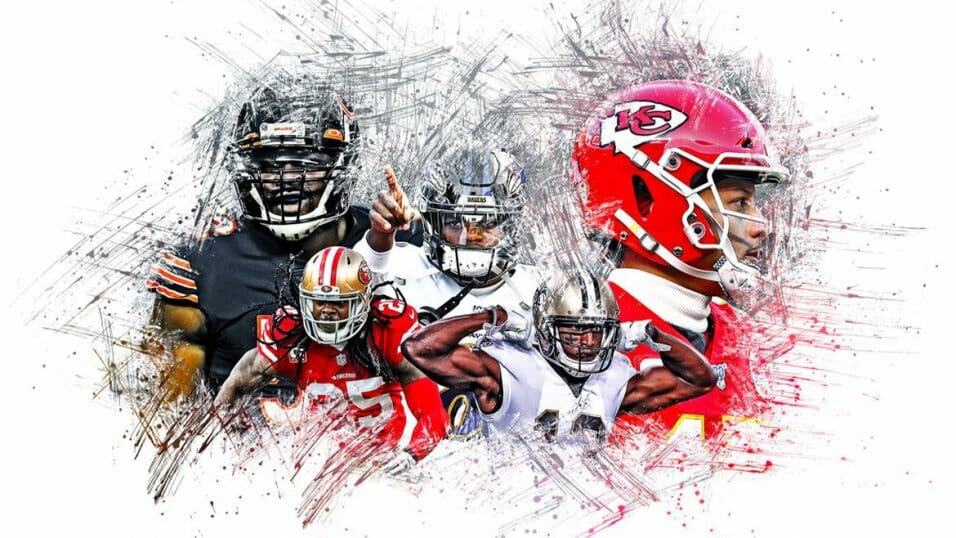 Are you blacked out?
Fox, NBC, CBS, and ESPN will serve up a steady diet of games if you happen to have a subscription. You can also watch the NFL Network online, but this is where things get complicated, so maybe you should fetch some popcorn before you continue reading.
You can buy a Sunday ticket from DirectTV or a Game Pass for the full season, but to get the latter, you're required to sacrifice seven virgin lambs and perform your NFL predictions through interpretive dance. Okay, we're kidding. It's not quite as simple as that.
The Game Pass is only available in 61 countries and for specific games. It won't give you access to nationally broadcast games or apply to live broadcasts. The pass for Chinese and Canadian viewers is just as obstructive. We bet you're wishing you could just do that interpretive dance.


Hulu, being the hero it is, is delivering the NFL excitement via the core channels.
YouTube TV has all channels except the NFL Network.
If you don't live in a blacked-out country, only cable replacement services with live channels and key coverage networks will do. That removes Amazon Prime and Netflix from your options. They only stream the Thursday games, so they'll only satisfy casual viewers.
Sling and fuboTV will bring you a respectable range of NBC regional networks, but not the Fox-owned options.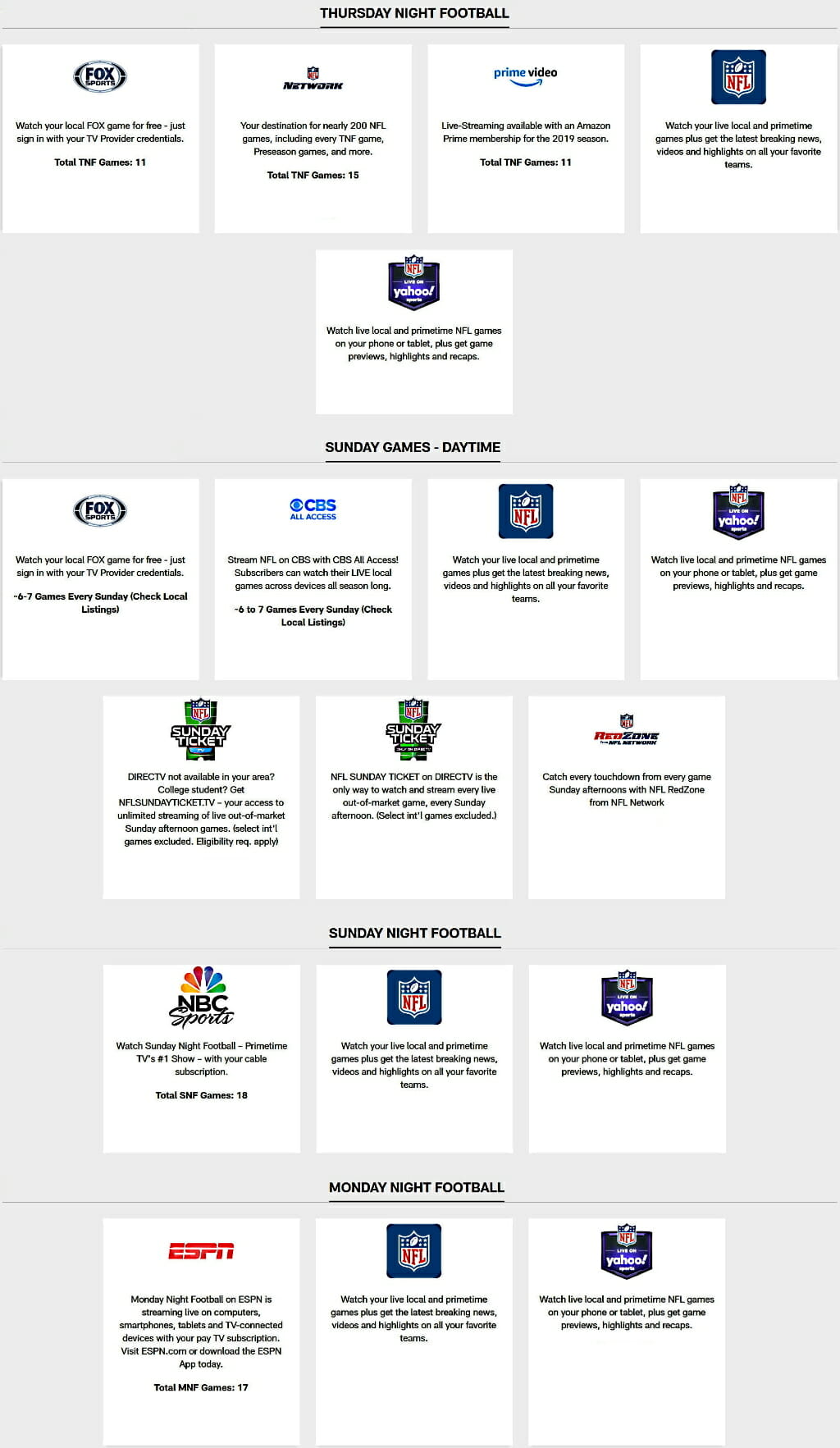 Why is it so complicated?
Broadcasting blackouts encourage live attendance while reducing competition among out-of-market networks. They might be inconvenient, but they're the reason the NFL still exists.
Network profits keep the league healthy and ensure that Cam Newton has enough income to buy fancy hats. (Granted, hats are very, very important.) The more packages viewers buy, the healthier the income. In areas with several time zones, live broadcasting becomes unviable, so blackouts prevail.
But how do they know and what can you do about it?
It's all quite simple, really.
Broadcasters determine your location through your IP address. That inconvenient piece of technology is behind every broadcasting blackout, restricted access from certain locations in the world, and much, much more.
So if you happen to live outside the 61 countries with the GamePass option and your streaming options are limited you might have a tough time coming up with ways to stream the NFL games live or at all.
We bet by now you're wishing the lamb option wasn't a joke.
OK, stop Googling weird stuff – our search history post isn't due for a few more weeks. We've got a few sure-fire ways that can help you stream the NFL games live wherever you are and without going to ridiculous extremes and ending up on some kind of list.
So how can you watch the NFL Live, Online and Anywhere?
Because we're nice like that, we've actually dug up several ways you can watch the NFL games anytime and anywhere without having to scour the Internet for tidbits of useful information in a sea of misleading titles.

Looking to catch the Super Bowl?
First of all, if you're counting pennies, you can sign up for a few free streaming trials or use the NFL Mobile app.
Amazon Prime has created a bundle just for broke fans. Its members can watch the games free through its Twitch streaming platform.
If you're motivated enough, you can even hunt Reddit for highlights or access Yahoo's "Watch Together" feature (but even that has geographic limitations).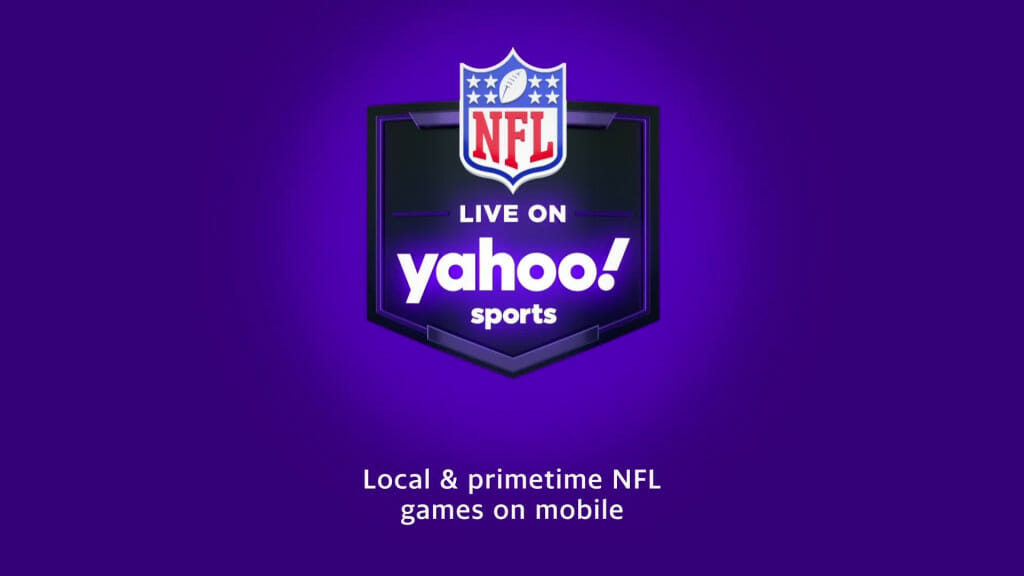 All this good stuff aside, the best possible option for streaming NFL, that won't take till next season to figure out and leave you with a cluster headache, is simply using a VPN.

VPNs hide your IP by letting you access anonymous servers from all over the world. So wherever you may be and however outlawed the NFL there, you can simply connect to a place where any of the mentioned platforms are available, get a subscription and cheer on your favorite team as much as you want. CBS can't black you out if it thinks you're in Kansas rather than Kabul.
Any of those NFL streaming options free?
It took a lot out of us, but we actually found several NFL streaming options that are completely free for those of you who quite reasonably believe that the NFL is each and everyone's given right.
Pluto TV
This year Pluto TV and NFL became best friends and launched a new channel creatively called the NFL Channel that streams NFL replays. Best of all it's absolutely free and doesn't require you to sign up for the service.
The catch? – Well, Pluto TV is only available in the US. But that's no problem for you because you've already subscribed to a VPN service, right? Right?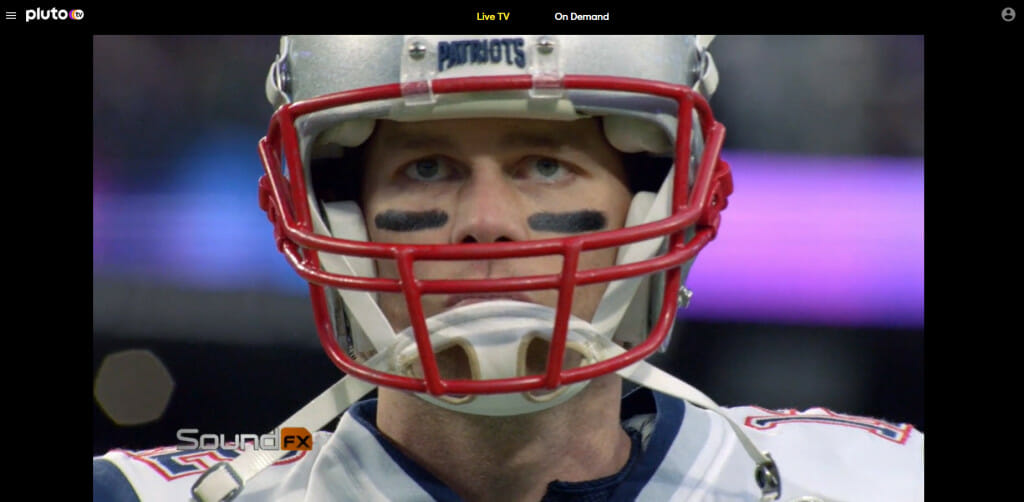 Stadium
Stadium doesn't just allow you to watch select NFL games for free, it's one of the few platforms that actually allows you to watch the games live. That way you can feel your adrenaline spike along with millions of fans watching in the States. On top of that, Stadium allows you to watch a whole bunch of extra sporting events, including NBA, NHL, college football and basketball, and much more.
We trust that by now you've already guessed that Stadium is only available in the US so you're still going to need a – say it with us now – VPN with a bunch of American servers.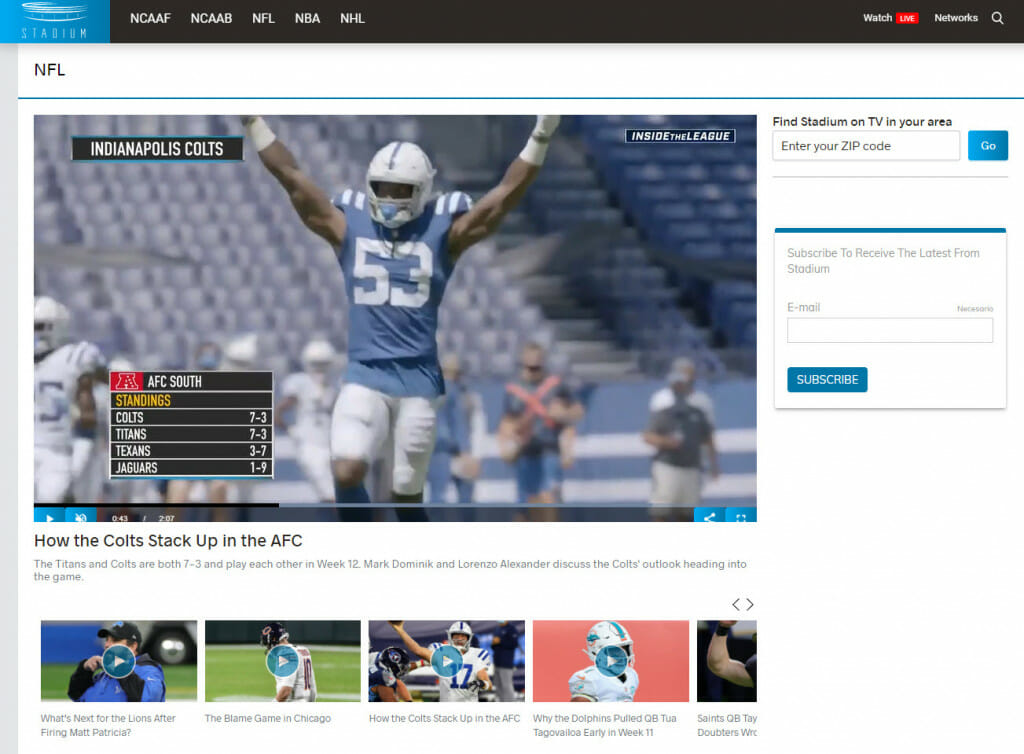 7Plus
Last but definitely not least is 7Plus which broadcasts two whole Sunday games a week absolutely free. And this time the service is Australian (we know, right?).
This doesn't, however, mean that you can do without a VPN. If anything, this makes choosing the right VPN all that more important, since the service has to host servers in the Land Down Under.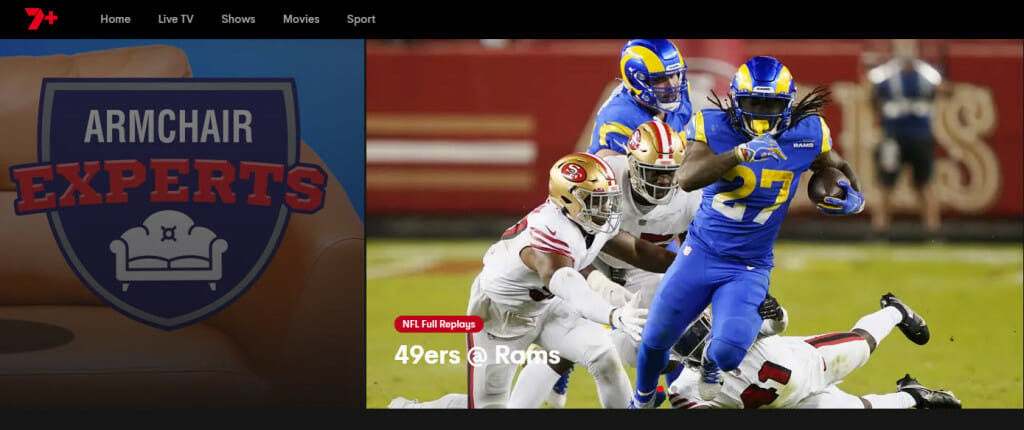 VPN lifehacks to watch NFL network online
Employing the use of VPNs won't just get you watching the most intense NFL games in no time, it also comes with a bunch of extra little perks.
1. Access your network's cheapest prices: Streaming networks determine their pricing on a per-location basis, so their cost variants are as wide as George Kittle's smile. Your location might be the single most expensive part of your viewing budget. When you have a VPN disguising your region, you can access the cheapest networks in the world instead of merely the cheapest in your region. We suggest checking out the Asia Pacific locations first – see how that works out ?. Just be sure to choose a provider with servers in that region and don't go with the free stuff – they don't, we've checked.
2. Access games live: Few NFL broadcasters are bringing their users live games. When you use a VPN to access any network, you can watch the action as it happens instead of waiting for the highlights your existing service offers.
3. Bypass hidden fees: Many streaming networks charge viewers local taxes over and above their fixed rates. A VPN fixes that as easy as one-two-three.
4. Overcome blocks: Poor quality VPNs are easily spotted and blocked, so how do you tell the Baker Mayfield VPNs from the Peyton Manning ones? Luckily, the answer is pretty clear cut. You'll need a VPN that has a wide variety of servers throughout the world and the speed to overcome buffering. Very few are undetectable, and even fewer are affordable. That's why we love ExpressVPN for all our sport streaming needs. It checks every box.
Why you

should

bother
This year's NFL will deliver enough drama to script a soap opera. You'll see Peyton Manning, one of the greatest quarterbacks of all time, doing what he does best. The Dallas Cowboys will introduce a new class of rookies, including the intriguing Bradlee Anae. We'll see the NFC East's only unbeaten team and welcome Ryan Tannehill back to the scene.
More importantly, this year's NFL sends out a message of unity that will be punctuated by Black Lives Matter protests. With ExpressVPN, you'll see it all.