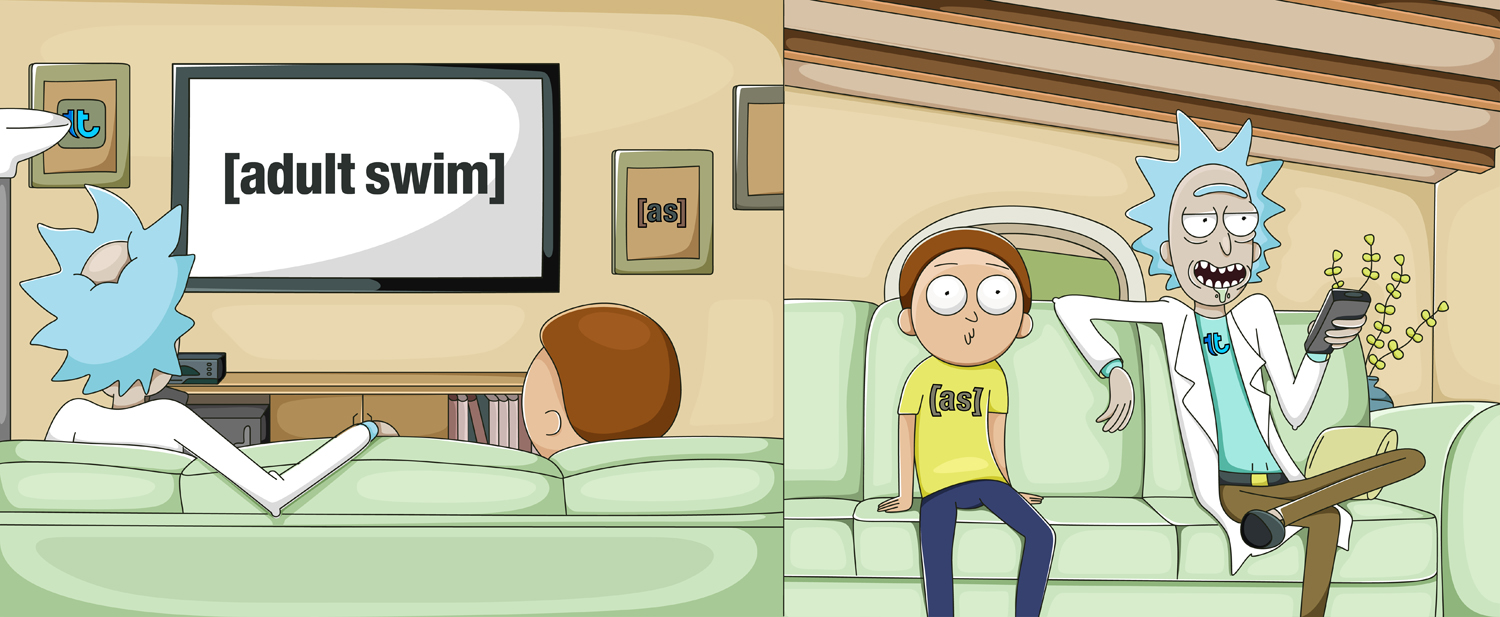 How to Stream Adult Swim Outside the US
If you are familiar with Cartoon Network, you likely know Adult Swim. No wuckas ? if both are new to you. The latter adult-oriented program, as its name manifestly implies, runs along with Cartoon Network, only that it comes at nighttime in the US – between 8 pm and 6 am for all days of the week, barring Sunday when it starts at 9 pm.
Given this scheduling, it is not hard to decode that Adult Swim has content that suits an audience other than Cartoon Network targets.
And can we just say… it's just the best!
But we don't have to tell you that, because you probably know Adult Swim one way or another. And even if you think you don't, you're definitely familiar with some of the network's work.
Still don't think so? Great! this gives us an opportunity to talk you to death about Adult Swim, what it has, and how you can get some! Onward, there's no time to waste!

Watch Adult Swim wherever you are with ExpressVPN!
What is Adult Swim?
You know that scene in McG's The Babysitter where Cole walks up to his dad watching and asks, "What are you watching?" His mother chips in, "Your dad is bingeing on Mad Men again." Intrigued, Cole inquires more about Mad Men. Getting no satisfactory response, he ends up staying awake all night watching the TV show in its entirety.
This is a weird segway into the subject, but this is pretty much how it feels walking you through Adult Swim and everything it has to offer. Because as soon as we get started, you are definitely going to have to set aside a lot of time to explore the massive range of content available on the platform. That is if you're not already hooked. Which you probably are.
But let's start with the obvious.
Adult Swim is an American cable television channel owned by Warner Bros. Discovery Networks. And it has anyone with a sense of humor and a functioning brain could ever want!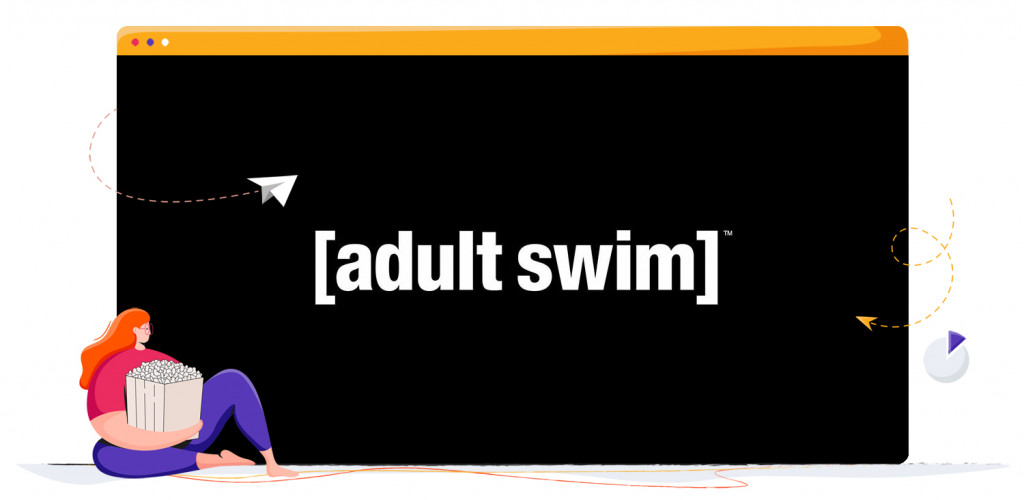 Getting the most out of Adult Swim
There is no shortage of gripping and enthralling stuff to watch on Adult Swim. In fact, this is probably where gripping stuff goes to get hooked on a new, crazy show.
Even if you take just the Adult Swim website at face value, there's enough fun stuff on here to fill a psych ward. It's got shows and entire marathons of everyone's favorite series. But on top of that, it also features Toonami (which is a segment dedicated to shows based on the Japanese style of animation), Music, Smalls, Games, and still much more!
Shows
Right, time to get into why everyone's gunning for Adult Swim. The Shows. And, man, Adult Swim has shows for days.
First and foremost, Adult Swim is responsible for bringing us one of the best shows in adult animation EVER – Rick and Morty! Told ya, you are definitely familiar with Adult Swim's work!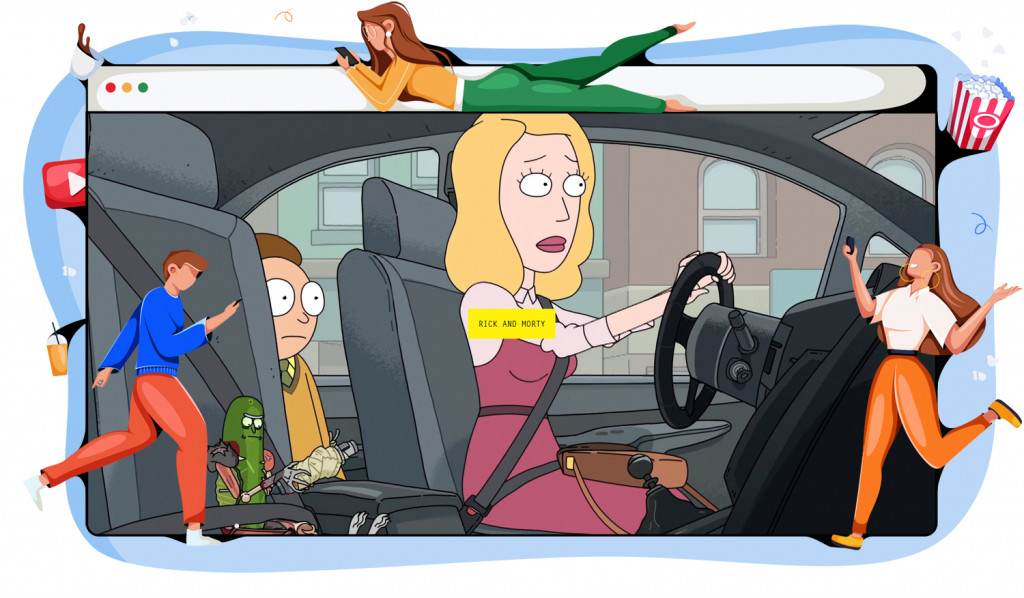 Honestly, Adult Swim could mic drop and leave right here, but it has much more to offer. And most of the shows it brought us are some of the best in adult animation the world has ever seen.
In addition to the comedy genius from Justin Roiland and Dan Harmon, Adult Swim also brought us shows such as American Dad, Bob's Burgers, Attack on Titan, Apollo Gauntlet, Birdgirl, Aqua Teen Hunger Force, the very much underrated Venture Bros., and many, many more.
In terms of live-action, there are noteworthy titles like Your Pretty Face is Going to Hell, Black Jesus, and The Eric Andre Show.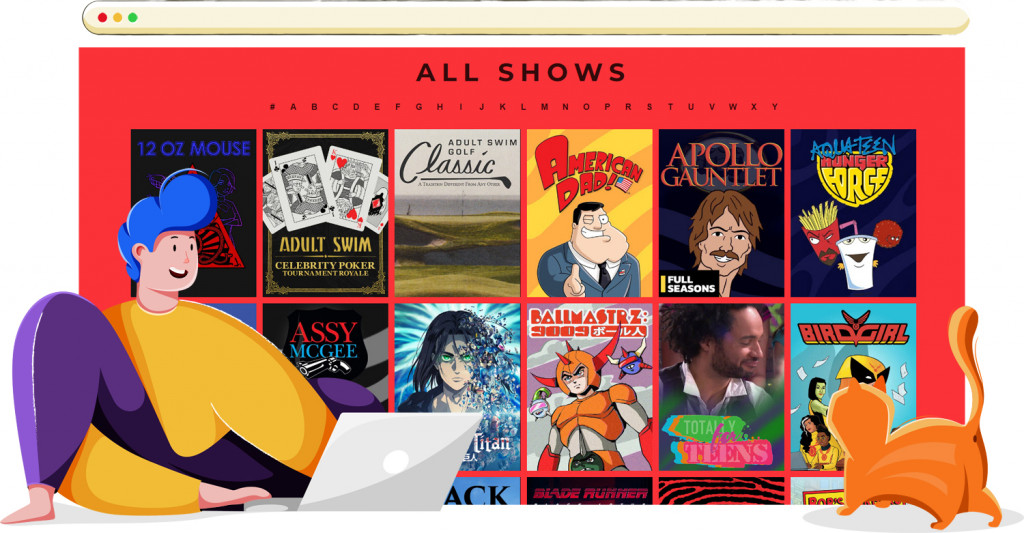 Marathons
If a massive selection of some of the best adult shows and series doesn't seem enough for you, Adult Swim comes in with "Hold my beer" and brings you marathons.
Marathons are… well, marathons of some of the best shows that Adult Swim has to offer, playing on a non-stop loop. And, yes, it's also known as 'heaven'.
Depending on when you decide to spend a day bingeing [as] shows you will run into different marathons as they keep switching. But some of our favorites include Primal, Metalocalypse, Robot Chicken, Rick and Morty, Samurai Jack, and The Venture Bros.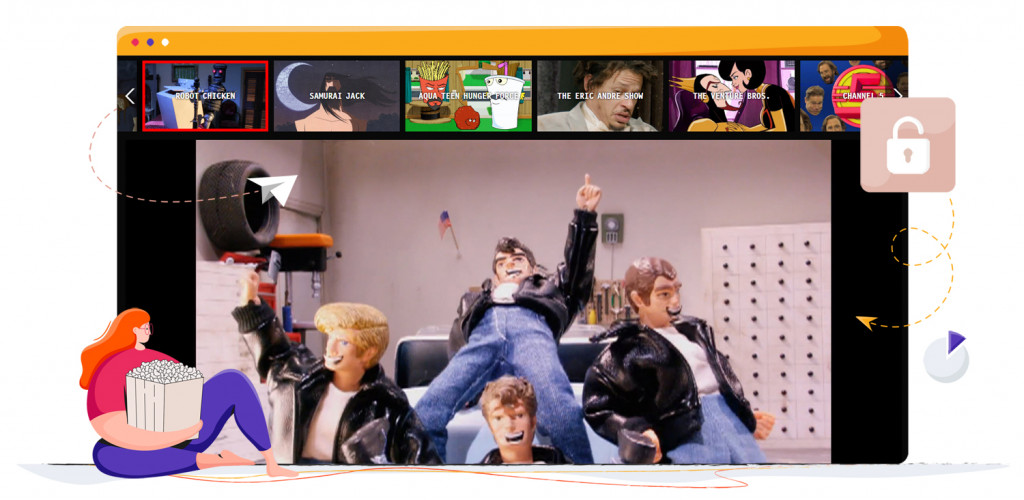 Is Adult Swim accessible outside the US?
We have highlighted the much on offer on Adult Swim, but all this goodness is not readily accessible from outside the US, at least not independently.
Being a cable TV channel, Adult Swim is available… well, on cable! So you can basically watch Adult Swim on the Cartoon Network channel during its airing hours, on Adult Swim's own website, or other streaming platforms.

Looking for the best streaming platforms?
Check out the best ones for series!
However, Adult Swim shows end up on other streaming platforms rather randomly. Especially outside of the United States.
You can find some of them on platforms such as Netflix, HBO Max, and Hulu, depending on your location. Take, for instance, the current season of Rick and Morty. Some get to watch the new episodes as soon as they air, while others have to wait for the entire season to roll out and then some!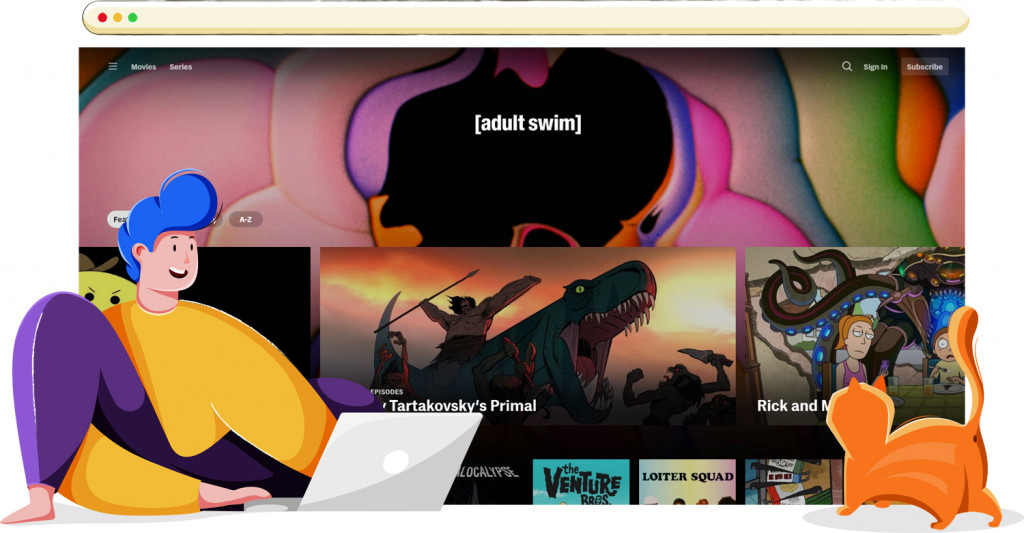 This approach admittedly beats logic. Isn't the point of being able to watch the content fresh and hot?
Suppose you could be content with the gamble (we both know this is an impossibility) there is another caveat. Adult Swim does not consistently distribute its shows to other platforms. Be that as it may, under the premise that they lack demand – which might not be an accurate assumption – the fact remains there are no reliable alternatives here.
That's not necessarily a bad thing, though. Not that you would need alternatives anyway since we have a solution to ensure you miss nothing on Cartoon Network's nighttime programming.
Watch Adult Swim even when you travel outside the US
You must have come across the error message "Sorry, there must be some sort of restriction on the content we are streaming here. Check back later or select another stream." if you tried accessing the platform from outside of the US.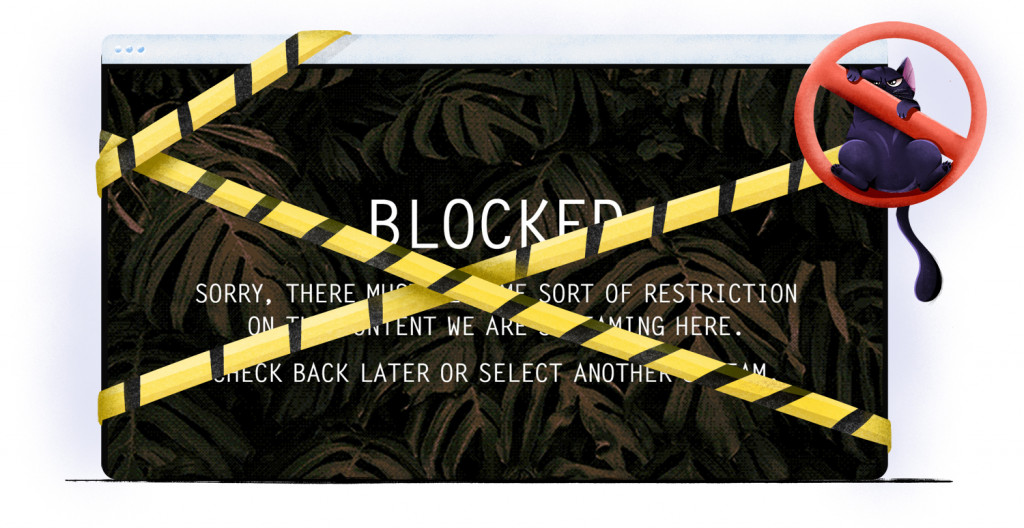 Well, as you have worked out, what stands in your way and keeps you from watching Adult Swim as conveniently as you want are geoblocks.
To successfully circumvent these restrictions, you need a VPN service that is well-suited to unblocking streaming services.

Want to know more about how geoblocks affect you?
Check our new guide to online restrictions!
Choosing the right VPN for Adult Swim
Every VPN in the world probably says it can do streaming. However, that's not exactly true as breaking through streaming restrictions and tearing down geoblocks is not as easy as it once was. And when it comes to streaming American cable channels, very few VPN providers can actually pull, this off.
So, when it comes to streaming Adult Swim, there's but one VPN provider that can do it better than most others. And that's ExpressVPN!
Why? Well, funny you should ask because we have all of these reasons to go through:
Most mainstream VPN service providers are shying away from providing streaming capabilities. However, ExpressVPN remains the solid option for streaming virtually anything.
Adult Swim has imposed robust restrictions to keep outsiders locked out entirely. These barriers don't apply to ExpressVPN, thanks to its advanced streaming unblocking capabilities.
ExpressVPN also has one of the largest server networks in the US, with ALL of the servers perfectly optimized to handle as much streaming as you need and want.
Not to forget, ExpressVPN has the best speeds amongst VPNs, to add to the excellent customer support and reliability it guarantees.
There is hardly any aspect that ExpressVPN has gotten wrong. Nothing really except its slightly pricier plans which is ultimately justifiable considering what you are getting in return.
Want to know more about how geoblocks affect you?
Check our new guide to online restrictions!
Other VPNs that work with Adult Swim
Don't get us wrong. ExpressVPN is the best VPN for streaming Adult Swim by far.
However, we would be remiss if we didn't mention other VPN providers that will also work if you need some Rick and Morty stat!
The word's most popular VPN!
Overview
NordVPN is packed with features designed specifically for unblocking streaming services. And Adult Swim is no match for SmartPlay, which makes streaming unblocking seamless, and 10 Gbps servers, which make streaming a joy!
A VPN with a powerful bite!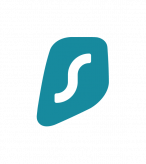 Overview
Surfshark is as great for entertainment as VPNs get! Fast, reliable, and speedy, this is the budget VPN for any Adult Swim enthusiast!
Overview
CyberGhost might not be as good as any of the other top-tier VPNs, but when it comes to streaming it definitely brings it, packing some of the best streaming unblocking capabilities in the industry. Plus, it's the most budget-friendly VPN!
Getting Adult Swim outside the US
Now that you have ExpressVPN on hand (or any of the other VPNs we recommend), getting Adult Swim should be easy. Honestly, the toughest part is deciding, how would you want to consume everything the channel has to offer!
The Adult Swim website
The easiest way to get on Adult Stream from outside the US is through the channel's website.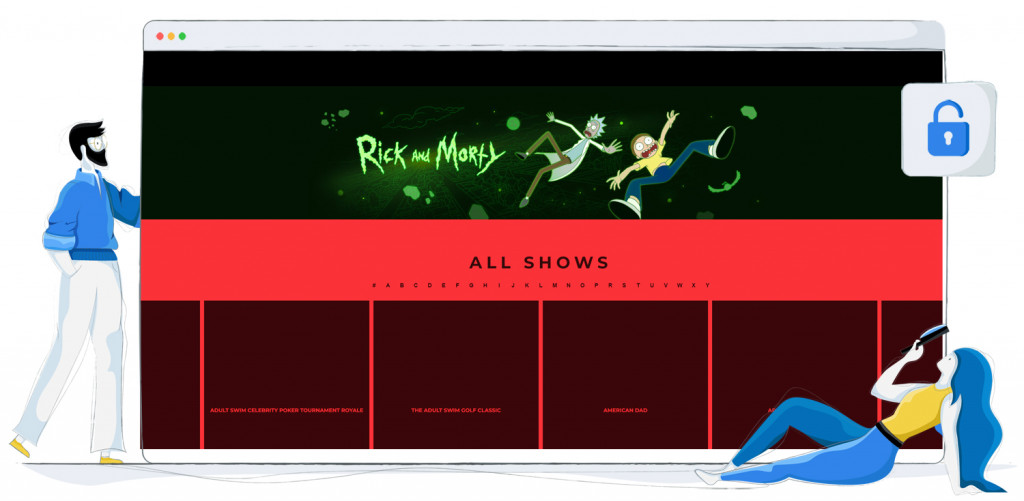 There are significant curtails to what you can and cannot watch there, but it will allow you to catch up on the latest content and your favorite shows.
Here are directions to get you there:
Get ExpressVPN for your device and set up your account.
Connect to any of the available servers in the US region.
Head over to Adult Swim on your browser and you should be able to stream!
Hulu + Live TV
The Hulu bundle has several popular live TV channels, including Adult Swim.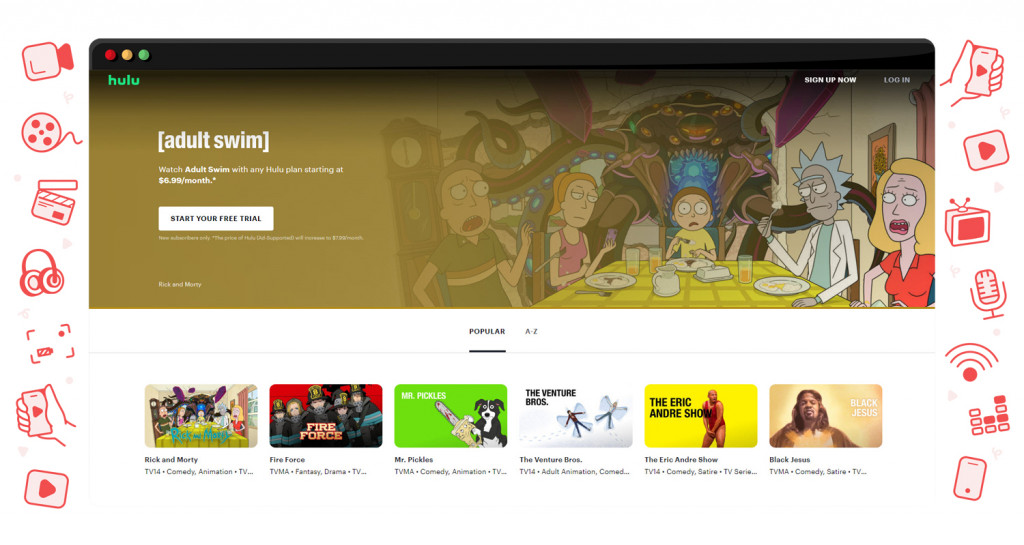 For this alternative, you need to:
First, get the VPN on the device with which you will be streaming.
Next, set up a VPN connection via a US-based server.
Visit the Hulu site and register an account using credentials consistent with local payment methods, ideally via our friends at Wise or US Unlocked.
You are good to go!
Sling TV, DirecTV Stream, YouTube TV, fuboTV
If the Hulu option doesn't cut it for you, you could opt to go with one of Sling TV, YouTube TV, fuboTV, or DirecTV Stream.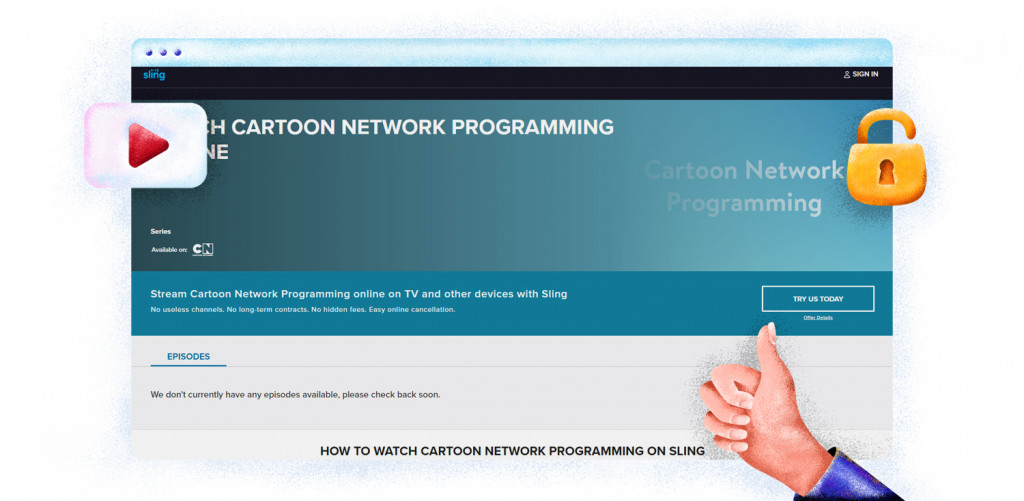 Any of these options should work just fine regardless of the choice you proceed with. Here is how to go about it:
Get ExpressVPN for your streaming device.
Next, connect to a server located in the US.
Finally, choose your preferred service and subscribe.
And that's the waaaaaaaaay the news goes!
Rick and Morty may have turned Adult Swim into a household name, but the channel has much more awesome stuff to offer than just that.
So if you have been craving smart, yet intelligent and funny humor, we could not recommend [adult swim] more. And, of course, if nothing else works, there are always Rick and Morty marathons on the website to keep you entertained.
Now all that's left is grabbing one of our best-recommended VPNs, choosing the Adult Swim streaming method that best suits you, and going to town on some of the best shows the small screen has ever seen!