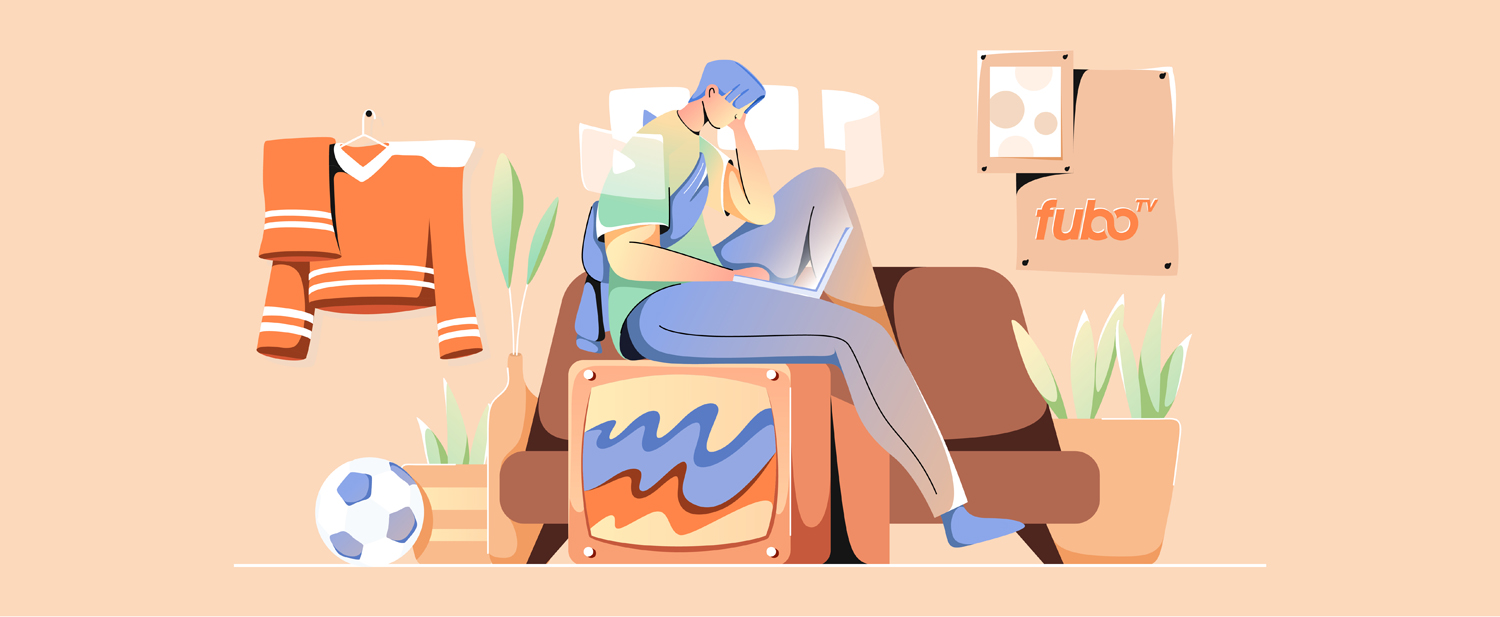 How to Stream fuboTV Outside the US
Cord-cutters, this one goes out to you! FuboT is like coming across a mountain of gold when searching for copper. At least, that's what it feels like when you first discover this leading cable streaming service. But if this is your first time hearing about this brand new platform and you're curious about the treasures it holds, we've got you covered with everything you need to know and beyond!
This previously sports-focused live TV streaming service has been around since 2015. However, simply being one of the first dedicated sports streaming platforms was not enough for fuboTV and over the years it has evolved into a new kind of streaming platform. One that combines the expansiveness of American cable with the comfort of streaming. And the rest of history.
Currently, fuboTV is one of the few services of both its nature and its magnitude that everyone is clamoring for. And not just in America either, but outside the US as well. It's just that good!
Why? Well, this is exactly what we're here to find out and talk your ear off about what is fuboTV, why it's great, and how you can get it!

Stream fuboTV wherever you are with ExpressVPN!
What's on fuboTV?
FuboTV has the whole lot. Which, in this case, means over 165 channels that you can watch.
That's a lot of channels… So let's dive in and see what exactly fuboTV is dishing out.
Sports
FuboTV started off as a sports streaming platform and a lot of users still see it as one. While the service has outgrown sports in recent years, we might as well start there. Because frankly, this is hands down one of the best sports streaming platforms in the entire world!
Truly, the list of sporting options on fuboTV is nearly endless, but we'll narrow it down to the top choices for most viewers. This is THE place to catch nearly anything and everything from the NFL, NHL, NASCAR, MLB, and NBA, with majors including the Super Bowl, World Series, and the NBA Finals also included.
But that's not all, though. If you are into soccer, you almost certainly don't need to sign out of fuboTV. After all, the platform got its original name thanks to the sport! Champions League, Ligue 1, Liga MX, and English Premier League action can be streamed right here in addition to so much more the platform has to offer!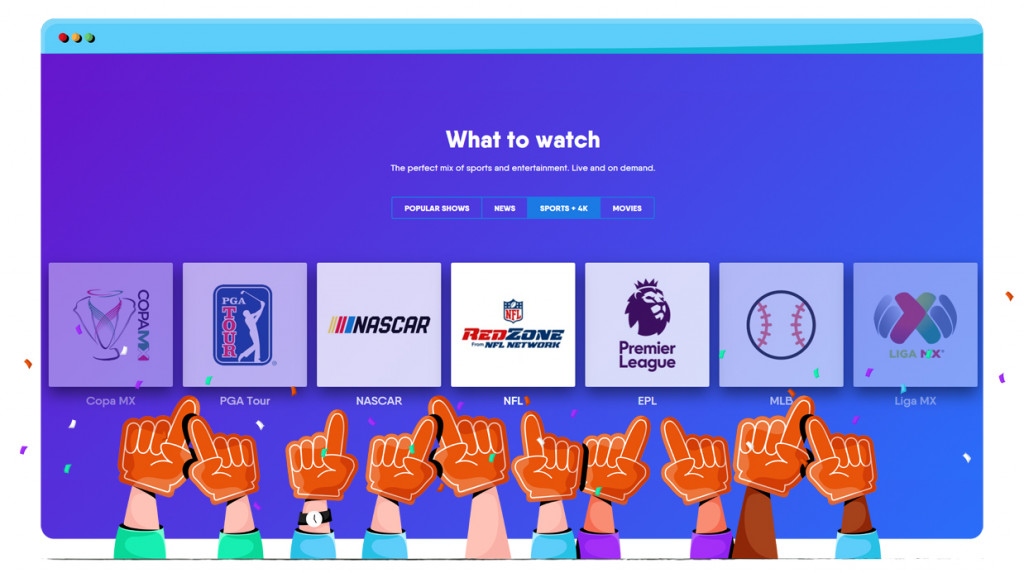 It's not all goals and passes, though. Much like regular cable, fuboTV is subject to local blackouts. So even though it still is the greatest sports streaming platform ever, you still can't follow every single sport in its entirety. That would be much too good, and sports rights holders are not about that!

Tired of being blacked out?
Check out our guide to juking fuboTV's blackouts!
Channels
Talking channels, the world is constantly moving, and fuboTV does its bit to ensure you're always up to speed.
All of AMC, BBC America, BET, Bravo, CBSN, CMT, Comedy Central, Eleven Sports, ESPN, Lifetime, MSG, MTV, NBCSN+, NFL Network, Nickelodeon, and Paramount Network are offered by the service. So this is pretty much the go-to service for all kinds of American TV!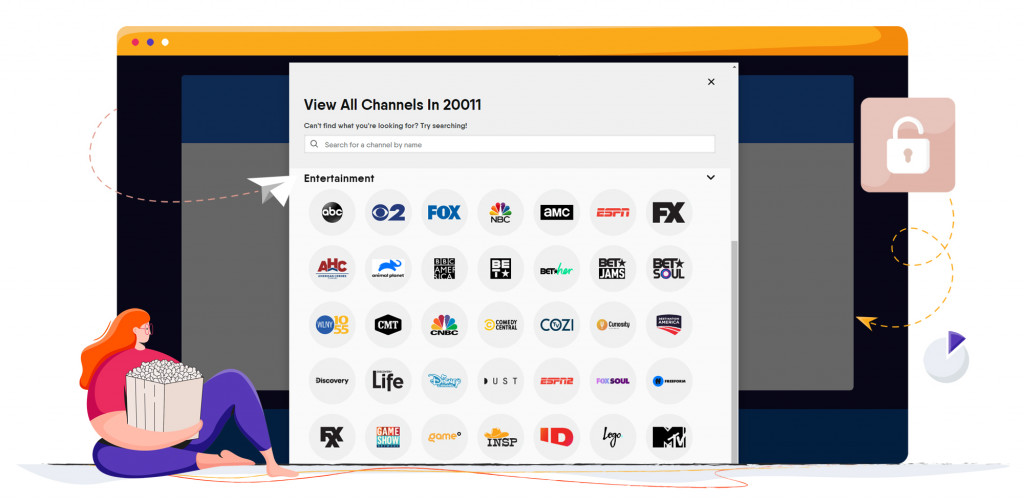 Movies & TV Shows
Regardless of sports and channels, fuboTV wouldn't be a streaming service if it didn't have a big enough movie, series, and show selection to keep you hooked in between matches now would it?
Fortunately, that's not a problem, because fuboTV has a massive collection of content for your entertainment.
Perhaps the biggest plus you get when on fuboTV is the sheer range of content just for your entertainment. Its well-balanced catalog is more than just a sprinkle of options when it comes to titles from various categories, including drama, sci-fi, reality, comedy, documentaries, action, home & cooking, and more. Talking specifics, you can catch up on Family Guy, The Office, American Dad, NCIS, Family Feud, The Price is Right, Peppa Pig, and Good Eats to name just the very few things you can find on the platform.
That is not it, however. The strength of fuboTV's streaming options doesn't come from the streaming rights it wrestled its competition for (we're pretty sure that's how you get rights to something, right?). You can actually pair your fuboTV subscription with various premium add-ons including entire streaming services. With the likes of Starz, Pantaya, Showtime, and other premium add-ons, you will never run out of things to watch on fuboTV!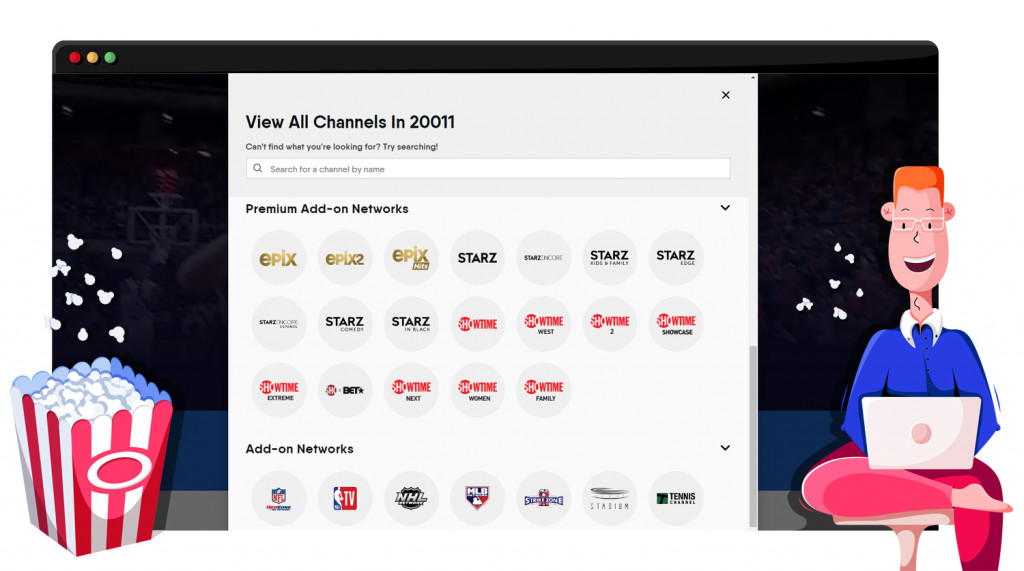 How does fuboTV compare to YouTubeTV, SlingTV, Hulu + Live TV?
In many respects, fuboTV is a unique streaming service provider. Be that as it may, it's not the only one.
FuboTV has proven capable of serving a wide demographic, and adequately so, given the range of content it's flush with. However, the scope isn't the sole measure of how good a service is. And with the likes of Hulu + Live TV, YouTube TV, and Sling TV being its competition, fuboTV should better bring it!
But comparing cable cutters is no easy task. So in order to save you the trouble, we endured the migraine so you don't have to. And now, hopefully, you can see how all of the most popular cable streaming services compare to one another:
| | | | | |
| --- | --- | --- | --- | --- |
| | fuboTV | YouTube TV | Sling TV | Hulu + Live TV |
| Available Channels | 218+ | 85+ | 225+ | 76+ |
| Cost (Plans per month) | $70-$100 | $65 | $70 | $70 |
| Max. devices | 2 to 3 | 3 on six accounts | 3 streams | 2 on six accounts |
| Free trial | 7 days | Trial lengths vary | Available at times | 7-days |
| Sign up discount | N/A | N/A | 50% | N/A |
| Cloud DVR Storage | 1000 hours | Unlimited | 50 hours max. by default | Unlimited |
Where is fuboTV accessible?
While fuboTV provides a reasonable alternative to other cableless streaming services, much like all of them, it lacks geographical reach. This is our nice way to say the service is only available in select regions – at present, the US, Canada, and Spain. But don't thing you will be watching AMC in Spain, though. Each of those platforms comes with its own programming and its own selection of streaming options. And the fuboTV that everyone wants, the fuboTV that comes with an avalanche of channels, add-ons, and sports is only available in the US.
And everyone else? one else gets the subscription screen without any chance to subscribe. Cruel, fuboTV, that's stone cold.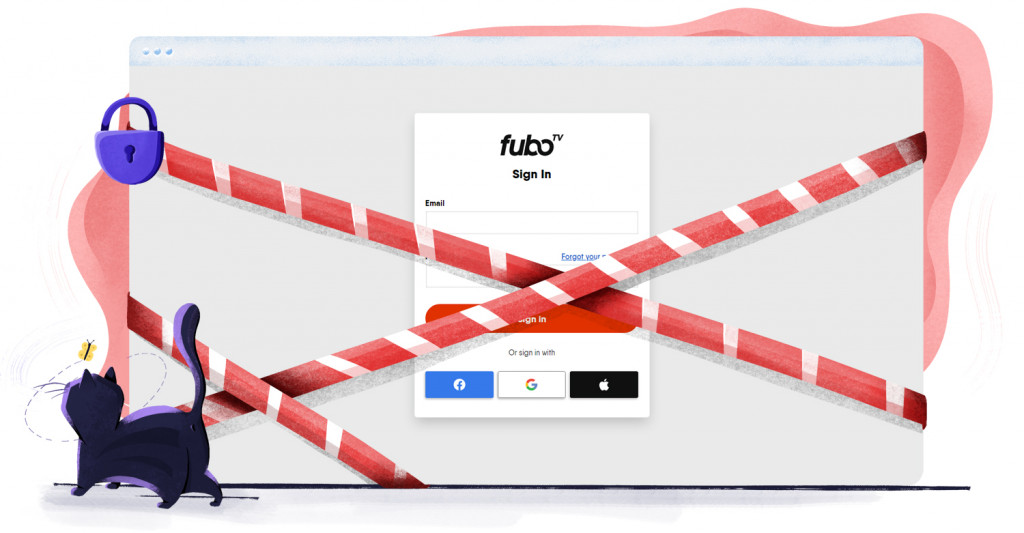 Oh, so you think you're safe because you live in the US? How about traveling outside of the country? That's right, your fuboTV access is immediately cut off!
Basically, trying to access the over-the-top service from outside the US and the regions it's offered in is nigh impossible. fuboTV may offer extensive content and add-ons to customize your streaming experience. However, it does its fair best in locking you out of the action if you're outside the US, with some of the sturdiest blocks around.

Want to know more about geoblocking?
There's a lot that we want to get off our chest!
Not to worry, though, as we've got a workaround for you. To access all the goodness on fuboTV, you'll need to bypass the platform's robust geo-blocks, which is precisely why you need a VPN.
Choosing the right VPN for fuboTV
FuboTV is expensive. And for good reason too! It packs one hell of a punch when it comes to its robust streaming package. So you bet it does everything it can to keep everyone else out!
We have already established that you need a VPN to bypass the service's geo-restrictions. However, not all providers will be able to unblock this particular streaming platform. But we've saved you the trouble of going through every single free VPN provider before you make sure none of them work and have come up with a perfect solution.
Rigorous and thorough testing crowns ExpressVPN as the best VPN for fuboTV.
And, in case you're curious, this is what made this provider the absolute best:
The VPN excels at unblocking sports streams and sports streaming platforms, to say the least.
This is the VPN we go to for all of our sports streaming needs and so should you.
It is also the fastest VPN around.
Thanks to the technology it has adopted, including the pioneering Lightway protocol, you will be streaming fuboTV with zero issues wherever you may be.
ExpressVPN features a diverse network of more than 20 high-speed servers spread across more than 15 cities in the US.
This might not seem like much when compared to other providers, but quality always trumps quantity. And ExpressVPN simply has the best servers around.
Want to know more about ExpressVPN?
Check out our massive ExpressVPN review
While ExpressVPN might be the hands-down best choice, that does not mean it is the only amazing tool you can use to circumvent restrictions. Besides, we understand not everyone could be willing or even able to meet relatively high subscription costs. So we've got you covered, fam ?
The next best thing(s) for streaming fuboTV outside the US
We have singled out three other alternative VPNs that will equally serve you well:
The word's most popular VPN!
Overview
NordVPN ranks among the biggest VPN service providers in the world and is almost always mentioned in the same breath as ExpressVPN. Reasonably. With features such as SmartPlay, 10 Gbps servers, and obfuscation, this is one of the best VPN providers for streaming fuboTV.
Overview
Though not as encompassing as ExpressVPN in terms of reliability, air-tight security, or blazing-fast speeds, CyberGhost remains a decent option because of its stream-optimized servers. Plus, this is one of the cheapest VPNs around so you're risking nothing!
A VPN with a powerful bite!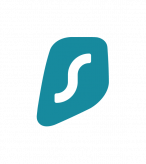 Overview
Surfshark is another great streaming option. It might not be as great for streaming as it once used to be, but it's still one of the best!
Ready to explore all the amazing stuff on fuboTV?
Granted fuboTV is priced a bit higher than other streaming services, it makes up for that with its diverse range of content. The service delivers all the best from the sports world while giving you access to as many channels you could ever want.
All you need to do is sign up for ExpressVPN service or any other recommended option, connect to a server in the US, and voila, you're in!