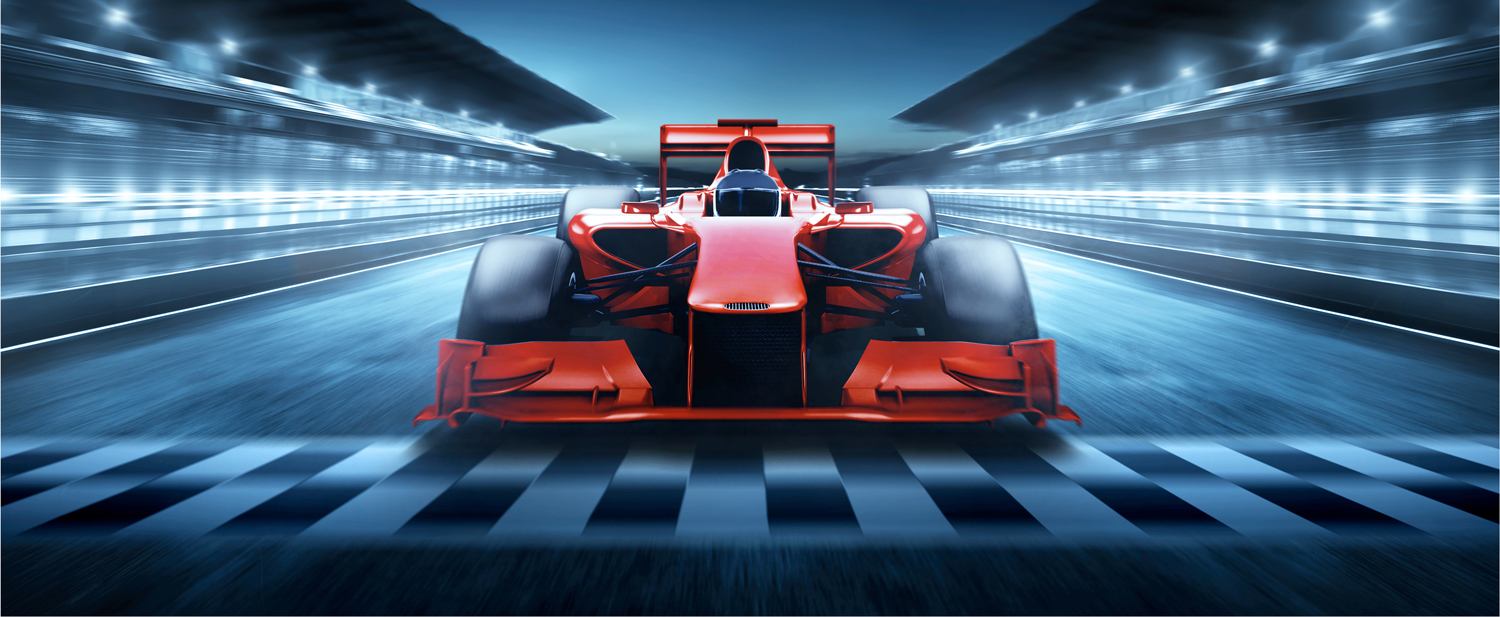 How to watch the 2022 Formula 1 finale in Abu Dhabi live and free?
Last week's Brazillian Grand Prix at Interlagos was precisely what the season needed: a bit of drama. And the GP gave us that in spades. However, we might have to wait until next year to see the drama unfold as well as find out how it affected the teams, as the next race in Abu Dhabi will be the last race of the 2022 Formula 1 season. All the more reasons to watch it!

Watch every Formula 1 race for free with ExpressVPN!
2022 F1 Brazillian GP review
Interlagos was as chaotic as one could hope for. Lots of fans claimed this season was too safe, but if the Brazillian GP was any indication, the drivers and the teams are still as fired up as their race cars.
The talk of the race in Max Verstappen, of course. But for once it's not about his wins, or, in fact, him placing 6th after that nasty penalty, but because he directly disobeyed team orders and wouldn't let his teammate Sainz Pérez place before him.
Is there trouble in paradise? Did Max just want to join Vettel among the pantheon of drivers that went against orders? Probably not, but it's fun to speculate.
Speaking of nostalgia, Verstappen and Hamilton got into a fight! And this instantly made Interlagos the most 2021 race of 2022. The squabble that could have easily been avoided cost Verstappen his winning streak but also instantly brought back the rivalry that kept us glued to our seats last season. Here's to hoping to see this rivalry return in 2023!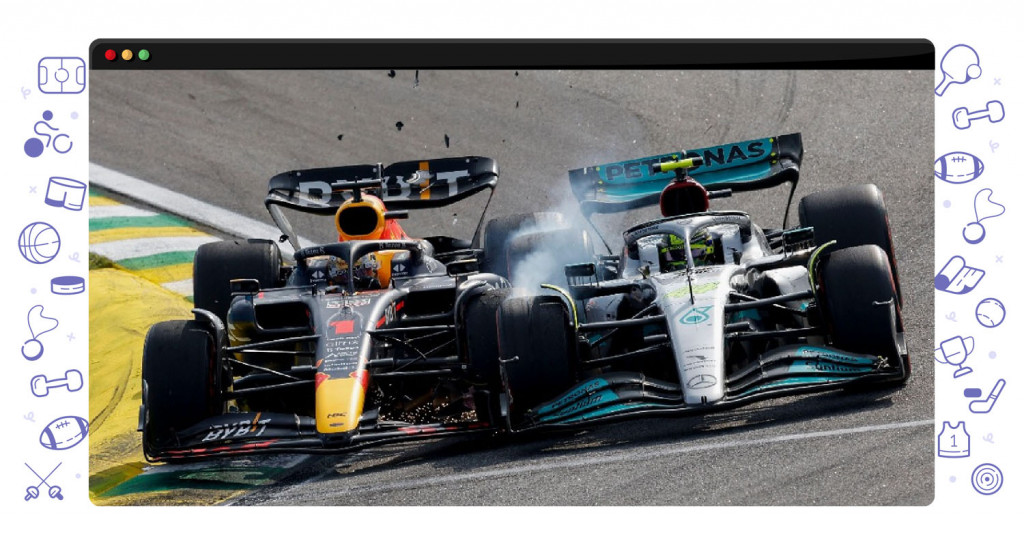 To the delight of many, this was finally a good race for Mercedes! The team finally managed to take both of the first podium spots. It was a specially big moment for Russel, who finally finished first after driving the wheels off his car for an entire season.
Leclerc, the season's most hard-fought sweetheart, finished 4th and is now tied with Pérez for the overall points.
So, all of this sets the perfect stage for the last race of the season. Will Verstappen's ego cost his teammate the points? Will we see the return of the epic Max/Hamilton rivalry? And will Ferrari finally be able to figure out tires? Abu Dhabi should have at least some of the answers!
Where can you watch the 2022 F1 Abu Dhabi Grand Prix?
It's our obligatory 'Where can you watch the GP?' segment time! But if you have been following this Formula 1 season you already know where you can watch the races as well as that all of them are too expensive, restrictive and no good.
But, if you've decided to make the season's finale the only race you watch (which you should, by the way), here are your watching and streaming options.
In the US you could follow the entire 2022 Formula 1 season on ESPN. It's a great option, but it requires you to have cable (or a cable streaming service) and it is not available abroad.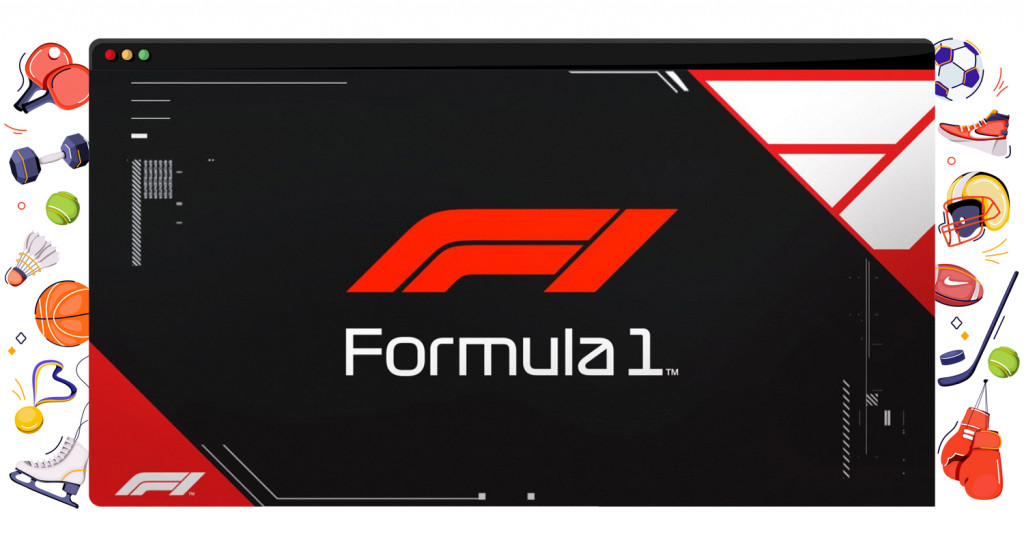 The UK doesn't have it much better. Formula 1 streaming rights in the country are slaves to Sky. However, you can always settle for free race highlights shown on ITV.
Australia has its choice of either Foxtel or Kayo. And Canada has to settle for either TSN, RDS, or Noovo, all of which are paid streaming platforms.
As for the rest of the world, it all depends on who got the broadcasting rights this time. And it can be any number of streaming services, including DAZN, beIN, Viaplay, Movistar, Sky, Now, and so on. All of them, of course, are paid platforms!
Naturally, taking out an entire streaming subscription to watch just one race? Well, that's a bit drastic, isn't it? Fortunately, you can easily stream the entire race both live and for free, and all you need are the right tools!
What tools are those?
Not everyone has to pay for their Formula 1 streaming pleasure. In fact, a handful of countries get to watch every Formula 1 season for free every single year.
So why not join them, huh? Well, you can only enjoy the free streams if you reside in the country. And for everyone else the streams are geoblocked.

Don't think geoblocking is fair?
Find out what you can do about it!
Fortunately, all is not lost. And with the right tools you can access and enjoy any stream you want, including, of course, the 2022 Abu Dhabi Formula 1 Grand Prix.
The tool in question? – ExpressVPN!
Why ExpressVPN? And what can it do for your Formula 1 streaming? Well:
ExpressVPN is THE VPN you go to for streaming sports. It's currently the best VPN for unblocking sports streaming services and enjoying free sports streams from all over the world.
The ExpressVPN app comes complete with thousands of speedy servers all over the world, bringing you instant and easy access to anything and everything you want to watch online.
Thanks to its impressive speeds and a slew of exclusive features, ExpressVPN lets you watch anything from anywhere no matter where you are.
The VPN also comes with great support and a 30-day money-back guarantee. This way you can watch the race for free and still get a full refund!
Want to know more?
Check out our full ExpressVPN review!
Now then, what are those streams that ExpressVPN can help you get your hands on?
Three ways you can watch the 2022 F1 Abu Dhabi GP live and for free
Enough of this suspense! These are the three guaranteed ways you can watch the Abu Dhabi GP live and completely free!
ServusTV
Austria is a motorsport fan's paradise. The two local broadcasters (ORF and ServusTV) cover all of your racing needs, whether it's Formula 1, MotoGP, or even Sail GP. And this time it's ServusTV's turn to be broadcasting the Formula 1 season finale.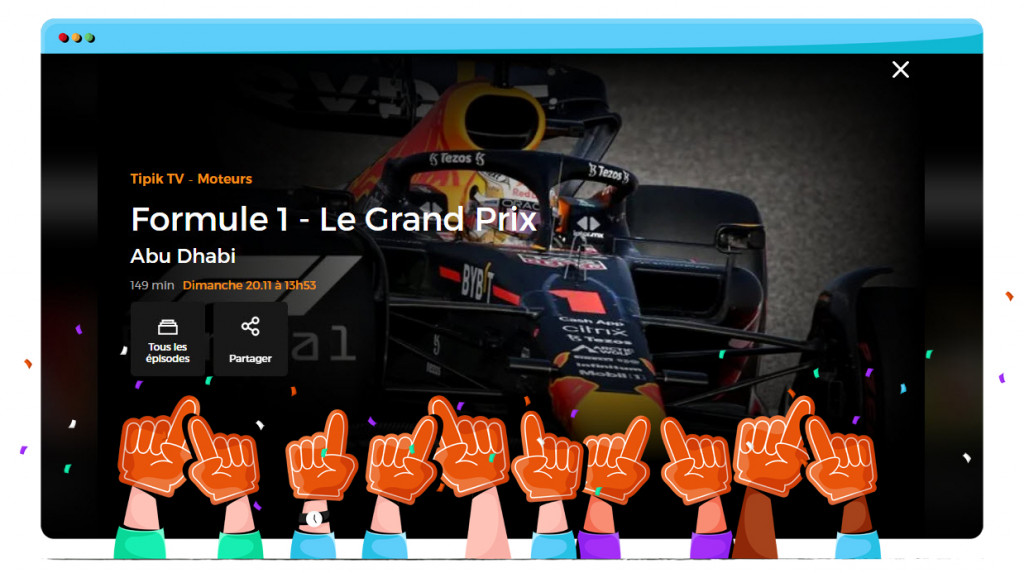 And with the help of ExpressVPN, you can join the Austrian fans with a single click. Here's how:
Get ExpressVPN and install it on your device.
Connect to a server in Austria.
That's literally it! All that's left now is to head over to ServusTV and enjoy the stream!
RTL Zwee / RTL Play
Next on the streaming trip across Europe is Luxemburg and its local RTL Zwee broadcaster, which has been streaming the entire 2022 Formula 1 season live and for free on its very own RTL Play streaming platform.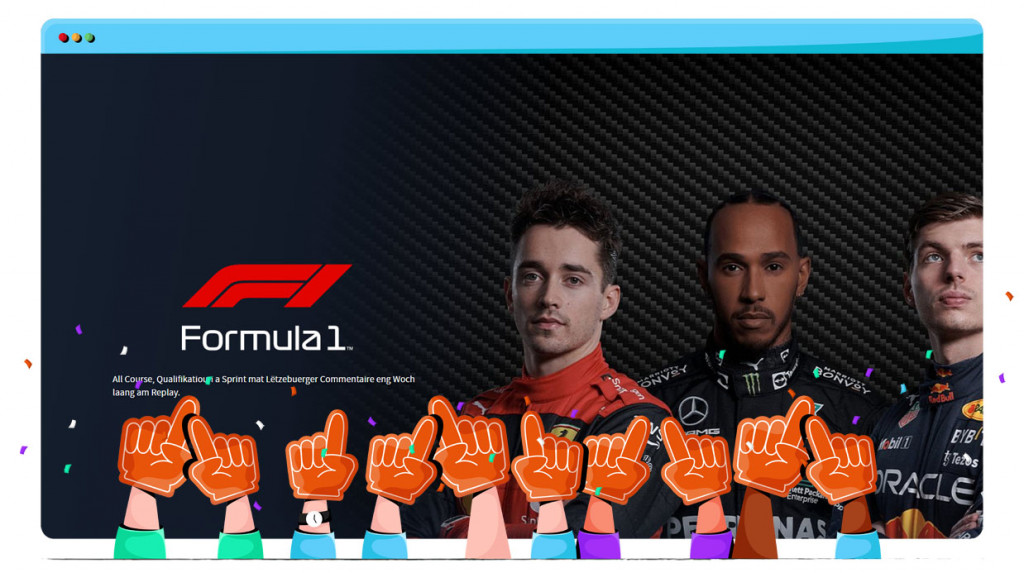 All you have to do to tune in too is:
Get ExpressVPN, of course, and install the app on your preferred device.
Connect to a server in Luxemburg (and good luck finding any other VPN that has servers in the country)
That's it! Head over to the RTL Play streaming platform, navigate to the RTL Zwee stream and enjoy the season finale!
RTBF
Last but not least there's the Belgian streaming platform RTBF. And it will also be streaming the Formula 1 season finale in Abu Dhabi live and free!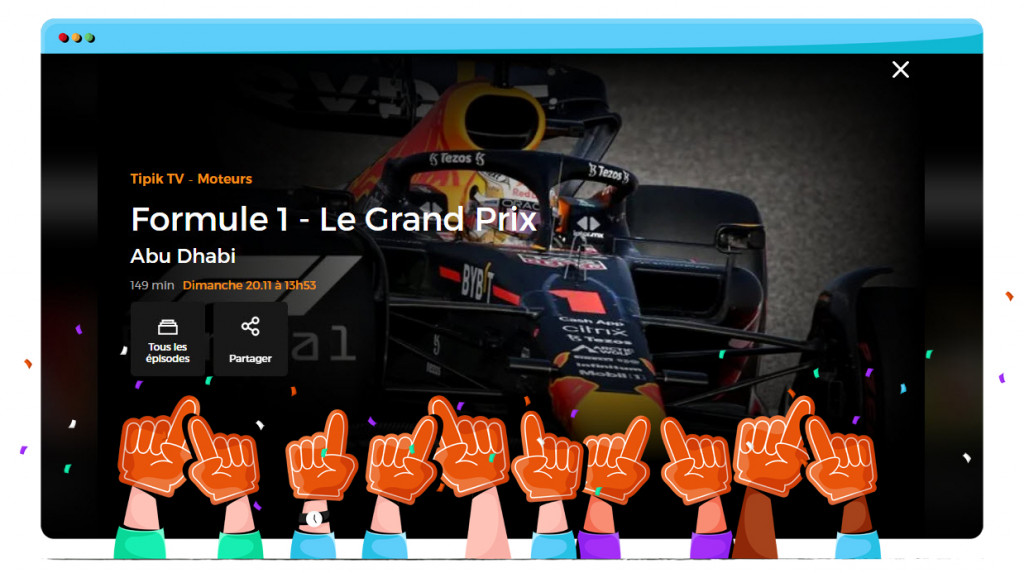 Getting your hands on this one might seem a bit more difficult than the rest, but if French is your language of choice, this is the place to be.
So here goes:
First of all, get ExpressVPN, install and launch the app on your device.
Connect to a server in Belgium.
Head over to the RTBF streaming platform and apply for a free account. This is the hardest part, but only because the platform requires you to have a local postcode, so here are some so you don't have to find them yourself: 4020, 1495, 4260, 8755, 5540, 7620.
That's it, you can now enjoy the last race of the 2022 Formula 1 season in stunning French!
The end of the Formula 1 season but the start of the World Cup
As is tradition, the Abu Dhabi GP marks the end of the 2022 Formula 1 season. And as sad as it is for the fans, this race will undoubtedly set the stage for the 2023 season.
Plus, this year you don't have to go without entertainment for long. The F1 season finale will be on the 20th of November, which also marks the start of the football World Cup everyone will undoubtedly lose their minds over. So you can jump from one stream to the next.
And thanks to ExpressVPN you don't even have to miss a beat!