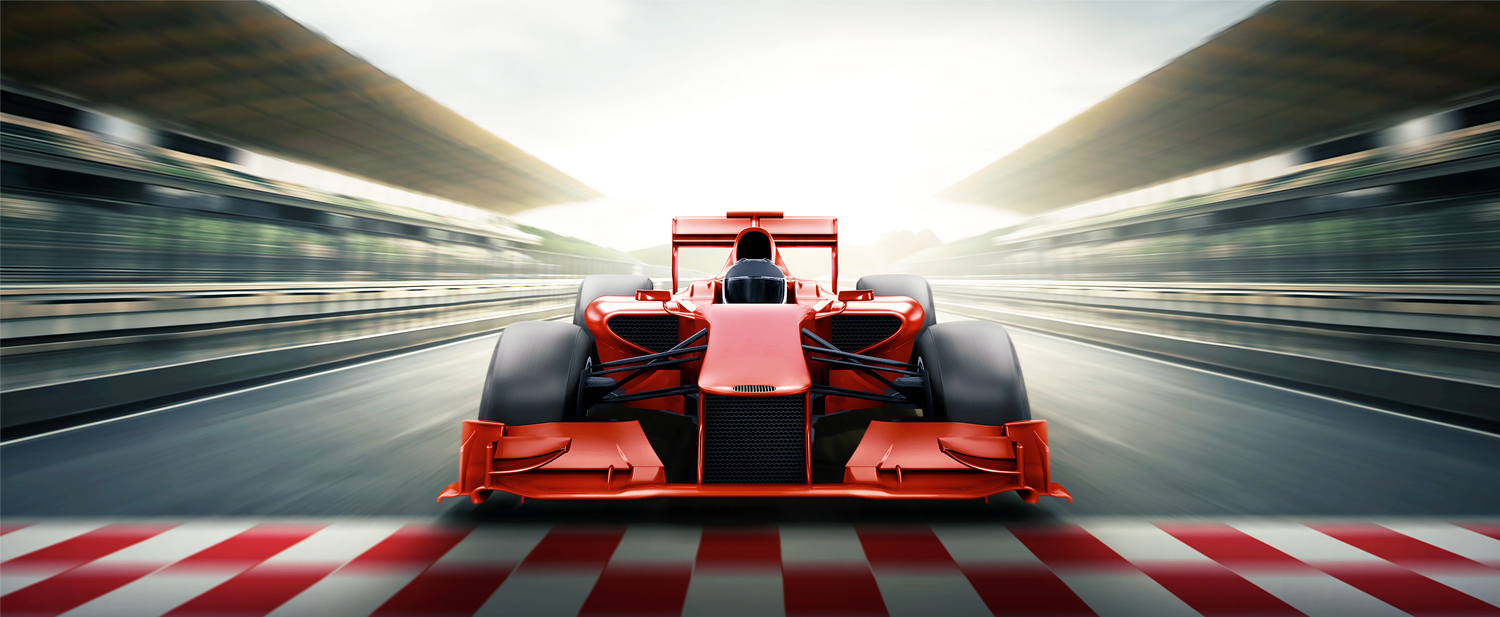 How to stream the 2022 F1 GP of Brazil live and free
Many have called the latest Grand Prix in Mexico boring. We, on the other hand, prefer to call it 'wholesome'. Mexico truly has some of the best sports fans in the world, and this always makes for a cozy race. Keep up, Brazil! Because the 2022 Brazilian GP is up next!
The 2022 Mexican GP was eerily close to last year's race and produced the very same podium. This 'blink it and you'll miss it' difference between the races was ultimately a disappointment for many, but not the true fans of the sport. As any true fan will tell you, this race was all about strategy and was crucial for the future of the cars, and tire choices for the teams.
Verstappen (surprise-surprise) took another confident win in Mexico, breaking the record for most F1 wins in one season. And he wants more.
The controversy of the race was Verstappen and Red Bull boycotting Sky – one of the biggest Formula 1 broadcasters in the world. We guess the team just had it with their sly jabs at the Dutch rocket robbing Hamilton of victory.
Speaking of Hamilton, he placed a confident second in no small part due to Mercedes's good choice of tires from the get-go.
Just like last year, S. Pérez took the last podium place to the delight of his local fans. And Ferrari still couldn't figure out tires, but this isn't much of a surprise anymore at this point.
Now then. The season is nearly done. And with two races left, the Brazilian GP is up next. Will Max be able to score even more wins to have a shot at Hamilton's record? You're going to have to tune in to find out!

Stream Formula 1 live and free with ExpressVPN!
Who will be streaming the Brazilian GP in 2022?
The Formula 1 season has been going on for months now. In fact, it's nearly done. So you probably know who's streaming the races and where. And you either have those options, or you don't and are not about to start now.
In the US, for example, the only way to follow the races is through ESPN. And this pretty much requires a cable subscription because the race live streams are not featured on ESPN+. So you're stuck with either drilling holes in the wall, or going for one of the insanely expensive cable-cutting services that carry ESPN, such as fuboTV, SlingTV, Hulu, or YouTube TV.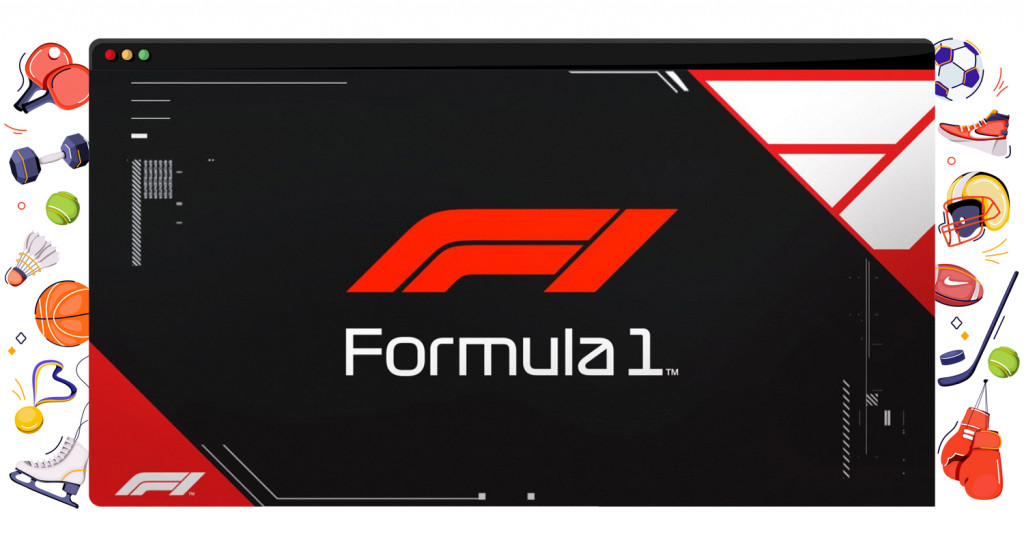 The UK's only choice is Sky. And after Verstappen and Red Bull boycotted the service, good luck getting the full picture. Well, at least you can settle for free race highlights on ITV (soon to become ITVX).
Australia, of course, has Kayo and Foxtel. And Canada has its pick of RDS, TSN, and Noovo. All of these – services you have to pay for.
Meanwhile, the rest of the world is stuck with whoever got to the F1 streaming rights first. And that can be Now, Sky, Viaplay, beIN, DAZN, or any number of local streaming services no one has ever heard of, not even the locals.
Now, this is anything but ideal. But does it have to be this way, or is there a way to stream the races both live and free? SPOILERS: It's the latter.
The one thing you need to stream the 2022 Brazilian GP for free?
Believe it or not, there are still places in the world that stream sports for free, instead of launching a sports streaming platform every month and holding the broadcasts hostage behind a ridiculously priced subscription.
Then again, those kinds of streams are not available to anyone and are exclusively for the locals to enjoy.
Streaming platforms allow or block your access based on your virtual location. And your Internet-issued IP address is a dead giveaway of where you are and what streaming platforms you're allowed to enter.
However, by that logic all you have to do is change your IP address and gain instant access to anything you want, right?
It gets a bit more complicated than that when it comes to streaming services, but for the sake of argument – sure, this is exactly how it works. And fortunately for you, there's a service that is dedicated to bypassing online restrictions and blocks, and it's called a VPN!

Never heard of a VPN before?
You've come to the right place!
But not just any VPN. Streaming restrictions get tough, and sports streaming geoblocks get the toughest. This is why you need a VPN that knows what it's doing. And there's only one that does – that's ExpressVPN!
But why ExpressVPN? Well, we hope you love reading:
It's the VPN service that made streaming its own. No one does streaming unblocking like ExpressVPN!
ExpressVPN is the ONLY VPN that works with each of these streaming options. So you know you will be able to watch the stream any way you choose.
It's also the fastest VPN around, and when it comes to streaming sports, speed is what matters most.
ExpressVPN comes with great support and a 30-day money-back guarantee, so you know you're in safe hands no matter what!
Want to know more about ExpressVPN?
Check out our brand new ExpressVPN review!
Now then, onto the streaming options!
The three ways you can stream the Brazilian GP 2022 live and free
If you've been following this year's Formula 1 season you might as well know these options by heart. We know we sure do.
But if you chose this time to catch the last of this year's races, these are the ways to do so.
ORF
Austria to the rescue! Or, rather, the Austrian Red Bull-owned channels.
The broadcasting right to Formula 1 streams are currently divided between two local broadcasters: ORF and ServusTV. And this time it's ORF that will be broadcasting the 2022 Brazilian GP.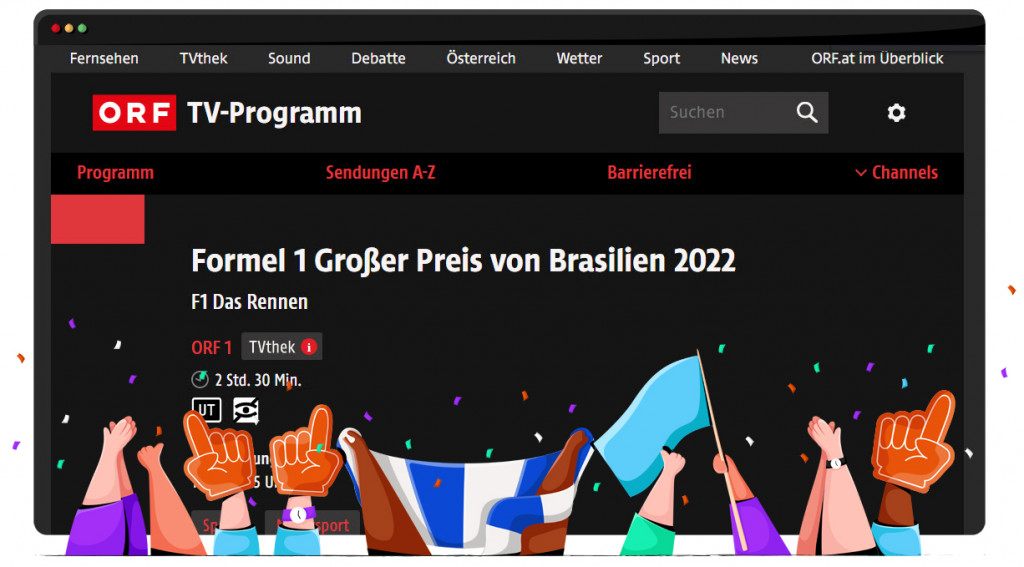 And lucky for you, ExpressVPN is pretty much the only VPN that has the power to crack Austrian streaming.
Here's everything you have to do:
Get ExpressVPN and install the app on your preferred device.
Connect to a server in Austria.
Head over to the ORF online streaming platform and watch the race!
RTL Zwee / RTL Play
Austria doesn't work for you? How about Luxemburg?!
The local broadcaster by the name of RTL Zwee has the broadcasting rights to Formula 1. And you can follow all the action on the local RTL Play streaming platform.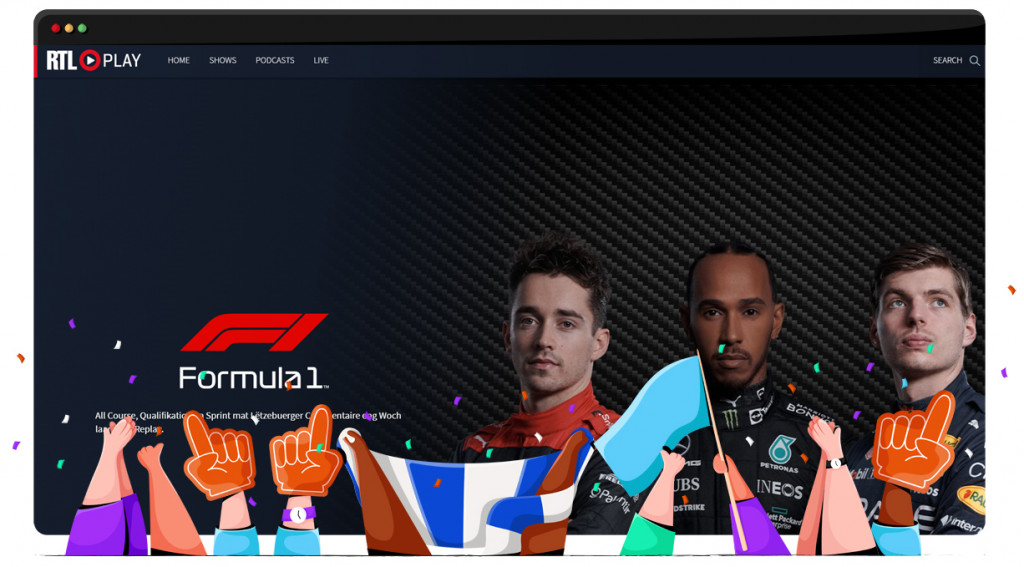 You are in luck! ExpressVPN is pretty much the only VPN provider with servers in the country (knowing your geography pays eventually, kids!). So all you have to do to enjoy the race is:
Once again, get ExpressVPN!
Next, connect to a server in Luxemburg.
Head over to the RTL Play streaming platform and navigate to the RTL Zwee live stream. That's it! No registration or anything – streaming just doesn't get better than this!
RTBF
Finally, if French is your poison of choice, nothing beats watching the race on the local Belgian RTBF streaming platform which – you guessed it – will be streaming the race for free!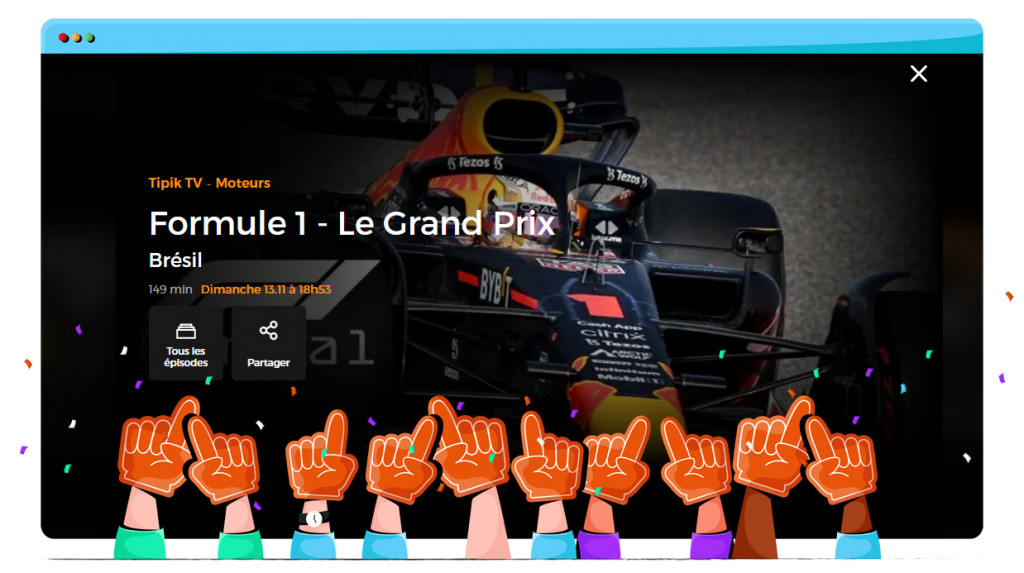 Getting your hands on this option might be a tad harder than the other ones, but with ExpressVPN leading the way nothing is impossible. So here's what you do:
First, get ExpressVPN, of course!
Next, launch the app and connect your VPN to a server in Belgium.
Now that that's done, head over to the RTBF Auvio streaming platform and apply for a free account. And this is the hardest part, but only because to create one you are going to have to provide the platform with a local postcode. So here are a few so you don't have to look for one yourself: 6960, 4400, 3798, 5600, 2221, 1790.
Stream it, stream it all!
The shower of sparks at Interlagos
The legendary Interlagos race track is 4.309 km long and it's notorious for its many bumps. And despite the Formula 1 cars being the best they have ever been, a bumpy road has proven to be their greatest enemy. So we're bound to see plenty of excitement in Brazil come Sunday the 13th.
Thanks to the power of the virtual race car that is ExpressVPN, you can witness the shower of sparks that are bound to accompany the race in all of its glory. So don't miss out!