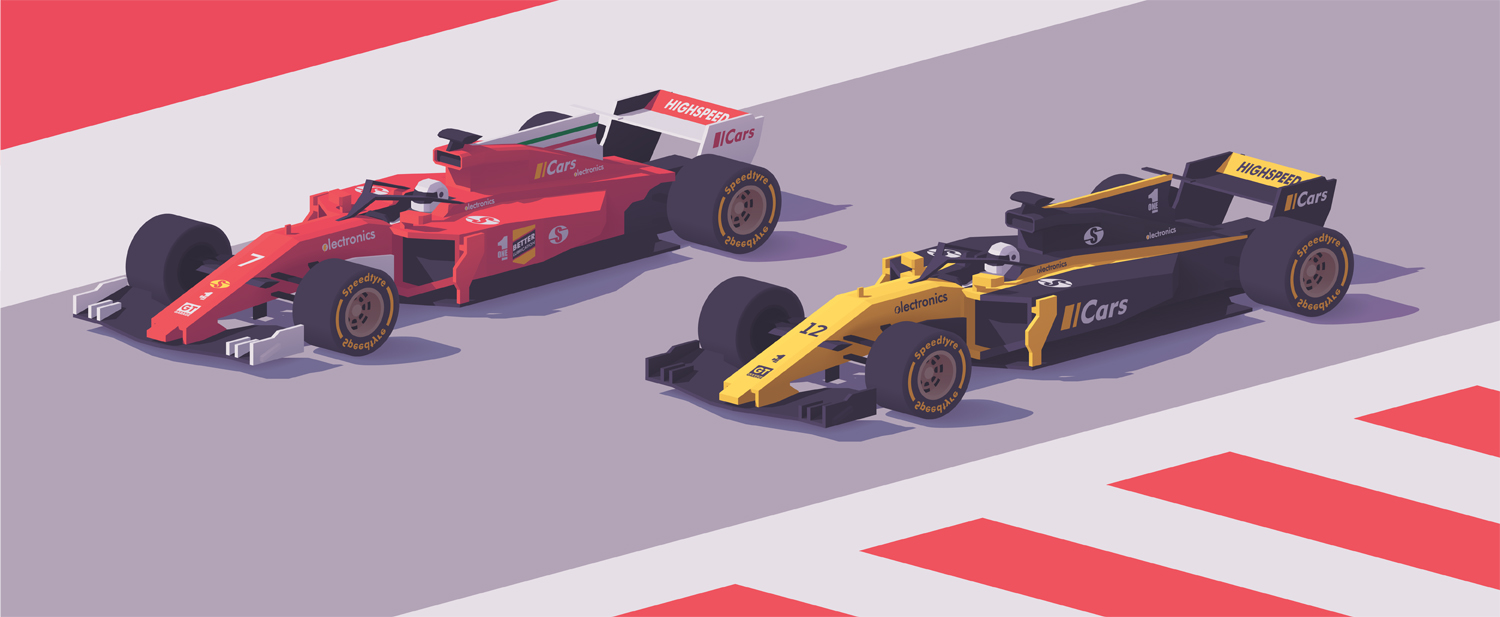 Stream the 2022 F1 French GP live and free
Another weekend, another Formula 1 Grand Prix. The last one was the heart-pounding Austrian GP that was packed with unexpected surprises. And the next one up is the much-anticipated French GP.
And what a race it was two weeks ago, when some of the best F1 drivers ever were duking it out in the Austrian GP. If you'd ask anyone before the race what to expect, the response would have likely been: Not much. While the Red Bull Circuit is one of the more exciting tracks, it is also Red Bull's home turf. So there's little to no mystery as to who is going to win.
Oh, how we were mistaken.
Dutchman Max Verstappen, the absolute favorite for the top finished 2nd for the first time in the 4 consecutive years he's been dominating this track. It was Leclerc that rightfully fought his way back into the spotlight after driving the absolute wheels off his car.
This has been a tough season for Ferrari. Miles better than the last few, but it was filled with both hopes and disappointments. Ferrari started the season off strong but fell behind shortly after due to car issues, the unreliability of the team, and strange strategy calls. However, the Austrian GP showed that Leclerc has more than enough fight left in him. And while not entirely back in the mix for the 2022 title, he definitely brought the excitement back to the season.
Another surprise came from Hamilton. Mercedez isn't competing for a title at this point, but it is interesting to see them wrestle their cars back to victory. And after a late DNF of Carlos Sainz, which definitely hurt the Spaniard, especially after the Silverstone GP, Hamilton managed to score 3rd.
So is Verstappen losing it? Can Leclerc pull a miracle win for himself and Ferrari? We truly hope the 2022 French GP will have an answer! The question is: How do you stream it?

Stream the French GP for free with ExpressVPN!
Who will be streaming the 2022 French GP?
If you have been following this season, you probably already know where to stream the races. But if you've been living under a koopa shell until now, we'll catch you up.
In the US the only way to any Formula 1 streaming is pretty much ESPN or ESPN Deportes. And you know what that means – cable. What is this, 1995?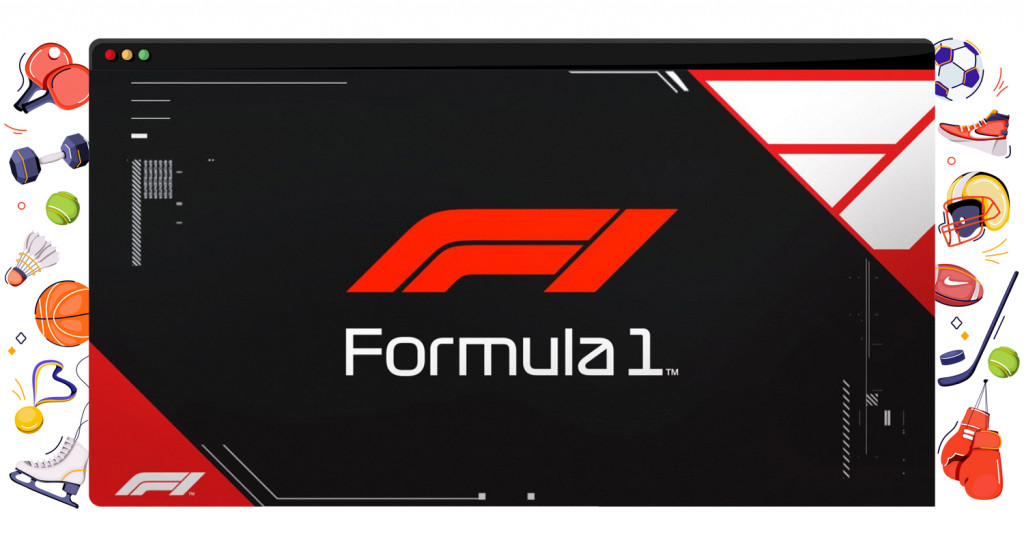 Canada already has it that much better with F1 streams its options being TSN, RDS, RDS 2, or Noovo. But all of those are either paid streaming platforms or, you guessed it, cable.
Australia has Foxtel and Kayo Sport, which are decent streaming options but also aggressively expensive. And the UK only has Sky Sport to turn to, however, you can always catch the highlights on ITV for free. Comforting, but no cigar.
We know, these are just English-speaking countries. But if we try to list every Formula 1 broadcaster in every country, we're going to be here all day. Best check out the official list.
However, we're not here to talk about all the streaming platforms that will cheat you out of your money for some gentlemen racing. No. We're here to talk about the ways you can actually stream the 2022 French GP for free!
Streaming the French GP 2022 for free: What do you need?
As you can see, there are lots of F1 streaming options available in the world. And nearly all of them are behind massive paywalls. Most, but not all of them…
That's right, folks! There are certain places that let you stream all of the F1 races as live and as free as they can be. Those options are, of course, only for the locals to enjoy. So you might be facing some of the toughest geoblocks in the industry if you try and access these streams unarmed. But all is doable if you have the right tools.

Want to know how geoblocks are affecting you?
Check out everything you need to know!
What tools may those be? Why a VPN of course!
But because Formula 1 streams are so well-protected just about any VPN you can grab from the app store won't cut. You need a VPN that can guarantee that it will get the job done. And out of all of our tests, there's but one provider that we trust: ExpressVPN!
Why ExpressVPN? Well, there are a bunch of reasons, but we will stick to the main ones:
ExpressVPN might not have the largest server network, but it definitely has the most diverse one. And this means you will always have a speedy server wherever you need one.
ExpressVPN is the absolute best when it comes to unblocking sports streams.
The VPN is super fast, so you won't have to deal with lag or a pixelized picture when it comes to a sports stream.
Want to know more about ExpressVPN?
Find out everything there is to know in our review!
Now that that's over with time to get to the actual streaming part.
The four ways you can stream the F1 French GP 2022 live and free
As usual, we have gone through the internet with a fine-toothed comb to find every conceivable way to stream the French GP both live and free.

Interested in the entire season?
Check out our entire guide to Formula 1 2022!
This time around, we've found four whole ways that will help you get your Formula 1 fix. So let's not put this off any further.
ServusTV
The two Austrian channels have been our go-to F1 streaming option for a couple of years. They keep switching the races between one another, so it's hard to keep track of who's streaming what this weekend. But that's what we're here to help you with.
The 2022 French TV is going to be streamed live and free on everyone's favorite ServusTV!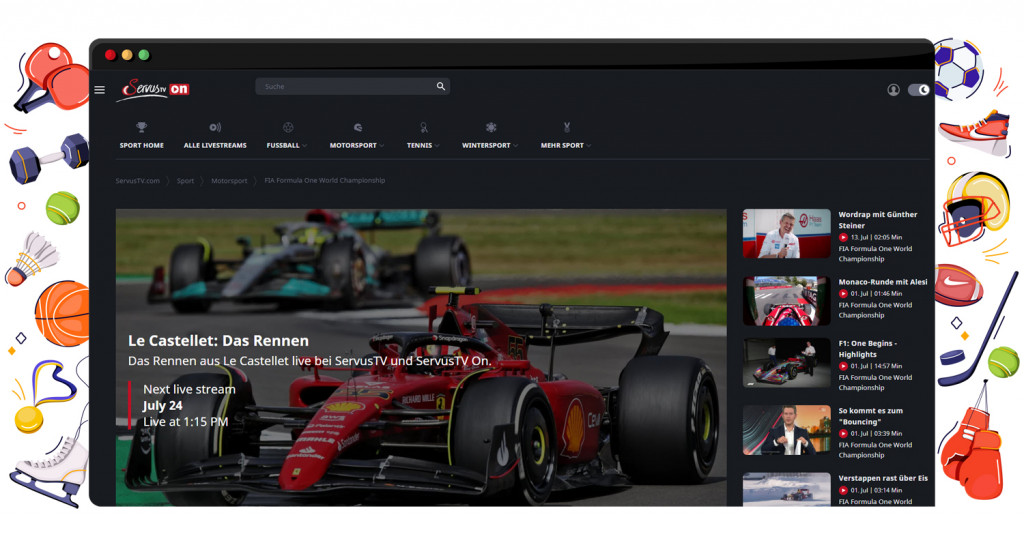 ServusTV has been ramping up security as of late, but it's still no match for the likes of ExpressVPN. So here's how you get it:
Get ExpressVPN!
Connect to a server in Austria.
Head on over to the ServusTV online streaming platform.
Enjoy!
RTL Zwee
Austria not doing it for you? Not to worry, there is another somewhat German country that is also streaming the races both live and free.
The country in question – Luxemburg. And it is broadcasting the entire 2022 F1 season, including the French GP, on RTL Zwee.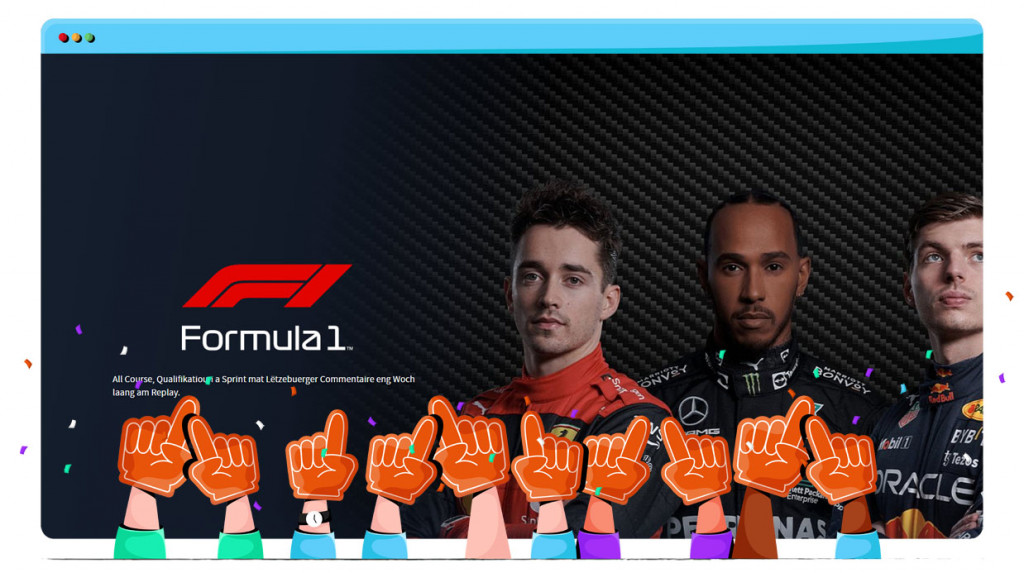 We bet you won't be able to find a VPN with a working, streaming-optimized server in the country. Because we've already found the one for you! So here's how you get to access the stream:
Grab ExpressVPN.
Connect to a server in Luxemburg.
Head on over to the RTL Play online streaming platform and navigate to the RTL Zwee live stream.
Enjoy the race! Just don't forget the beer!
RTBF
German not your cup of tea? How about French?! Now we're talking!
You might want to check out the Belgian streaming platform RTBF Auvio which will be streaming the French GP both live and free. Just like the rest of the season.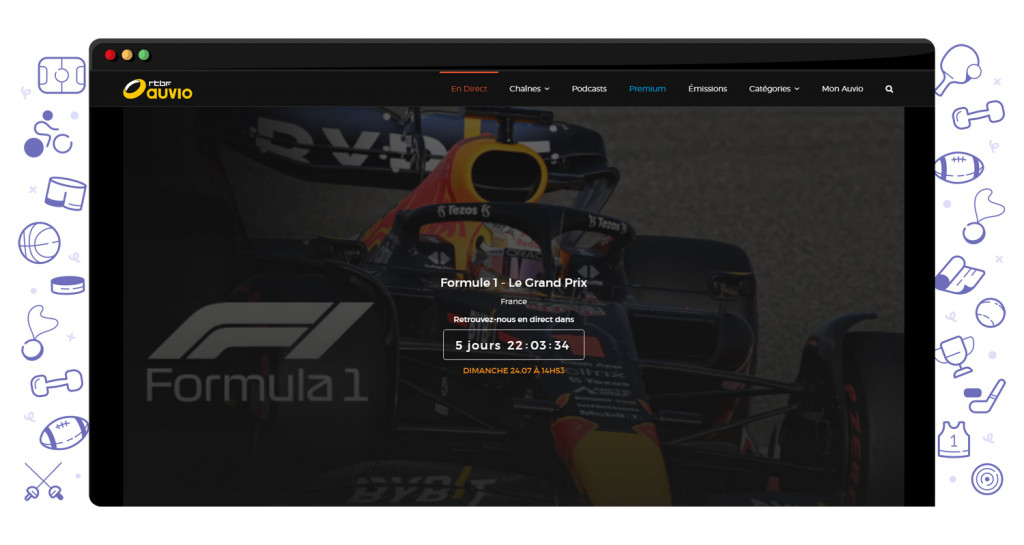 Now, RTBF is not as easy to crack as some of the other platforms we've mentioned, but with the likes of ExpressVPN by your side, you can manage with zero problems. Here's all that you have to do:
Get ExpressVPN, of course.
Connect to a server in Belgium.
Head on over to the RTBF Auvio streaming platform and apply for a free account. You are going to have to provide a Belgian postcode, but you can easily Google that. We're also hearing whispers about RTBF now requesting a local phone number confirmation, but there are online services for that as well! Isn't the Internet wonderful?
Navigate the website and enjoy the race!
C8
You thought we were done, didn't you? Well, normally, we would be. But the French GP is held in, well, France, and this means that all of the locals get to enjoy the race for free through a local C8 channel.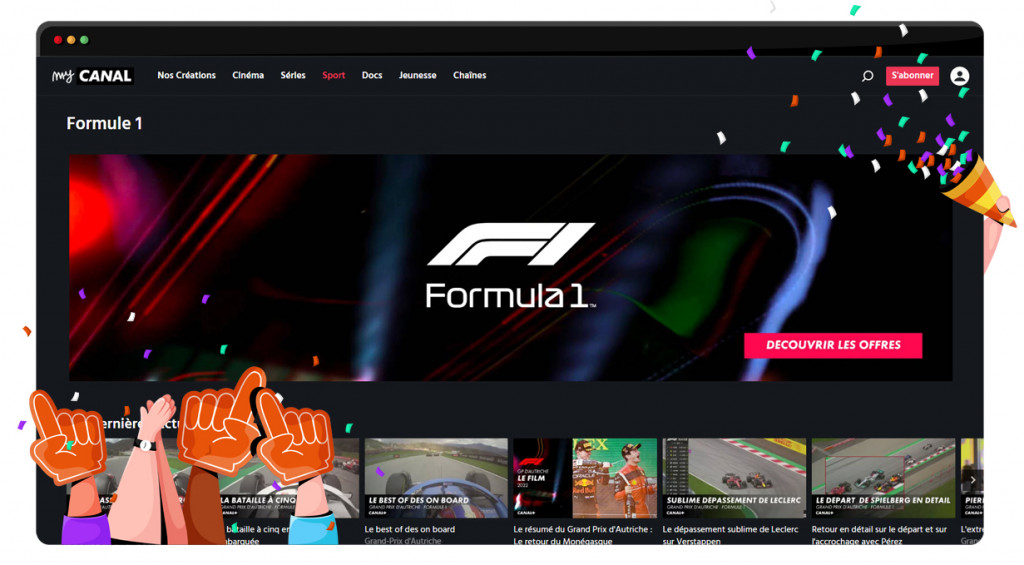 French TV isn't easy to crack from abroad. But what are we talking about?! You have ExpressVPN so this won't ever be a problem. Here's what you do:
Get ExpressVPN!
Connect to a server in France.
Head over to the C8 live stream which is available on the Canal Plus streaming platform.
Enjoy!
Can Leclerc clutch another win?
Verstappen is still far ahead in the ranks of any other driver. But if the 2022 French GP has taught us anything, this could change on a dime.
So far, the entire 2022 Formula 1 season was worth it for just watching Leclerc claw his way back to the top against all odds. And we can't wait to see what he brings to the table in the coming race.
So grab yourself ExpressVPN and your beverage of choice, and enjoy the 2022 F1 French GP live and free!