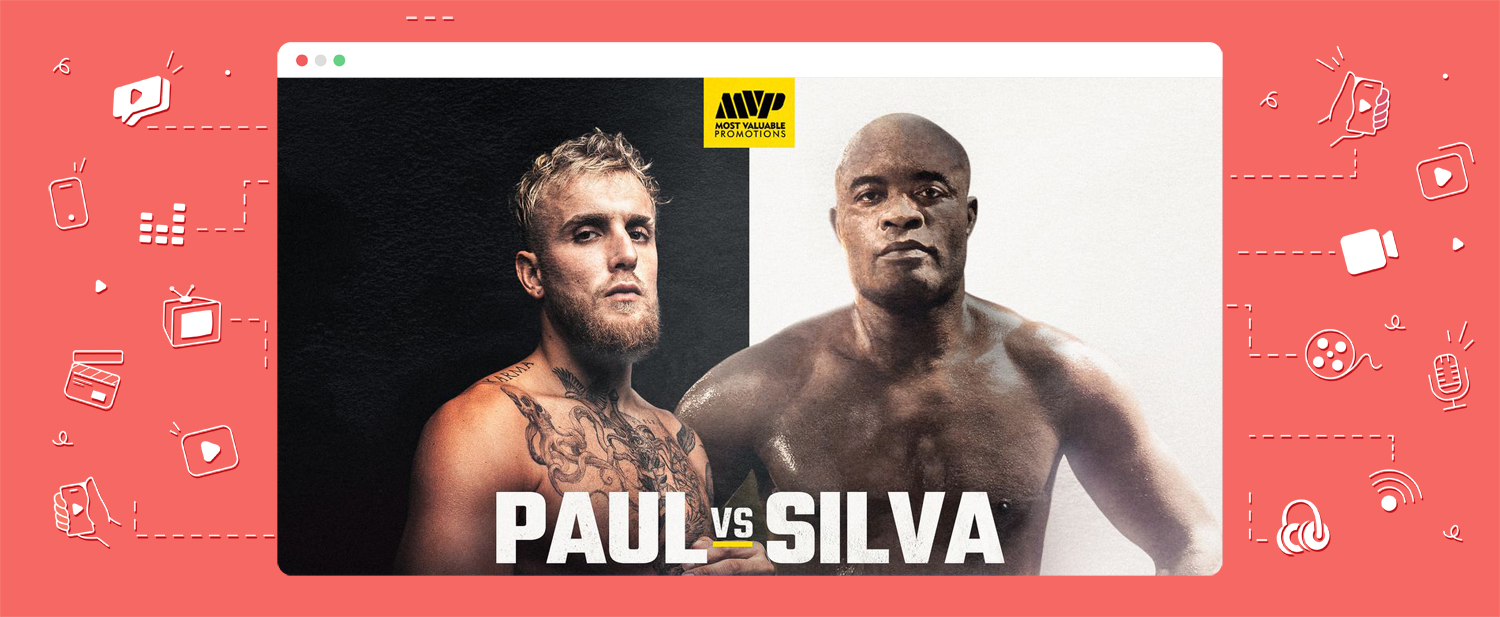 How to watch Jake Paul vs. Anderson Silva from anywhere?
Has it been a year since Jake – The Problem Child – Paul took on and knocked out Tyron Woodley?! Time flies. Well then, it's about time for the psychopath, turn YouTuber, turn professional boxer to take on his biggest challenge yet. Yes, it's time for Jake Paul vs. Anderson Silva action!
Jake Paul might not be in the news as much as he and his brother once were ever since they stopped rapping at each other, burning furniture in a pool, allegedly looting malls, and throwing parties amidst a pandemic, but this wasn't a slow year for the infant terrible by any means. In fact, in 2022 Jake Paul cracked the Forbes list of the highest-paid athletes. He also managed to kick-start his own sports-media/mobile-betting company called 'Betr'. And all of this amidst his regular Jake Paul shenanigans.
Most recently, Jake Paul got sued for 110 million dollars after falsely accusing Matchroom Boxing of fixing matches. We hope the drama never stops.
But we're not here to talk about Pauls's latest publicity stunt. We're here to talk boxing. It's been a long time coming since Jake knocked out Woodley, so if you need a reminder about how his last fight ended, here you go:
If you prefer Jake the boxer to Jake the YouTuber, you're in luck because it's time for him to take on his biggest challenge ever – former UFC Middleweight Champion, boxer, and mixed martial artist Anderson Silva.
Will this be it for the cocky YouTuber? Or will he stay surprisingly undefeated?! Well, we guess you are going to have to watch the fight to find out, won't you?!

Stream Paul vs. Silva anywhere with ExpressVPN!
Jake Paul taking on Anderson Silva: Who's really in trouble?
Jake Paul's boxing career has been plagued with controversy. Few people believed that an average crazy YouTuber went from destroying his neighbors' lives to destroying opponents in the ring. However, attitudes seemed to have changed after Paul's second fight with Woodley which ended in that epic 6 Round KO. Nothing changes people's minds as much as hitting the floor face-first.
Still, while a lot more people are taking The Problem Child much more seriously as a boxer, there are still quite a few that think the matches are rigged. And, finally, there are those who just want to see at least one of the Paul brothers get hit in the face.
What do they all have in common? – They religiously follow every Jake Paul fight!
And then there's Anderson "The Spider" Silva – one of the most respected fighters of our generation. The former UFC Middleweight Champion turned boxer holds the records for the most consecutive wins in UFC history as well as the most title defenses.
Seen as one of the dominant strikers in UFC history, Silva is definitely the toughest opponent the younger Paul brother had to face up against. However, this has been said about every single one of Jake's fights, so it's kind of a cliche at this point.
If you want more ammo to both speculate and get hyped, the All Access featurette that Showtime put out is the best place to start:
Speaking of Showtime…
Where can you watch Jake Paul vs. Anderson Silva?
You don't make it into Forbes 'Highest-Paid Athletes' list unless you know how to make millions with a single match per year. And Jake Paul has this down to a fine science.
Like all of his other fights, Jake Paul vs. Anderson Silva will be available exclusively on Showtime and exclusively as a Pay-Per-View event.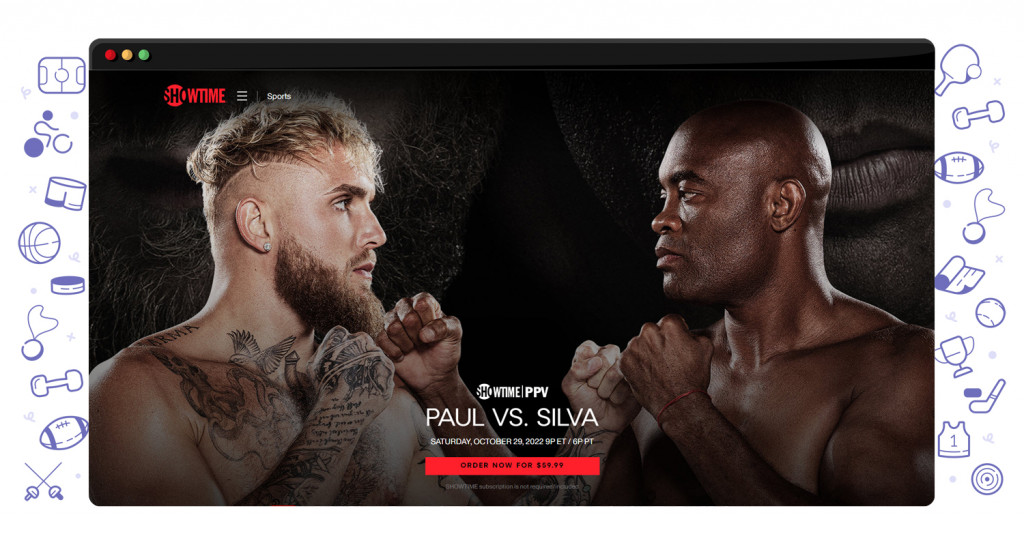 That's it! This is the only place to watch the fight. No ESPN, no fuboTV, or any of the UFC streaming platforms will be hosting the fight.
This might sound fair, but if the last fight with Woodley was any indication, there are literally millions of fans worldwide that would have to disagree.
See, Showtime is exclusively a United States streaming platform. And this means that the Paul vs. Silva fight will be available exclusively in the US.
Despite there being lots of talk about Showtime expanding beyond the Atlantic through a collaboration with Sky, we're afraid it's not taking any of its PPV events with it. So if you're unfortunate enough to be outside of the US at the time of the fight, you might not be able to watch it at all.
Great! How will Jake ever make it as The Highest-Paid Athlete on Forbes without worldwide support? And how will you be able to root for/against The Problem Child? Well, we just might have a solution for that!

Want to know more about unblocking Showtime?
Then be sure to check out our complete guide!
The one thing you need to watch the fight wherever you are
Let's cut to the chase: There is no way you will get to watch Jake Paul pummel or get pummelled by Anderson Silva if you're not in the United States.
This might seem like a TKO for some, but not us! See, you don't have to physically be in the States with a ticket in hand. All you have to do is convince Showtime you are!
How? Well, there's software whose purpose is just that: Switching your virtual location. And it's called a VPN.

Want to know what VPNs are?
Check our our complete guide!
However, it's not as easy as just grabbing any free VPN and calling it a day. Sports streams are very well protected, and even some of the best VPN providers have trouble with them. That goes double for combat sports and triple for Pay-Per-View exclusives. So you need a VPN that can stand up to these blocks. And there's currently just one that can: ExpressVPN!
Why ExpressVPN and not any of the other providers? We're glad you asked :
First of all, ExpressVPN has made a name for itself as THE tool for unblocking sports streams and sports streaming platforms. And it's currently the best there is!
Additionally, ExpressVPN has everything going for it including a huge fleet of US servers, a massive range of residential IPs, and streaming unblocking features out of the wazoo.
It's strong enough to bust through any block streaming services throw at you.
Most importantly, it just works!
Want to know about our current favorite VPN?
Our full ExpressVPN review is the best place to start!
As if that wasn't enough, ExpressVPN comes with a 30-day money-back guarantee so you can technically stream the fight and refund it. Win-win-win!
How to watch Jake Paul vs. Anderson Silva from anywhere?
As soon as you have a VPN as powerful as ExpressVPN by your side, you're nearly there. All that's left is a few additional steps.
But we're not about to leave you guessing as to what those steps are! Here's our full, step-by-step, foolproof guide to streaming Jake Paul vs. Anderson Silva:
1. Get ExpressVPN. Without it, you won't be able to come close to the platform.
2.  Next, connect your fresh new VPN to a server in the United States and head over to the Showtime streaming platform. As soon as you're there, you'll see the PPV ads plastered all over the place. So go ahead and order your virtual ticket to the event.
3. The next hurdle to overcome is paying for the event. This should be straightforward, but Showtime might only accept local, American payment methods.
Don't have one? That's not a problem either, because, with the help of Wise, you can get your very own virtual American bank account in mere seconds!
Get your very own virtual American bank account today!
4. As soon as you have everything, all that's left is to apply and pay for your PPV ticket.
5. Come 29th of October, be ready to rumble!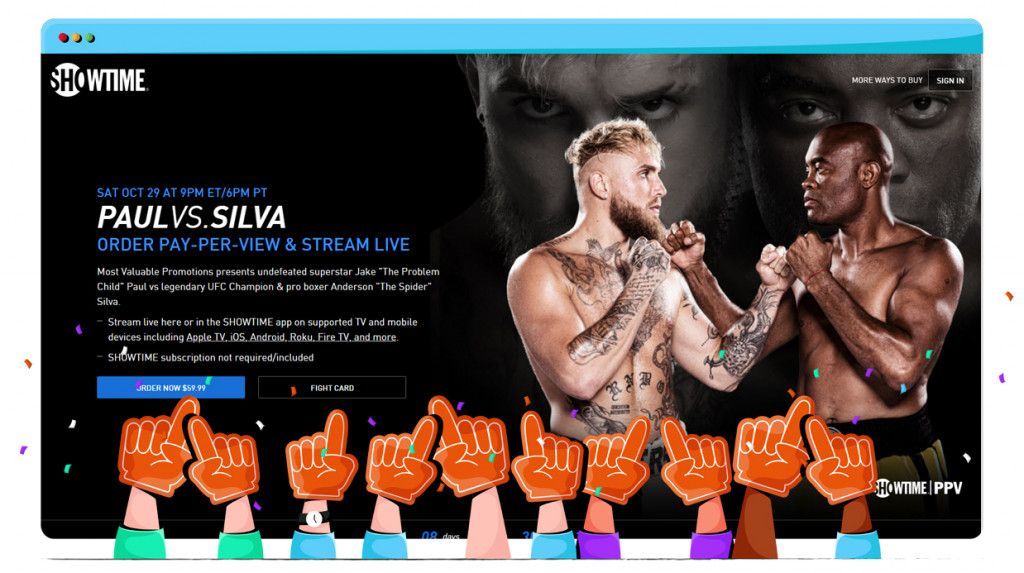 Is this going to be it for The Problem Child?
It's weird to say, but thus far Jake Paul has been undefeated. However, this just makes the upcoming fight all the more exciting!
We definitely enjoy Jake Paul upping the anty with every single one of his fights, and we're definitely not opposed to him taking on tougher and tougher opponents. And this goes double for a legend of the ring such as Anderson Silva!
Many think that he's not in his prime anymore, but we disagree. Anderson Silva is as formidable as ever, with a powerful UFC and now boxing career to back him up. So this might be the time that Jake Paul bit off more than he could chew.
Is it? Well, you are going to have to tune in to find out. But now that shouldn't be a problem wherever you might be!