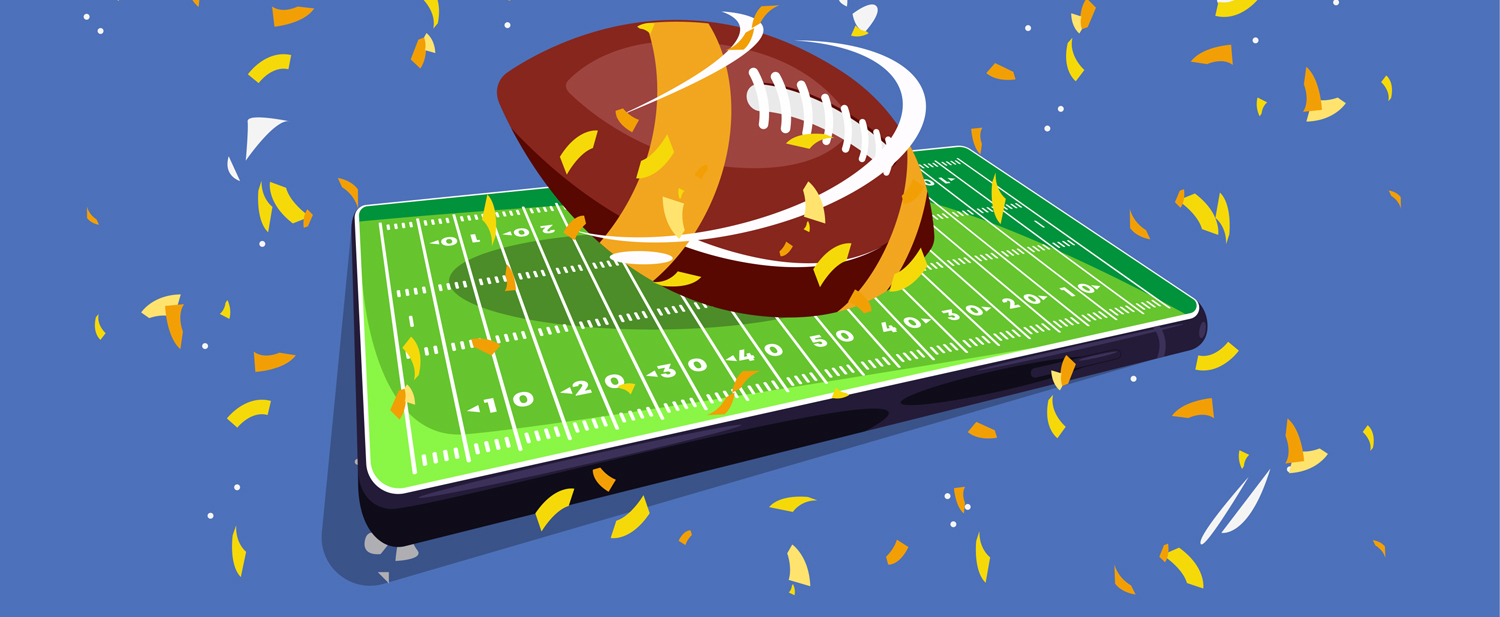 How to watch the Super Bowl LVI for free wherever you are
It's about that time of the year again. It's Super Bowl LVI time! And this time around the start to the greatest sporting event of the year is somewhat bittersweet.
The Rams triumph over the Bucs on January 23rd was the last time we saw Tom Brady in NFL action. The 7× Super Bowl champion has called it a day and this time, it is official. Following an extraordinary run spanning more than two decades of creating a name for himself, chasing past records, and setting new ones, the 5× Super Bowl MVP award winner said goodbye to the game on Tuesday.
What a career he had, having appeared in 18% of all Super Bowls! Safe to say, the kid from San Mateo will go down as one of the greatest QBs in history, and surely the game will never be the same without him.
Brady sent his farewell statement – let's not talk about the Patriots snub – ending the will-he-or-won't-he speculations on his contract extension. He rides into the sunset at the top of the all-time lists for passing touchdowns and passing yards, fitting right into conversation of the best to do it alongside names like Manning and Marino.
It's not all sad, though. Well, it kind of is, but we move.
Despite the legend practically synonymous with the game itself that is Tom Brady moving on, the game must go on. And so it does.
The extended 17-game season is coming to an end and that spells one thing: SUPER BOWL LVI. This edition may not strike you as the biggest game of the last decade, but it has all the pointers of a great championship game.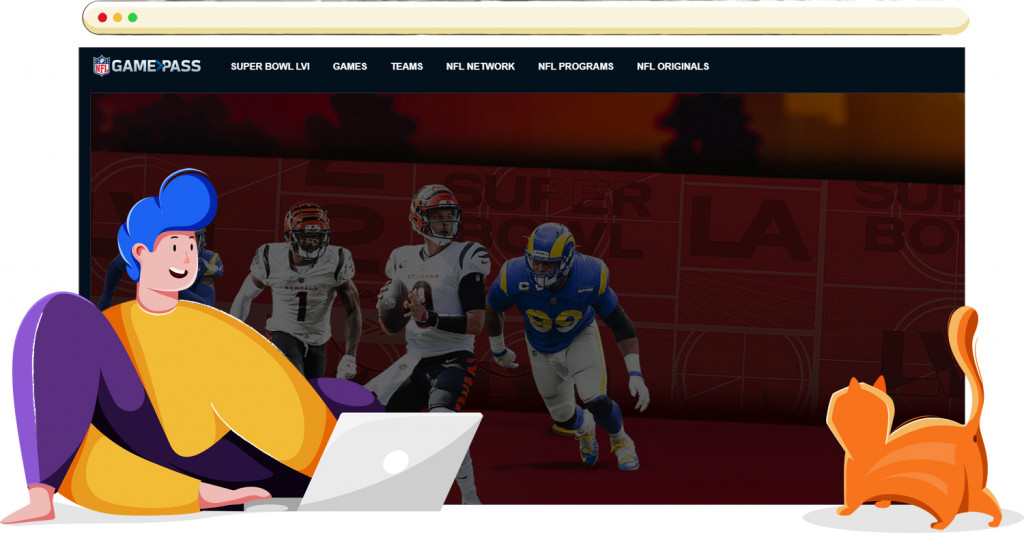 And if the sheer thought about the greatest gaming event of the year doesn't send shivers down your spine, the Halftime Show should!
https://youtu.be/h3NhX6-5mO0
A killer Pepsi halftime show featuring OG hip-hop heavy hitters and fan-favorite teams – you definitely don't want to miss this one. Snoop Dog? Dr. Dre!? Kendrick Lamar?!?! Mary J. Blige?!?!?! We mean, they started playing Slim Shady on the radio again. We don't know about you, but we definitely can't wait!

Don't want to miss the excitement?
Get ExpressVPN and enjoy the Super Bowl!
The Super Bowl LVI: The Where and The When?
The Rams, looking to win their first Lombardi trophy since moving to LA, will take on Cincinnati Bengals in the Super Bowl LVI.

The Cincinnati Bengals staged an incredible comeback in their AFC championship victory over the Chiefs. The Rams, on the other hand, overcame the 49ers in the NFC championship.
Barring any changes, the game will kick off at 3:30 PM PT on Sunday, February 13th, at Los Angeles' SoFi Stadium. The 70,240-seater, whose construction cost $5.5 billion, is the most expensive Super Bowl stadium ever. It is the home of the Rams, though; they will be playing as the away side.
---
But no matter how hyped we are for the actual game, we can't but talk about the second-best things about the Super Bowl. The Halftime show!
The Halftime show is probably the most exciting thing as it is mooted to be the greatest ever. The 12-minute show will feature old-school rap legends Snoop Dogg, Dr. Dre, and Eminem. The 'Queen of Hip-Hop Soul' Mary J. Blige and Compton's Kendrick Lamar are also part of the megastar line-up. We don't know about you, but that RnB and rap pairing caught us off guard and promises to be something!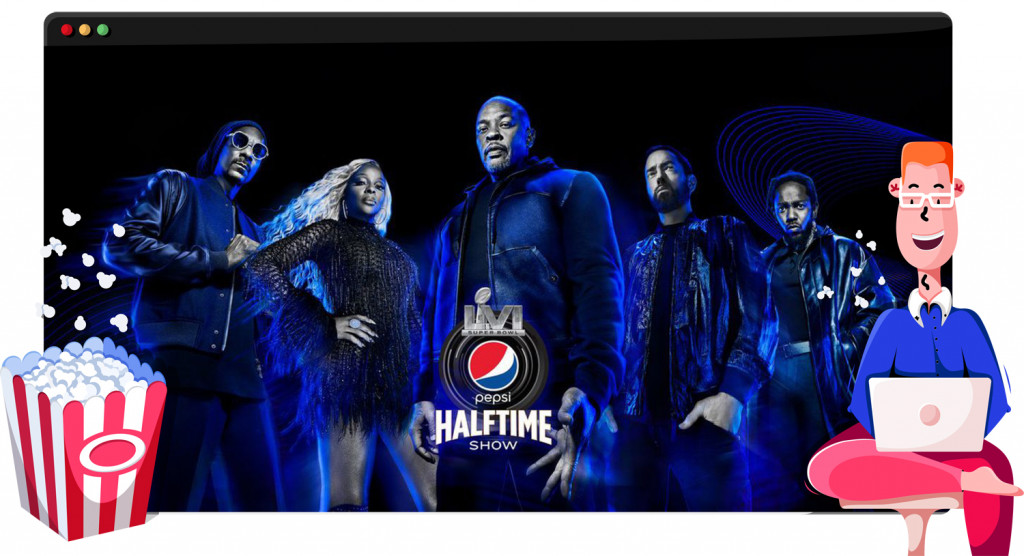 Other artists that will perform before and during the event are Jhené Aiko, Mickey Guyton, DJ Zedd, and the duo Mary Mary.
And oh, the commercials, man. Those are bound to be something! What are we going to get a peek at? An extended Batman trailer? Jurassic World: Dominion? The sixteen next Marvel movies? Chills…
Who's broadcasting the Super Bowl LVI?
One of NBC, Fox, CBS gets the exclusive rights to broadcast the Super Bowl each year.
This year, there has been a lot of confusion as it was CBS' turn, but the honors went to NBC in a swap deal. The broadcast will be available in 1080p  (apparently, only Fox can pull 4K HD) via cable or live TV streaming services.
Though there aren't many free options this time, you know techtypical can't let you down. We have scoured the Internet for the available options and lined up the best for you below.

Missed out on our NFL coverage?
Check out the best ways to follow the playoffs!
The must in all of these scenarios
Before we get into listing streaming services upon streaming services of ways to stream the LVI Super Bowl, there's one thing we have to make clear first.
We have no shortage of awesome solutions to stream the Super Bowl LVI for free, but they all have one thing in common – geographical restrictions. And, honestly, it's a downer.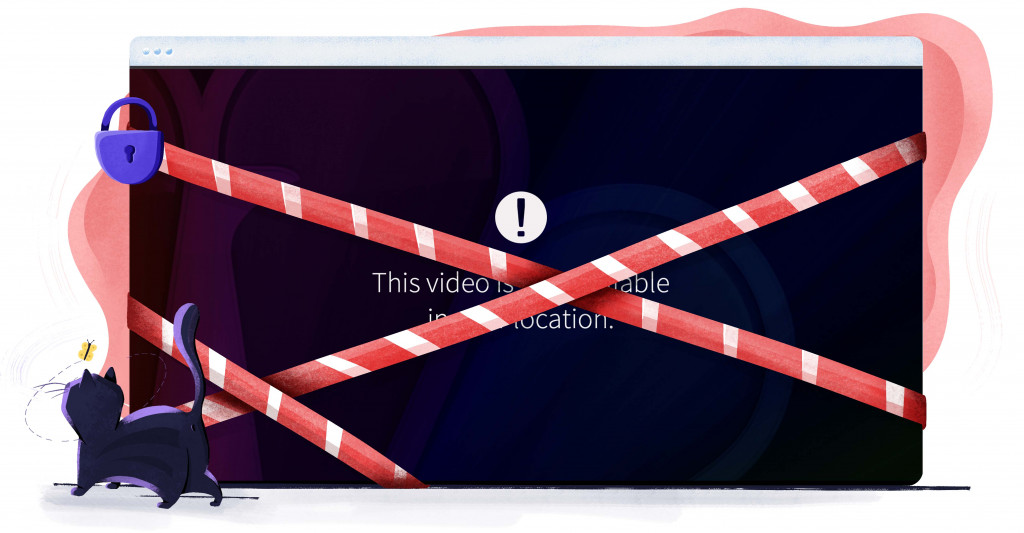 And, of course, the best, and pretty much the only way you can bypass these unfair restrictions, is by using a VPN. Why? Because even the land of the free might not be as free as one would hope when it comes to online restrictions.

Need a refresher course on VPNs?
We've got you covered with everything you need!
Chances are, you might be living outside the countries where the streams are offered. So the only way of getting access to these streams is by making it appear that you are in those countries. And nothing gets that job done better than a VPN.
Streaming services airing come with the toughest of geo-blocks. Streaming sports is expensive. So whoever gets their hands on something as massive as the Super Bowl, you best be sure thee are not letting it go easy.
So unless you're in the mood for disappointments, it's pointless to gamble with free or unreliable VPNs. What you need is a VPN that's as tough as a quarterback. And there's but one VPN that has both the power and the speed to break through the defense. And that's ExpressVPN!
And we're not just saying that cause we like the logo. We believe in giving you the best possible solutions for any situation. And there's plenty of reason to choose ExpressVPN over any other VPN provider for this particular mission:
When it comes to tough VPNs, there is ExpressVPN, a long stretch, and then the rest.
If VPNs were modern-day QBs, ExpressVPN would be Tom Brady. Simply put, it doesn't only do what any other provider can do – it does it better than anyone.
Now, you definitely want a VPN that offers fast speeds and doesn't cause your connection to lag. And ExpressVPN has speeds in spades.
They even went out of their way to develop a brand new connection protocol, and have efficiently made it the fastest one around.

While other providers might excel at cracking Netflix libraries, or any other old streaming services, ExpressVPN is THE VPN you choose for streaming sports.
Able to crack some of the toughest blocks in the business, ExpressVPN will convince you that streaming restrictions simply do not exist.

Need more reasons?
Check out our full ExpressVPN review!
Equipped with the best VPN, yet? Time to explore your streaming options.
All of the ways that you can stream the Super Bowl LVI!
There's no shortage of ways to stream the Super Bowl. But it's definitely much more difficult than it was last year.
But we're not here to talk about how hard our lives are. We're here to give you all the ways you can stream the even without having to waste a dime. Or, at the very least, spending as little dimes as possible.
So… here goes nothing.
Peacock TV
The NBC network has a streaming option, through Peacock TV, for those that don't have cable. The game will be available to stream on the platform, but only if you have a premium subscription.
You're probably wondering where the 'free' is in 'premium.'
Well, the thing is, the subscription comes with a 14-day free trial and if your timing is good, this will be the best place to stream the Super Bowl LVI live. The only catch here is that it's only available in the US.

Do you live outside of the US?
Find out how you can stream Peacock TV wherever you are!
If you live outside, you'll need ExpressVPN. Otherwise, there's no Peacock for you!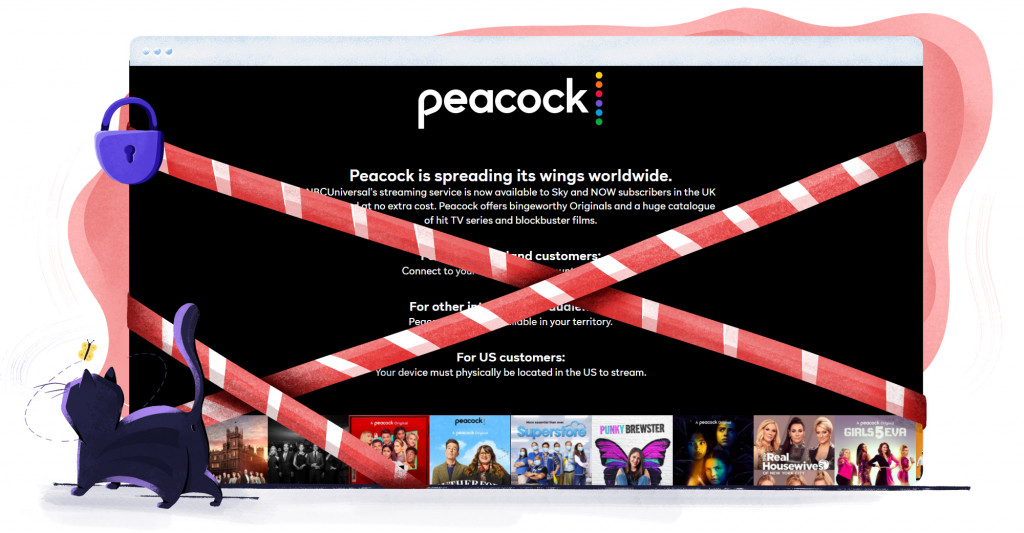 Once you have it, all that's left is:
First, connect to a US server.
Go to US Unlocked and subscribe to a virtual payment card (

Note that you won't be able to subscribe unless you have a US card

).
Head on over to Peacock TV and apply for the free trial.
Don't forget to get a pizza!
So there you go. That's one streaming option down through the magic of premium VPNs.

fuboTV
fuboTV will also have the Super Bowl since it includes NBC (and many more top cable channels) under its package.

The only issue is, just like Peacock, it is restricted to US viewers. And boy, is it ever restricted!

Need to get around fuboTV's restrictions?
We have a whole guide on how you can do that!
The service comes with a 7-day free trial for new users and the subscription starts at a pricey $65 per month. So you pretty much know you need to time this one right unless you want to stick around.
The good news is that fuboTV doesn't require a US payment method, so if you are willing to have that much money hostage, it should be okay.
And, of course, here's a step-by-step on how you can get yourself some fuboTV action going:
This should be obvious, but first, get ExpressVPN!
Connect to a US server of choice.
Visit fuboTV and get a subscription (be careful with the timing).
Enjoy your free trial for the next 7 days, including the Super Bowl game.
Cancel your subscription before the trial period lapses and do your best evil laugh!
Told ya! Easy!

BBC iPlayer
If you are going to go to the length of watching the Super Bowl for free, you might as well watch it in English. And we have just the solution!
Frankly, Brits might have it better than the motherland of the NFL, with the Super Bowl being broadcast for free on BBC Two, which you can access through BBC iPlayer. BBC, however, confirmed the coverage would be switched from BBC Two to BBC One after 45 minutes. But that hardly matters since iPlayer gives you pretty much instant access to both.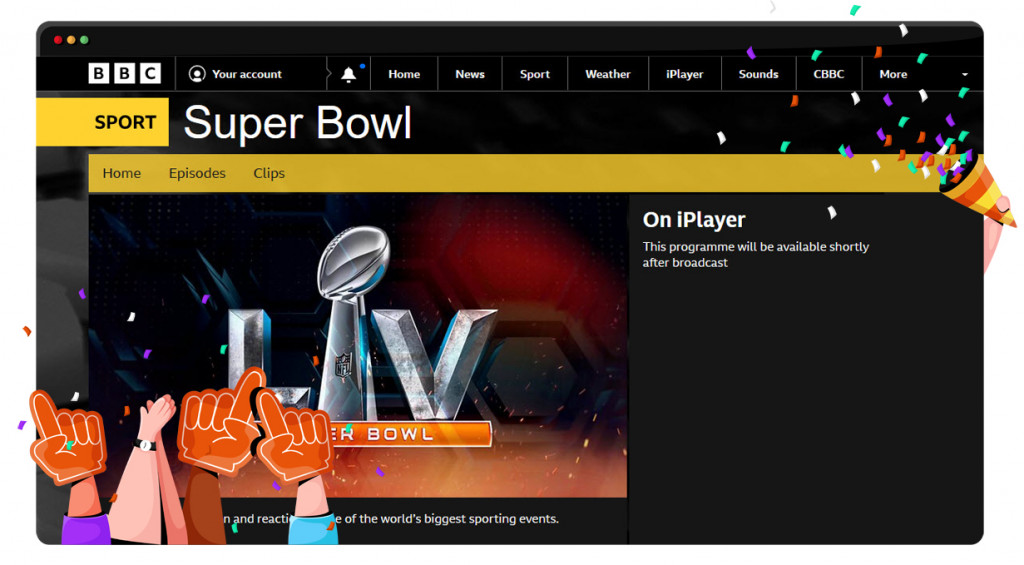 The catch? Well, let's just say the US isn't the only place that knows how to play hard to get.
BBC iPlayer and all of its Super Bowl thrills are, of course, restricted to viewers in the UK, and in the past few years, they have been ramping up efforts to block outsiders.

Need some quality UK programming?
We know all about getting BBC iPlayer wherever you are!
But with the right tools and us by your side, no streaming unblocking is impossible. And here's how you go about this one:
Get ExpressVPN, of course!
Connect to a server in the UK.
Subscribe to BBC iPlayer using a postcode you can get on the web via a postcode generator.
If prompted whether you have a TV license – click 'Yes' and get enjoying everything British TV has to offer for free… Oh yeah, don't forget the Super Bowl!
7Plus or Kayo Sports
If you want an English broadcast with an Australian accent, this is the option for you.
Super Bowl LVI will be broadcast live for free on Seven's companion 7Plus, as well as on the Kayo streaming platform – every Aussie's go-to place for some sports streaming!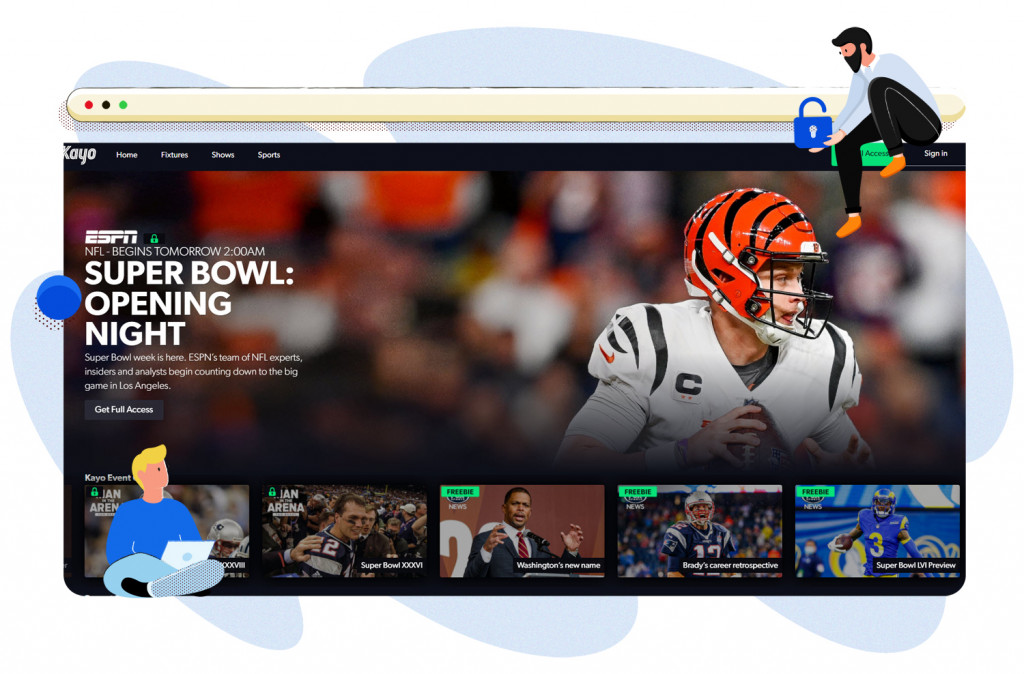 If you had plans to use any but a decent VPN, bin that idea. You'll need a reliable VPN like ExpressVPN because Australia is on the other side of the world. So every bit of speed counts.
Unfortunately, no matter how many continents you cross, geo-restrictions remain a pain in the neck. So, here's what you have to do:
Get ExpressVPN, duh.
Connect to an Australian server.
Head on over to 7Plus, create an account (you will need a ZIP code for the registration), and then enjoy the broadcast.
You can also catch the game on Kayo Sports, which costs $25 per month but has a free 14-day trial.
ProSieben Maxx, Ran.de, and Joyn
If you feel like subscriptions don't work for you and you don't mind getting a little language-rough, then Germany has got you covered with some of the best free Super Bowl streaming options.
And there's definitely no shortage of options to choose from. ProSieben Maxx, Rad.de, Joyn? You've probably not heard of any of these streaming platforms, but guess what? All of them are streaming the Super Bowl LVI for free!

The Super Bowl will be broadcasted live on these platforms, but you will, of course, need to overcome the geo-blocks. Hey, Germans aren't giving any of their Super Bowl watching away for free [well, they kind of are…]
You know how it goes by now:
Get ExpressVPN. No. Really. We're serious.
Connect to a German server.

Head on over to any of the channels you choose.
Enjoy the Super Bowl!
DAZN
Streaming service DAZN is the Canadian home of the NFL. And as such, it has the rights to all NFL games and the Super Bowl.
The service costs $20 per month but this one also has a free trial that runs for one month without commitment. Sweet!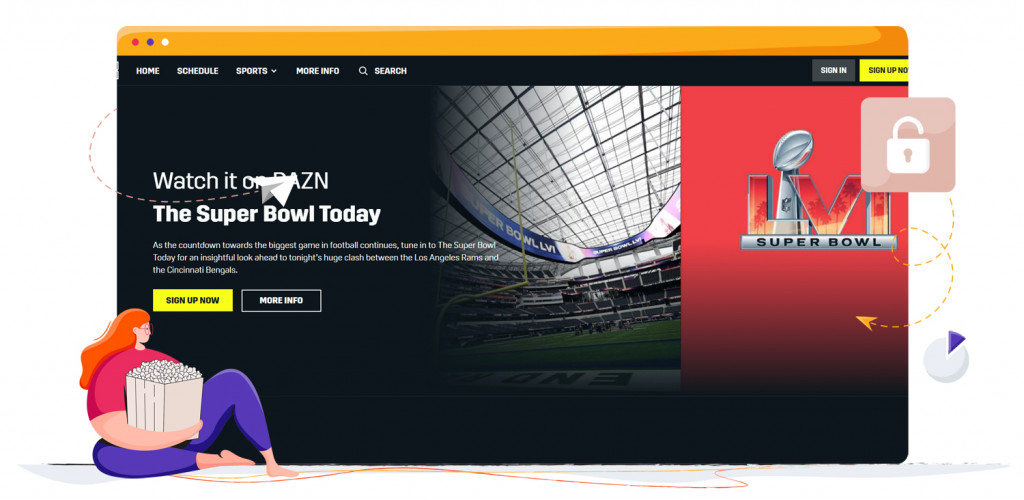 But alas, it is too restricted to Canadian viewers, which means you'll still need a way to bypass all of the blocks and restrictions that lay in your wake. Lucky for you [also being the reason we stick with the provider], ExpressVPN works just as well with Canadian streaming.
So. Sy it with us now:
Get ExpressVPN! Because why wouldn't you at this point?!
Once you have the VPN, connect to a Canadian server.
Head on to DAZN and sign up for the free trial.

Enjoy the Super Bowl!
Azteca 7
If you want a touch of Mexico while enjoying the Super Bowl, TV Azteca's Azteca 7 is the place to camp.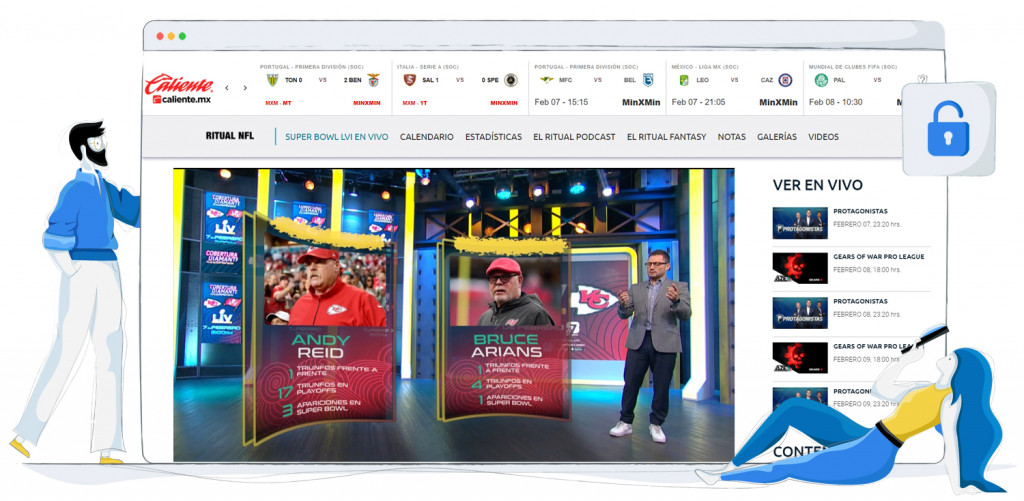 The Mexican network will also be airing the Bengals vs. Rams game for free, but you need a VPN to skirt the geo-blocks. And it's an excellent choice for those fluent en español – it's nearby, so you won't have to sacrifice a lot of speed. All you need is a VPN that can unblock Mexican streaming services. And guess what, if you've been reading thoroughly, you already know one:
Get ExpressVPN.
Connect to a server in Mexico.
Head on over to Azteca 7 and enjoy the Super Bowl action!
¡Muy fácil!
Super Bowl LVI: The time is nigh!
Phew! We have presented you with a few ways you can stream the Super Bowl, to say the least. And if you play your cards right, you might very well be able to stream the game at no cost.
And we know, we know, we know, technically, not all of the options we found are free, but a free trial, that you can time just right for the Super Bowl LVI, is much better than a shady Reddit stream, isn't it? As an added bonus, you won't have to squint all the time to make out the pixels matching together.
So. The Cincinnati Bengals under head coach Zac Taylor will be looking to lift the big prize for the first time, whereas the Rams will have their eyes on the second Super Bowl. Worth noting the Bengals are on a revenge mission, having lost when the two faced each other last in 2019. Joe Burrow, Tee Higgins, and Ja'Marr Chase will undoubtedly have a huge challenge upsetting an all-star Rams team with the likes of Aaron Donald, Cooper Kupp, and Matthew Stafford.
Who will you be rooting for?