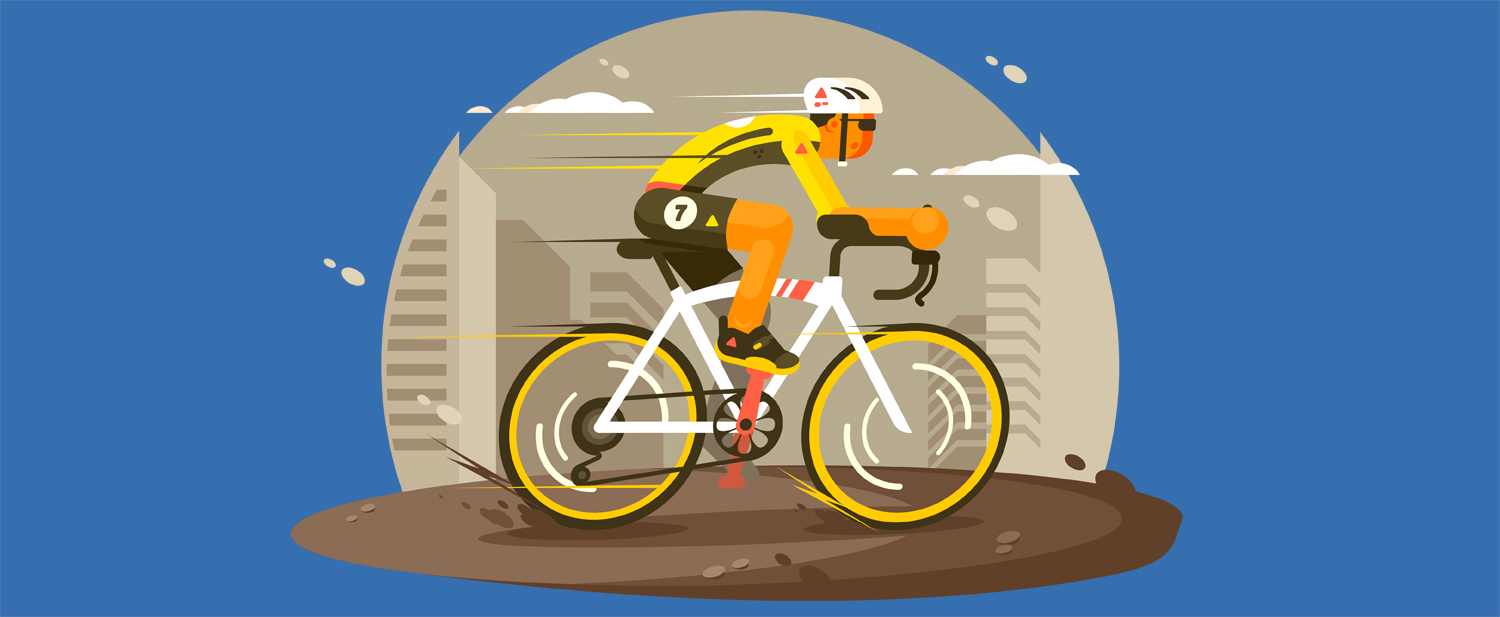 The many ways you can stream Tour de France 2022 live and free
It's finally that time of the year again when every cycling enthusiast forgoes his work responsibilities and stays glued to his device of choice for an entire month watching men with buff legs, tight shorts and helmets pedal their way to victory. You guessed it, it's Tour de France 2022!
It goes without saying that Tour de France is the biggest cycling event of the year. Everything has been building up to this and the tournament is finally here! The 109th Tour de France 2022 will kick off on the 1st of July in Copenhagen and will circle (HA!) through until the 24th of July.
This year's tournament will have 21 stages, and the prize this time around is 2.3 million euros to the winning team, as well as 500,000 euros to the winner of the individual classification.
So, overall, this is shaping up to be one heck of an exciting season for cycling fans. So if you're one, you best not miss it!

Watch Tour de France for free with ExpressVPN!
 109th Tour de France: What to expect in 2022?
So far, the setup for the road ahead is quite exciting and the rivalries are all set to make for an extremely entertaining Tour de France!
Everything you read online is pitting the 109th competition as a duel between Tadej Pogačar of the UAE Team Emirates and Primož Roglič from Jumbo-Visma. The two have been competing with one another non-stop since 2020, and this year both are in tip-top shape to give it their all, especially after the disappointing Tour last year.
This time around, however, Roglič is coming off the back of his Critérium du Dauphiné win, which was a big one.
Roglič's win was amazing, yes, but that's not to say that Pogačar's performance isn't great this year either. So far he's been having an incredible performance, breezing to victory in Tour de Slovenia even going so far as gambling for the win with his teammate, as well as striking several other impressive wins throughout the season.
However, it's not just about the two Slovenian riders battling it out.
There is plenty more talent to keep an eye out for this year. Jonas Vingegaard, Pogačar's teammate from team Jumbo-Visma, has had an even more impressive showing at Dauphiné than his circling partner. Ineos Grenadiers are gearing up to give it their all, and the Australian Ben O'Connor has had an amazing showing so far, if not for a little stumble at Partis-Nice.

So, the stage is set to make this year's Tour de France as exciting as it's ever been. And we know that you can't miss any of it. However, the problem is finding a place to stream the competition.
Who is streaming the 2022 Tour de France?
As is the case with any sports broadcast, your ability to stream the Tour de France solely depends on where you live and who has the rights to the competition in your neck of the woods.
This time around the world is pretty liberal with its cycling broadcasts with a lot of countries being able to watch the competition on TV or even stream it at no extra charge. Nice!
But, of course, this doesn't apply to everyone. And chances are that you might not be able to stream the races at all if you don't have a very specific cable package or a pinpoint streaming subscription.
So, in the USA you can either watch the Tour de France broadcast on the USA Network or stream the entire competition on Peacock, NBC's very own streaming platform.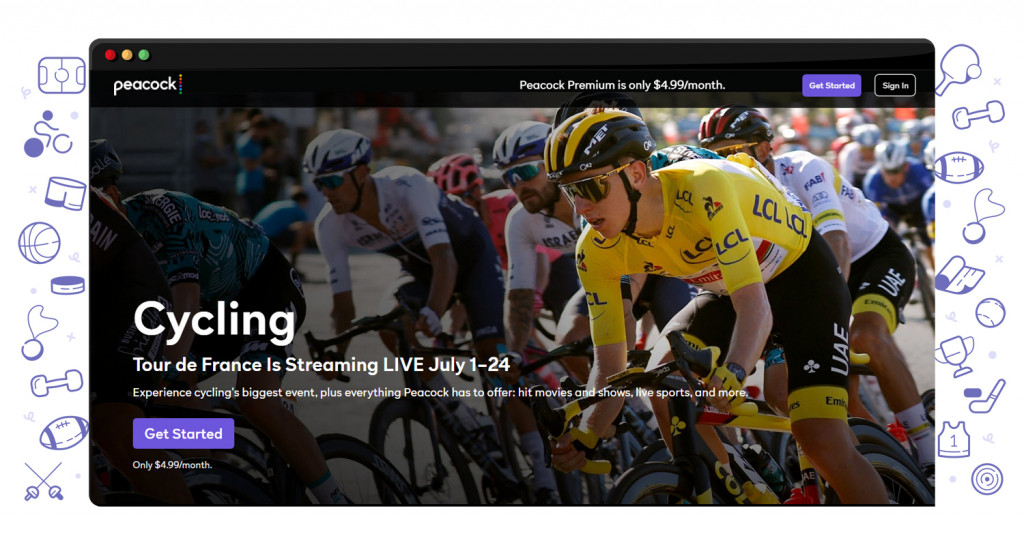 Not in the US?
Check out how you can still enjoy Peacock!
Canada has it even worse than that. Over there the rights to Tour de France are held by a subscription-based streaming service called FloBikes, which will be the sole place to catch any of the biking action in the country. So all you have to do is be a cycling megafan and take out a very expensive, very specific subscription.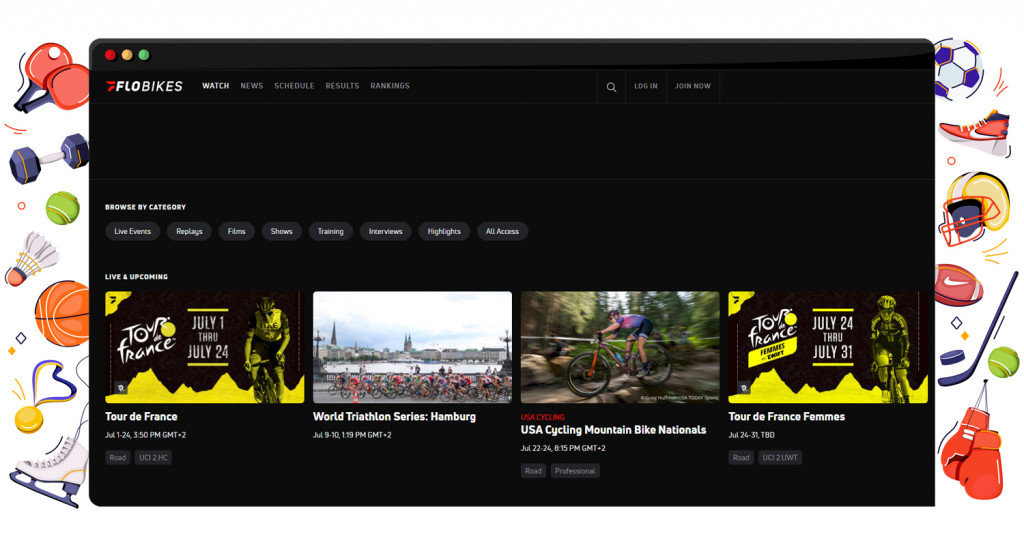 Wherever you are, you might be facing similar problems. At the same time, the country next to you might be enjoying the entire tournament both live and free! The question is: Can you join them in their amazing streaming action?
SPOILER ALERT: Sure you can! With the right tools.
How can you stream Tour de France 2022 for free?
As mentioned, this year there are loads of ways to stream the Tour de France for free. However, most of those options are local. What this means is that if you don't live in the country, you are going to have to deal with geoblocking…

Wait, what's geoblocking?!
Check out how they affect you every single day!
Annoying as geoblocking may be, it shouldn't stop you from enjoying the most important event in cycling. And with the right tools, you can tear through these pesky little restrictions like Eddy Merckx through the competition.
What are those? – The only tool that will help you fight back against online restrictions is a streaming-optimized, strong, and powerful VPN.
Have one in mind? – Funny you should ask! We just so happen to have the perfect options for all of your Tour de France needs. And that's ExpressVPN!
Want to know why? Check out just some of the reasons this provider is our top pick for some Tour de France streaming:
This VPN has the most diverse server network out of any VPN provider. And that's what really matters.
Thanks to its massive web of speedy servers, ExpressVPN is bound to have one wherever you may want to stream Tour de France from!
ExpressVPN thrives on unblocking sports streams, and this makes it the perfect option for you.
Thanks to a slew of local IP addresses, ExpressVPN can crack any platform in any country without a hitch.
It is the fastest VPN around. And the last thing you want to deal with is lag.
Wabt to know more?
Check out our brand new ExpressVPN review!
Now that that's done with, time to get to the actual streaming!
Who is streaming Tour De France 2022 for free and how can you access it?
Now that you have the best VPN for sports streaming locked and loaded, all you lack is the information. And that's exactly what we're here for!
There are a lot of options to get through so there's no time to waste!
ITV4
The first stop on our list is also the best place to stream the event this year. It's Britain's own ITV4 Channel, which you can stream through their online ITV HUB platform.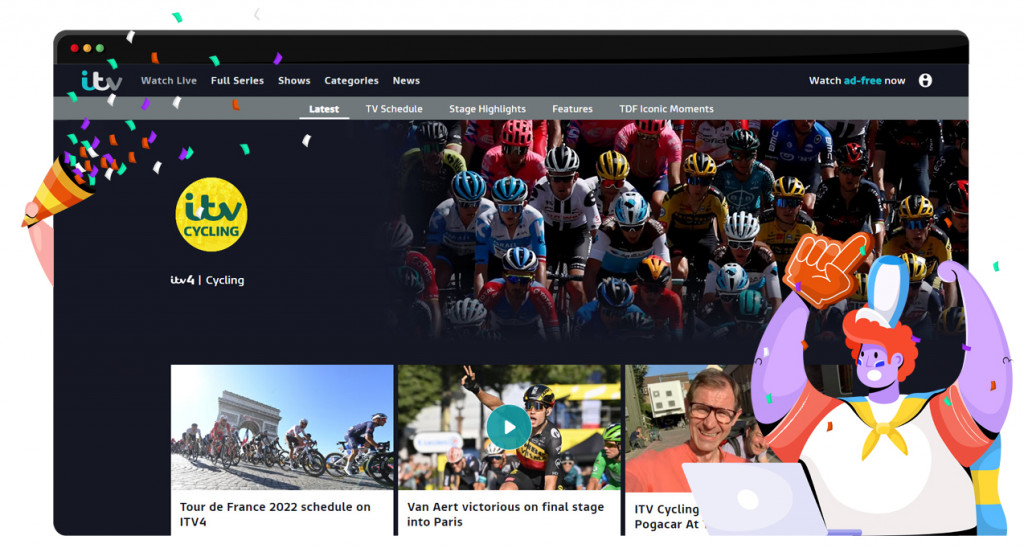 Cracking the ITV HUN streaming platform isn't as easy as it once was, but it's still very doable if you follow these simple steps:
Get ExpressVPN!
Connect to a server in the UK.
Head on over to the ITV HUB streaming platform and apply for a free account. The process is pretty straightforward, but it does require a British postcode which you can easily get with a postcode generator.
When the time comes, enjoy the entire season for free!
Zattoo
ITV HUB not doing it for you? Don't worry, there's another way to enjoy the exact same channel with the exact same programming completely free! And that's the Swiss streaming platform Zattoo.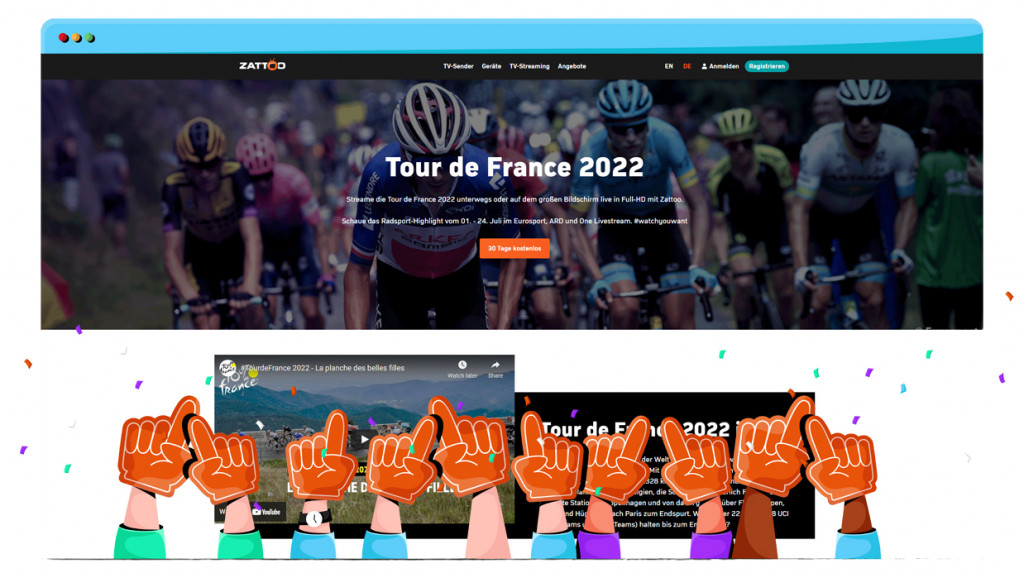 Zattoo is basically the Swiss/German/Austrian hub for streaming different channels. But it's the Swiss version of the platform we're interested in since that's the one that has ITV4 on it.
The process of getting access to this amazing and free streaming platform is as straightforward as they get. So:
Get ExpressVPN!
Connect to a server in Switzerland.
Head on over to the Zattoo streaming platform and apply for a free account of the

Swiss

version of the platform.
As soon as your account gets approved, enjoy the Tour de France live stream on ITV4!
SDS
Want a different accent? Not to worry, we have one!
The Australian channel SBS will, of course, be streaming the entire competition to cheer on O'Connor. And, you guessed it, it has its very own online streaming platform which will be streaming the entire competition live and free!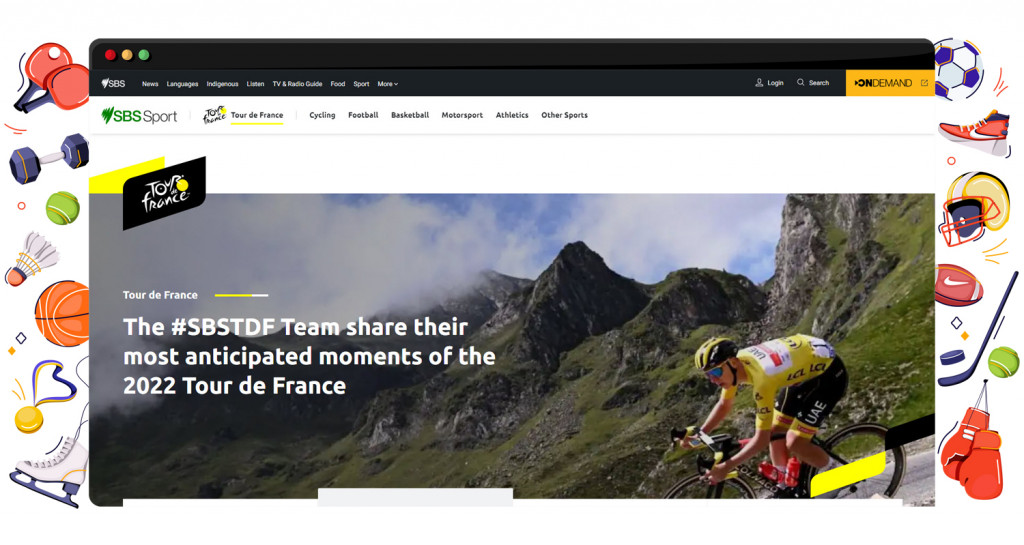 All you have to enjoy the streams with glorious Australian commentary is tune in and enjoy! And with ExpressVPN that shouldn't be a problem.
Here's what you have to do:
First of all, grab yourself an ExpressVPN subscription.
Connect to a server in Australia.
Enjoy everything this season will bring you!
France TV
There's probably no better way to enjoy the Tour de France tournament than on a French streaming platform. We mean, the tournament is named after the country, so at the very least you can enjoy the irony.
And as you would expect, Tour de France is completely free to stream and watch for anyone in the country on France TV!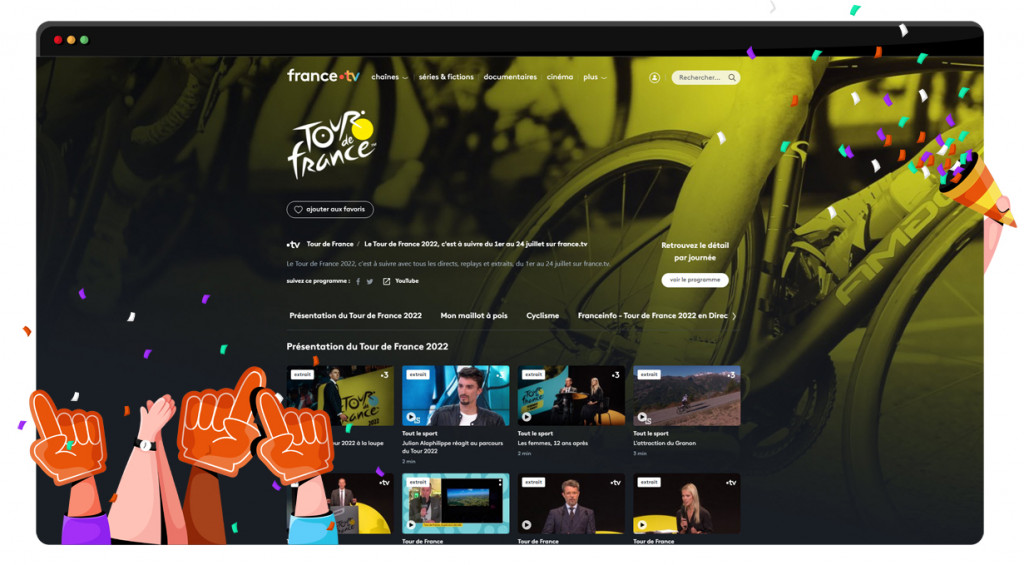 This streaming platform isn't easy to unbock. But, if you play your cards right and pair yourself with ExpressVPN, that shouldn't be a problem. So here's what you do:
Get ExpressVPN!
Connect to a French server.
Create an account if prompted by the platform and enjoy the stream in beautiful French no less!
RTBF
Not enough French for you? Well, then there's also the Belgian RTBF streaming platform which has already been feeding our MotoGP and Formula 1 addictions this year.
And, guess what, it's streaming the entire 2022 Tour de France season as live as it does free!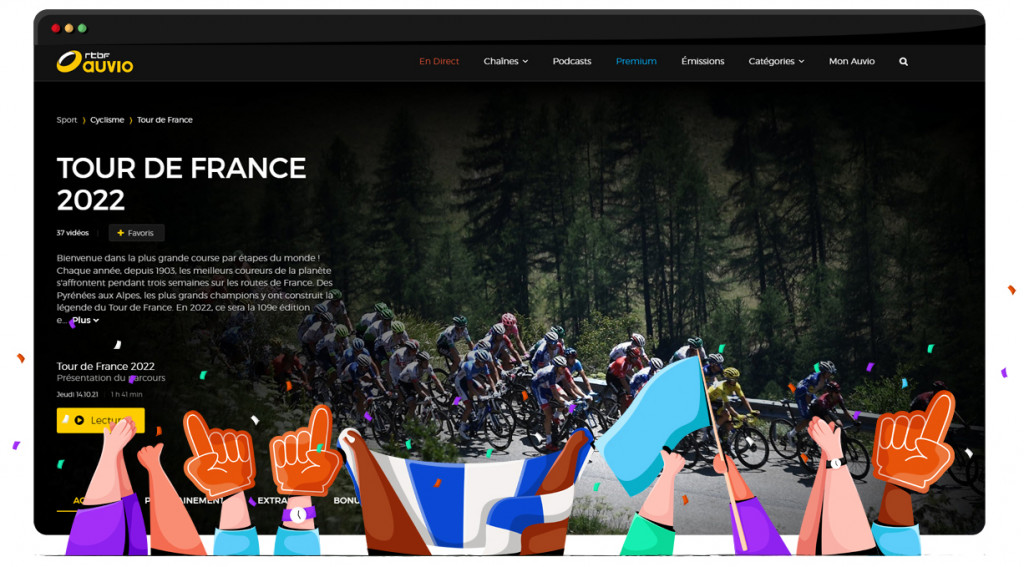 This platform is probably the hardest one to crack, but it's certainly doable with ExpressVPN. Not sure you can manage? Not to worry, here's a guide:
For the last time, get ExpressVPN!
Connect to a server in Belgium and head on over to the RTBF Auvio streaming platform.
Start by making a free account. You will be asked to provide a local, Belgian postcode, but this is just another formality and you can easily google one.
Navigate the website (if you can), and enjoy the tournament when the time comes!
All the cycling you can handle!
And that's about it! Now you know everything there is to know when it comes to streaming the 2022 Tour de France competition.
But most importantly, you know which tools you need in order to do it without any bumps in the road. And that just saved you a bunch of testing and trying!
So, are you excited? We sure are! So grab yourself an ExpressVPN subscription and a streaming platform of your choosing, and stream the most exciting cycling race wherever you are whenever you want. Live. And free!