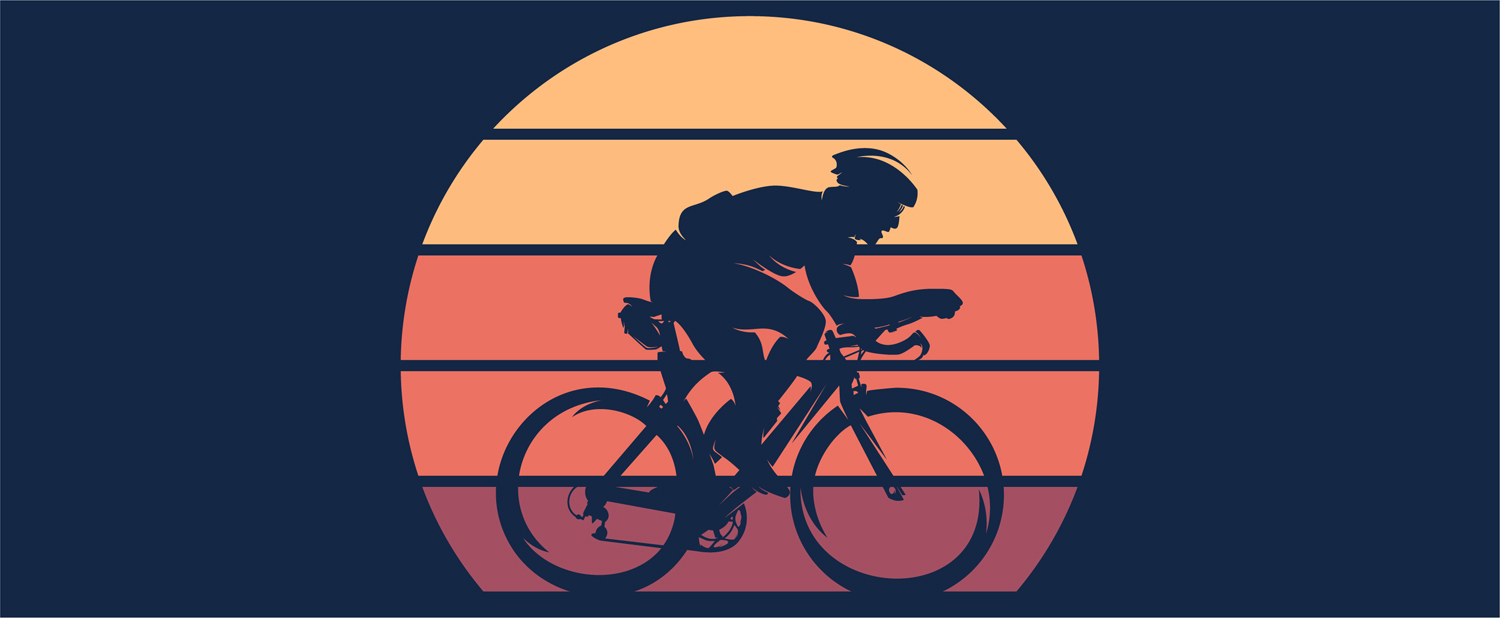 How to watch the 2022 Vuelta a España live and free
Vuelta a España might not be Tour de France, but as any cycling enthusiast will tell you, it's equally as challenging, equally as important, and equally as exciting. The third and last Grand Tour of the 2022 season is finally here, and nothing can keep us away from it!
The 2022 Vuelta a España is bound to be full of excitement for anyone who enjoys two-wheeled racing. The Tour started on August 19 and is set to conclude on the 11th of September after a massive 3,280 km and 21-stage competition. And even though the Tour de France champion Tadej Pogačar decided to skip the Vuelta this year, the tournament is full of amazing talent to follow!
Professional cycling has been getting a bit more love lately, but it's never been easy to follow due to the lack of streaming options. However, we just might have the perfect solution!

Watch the 2022 Vuelta a España free with ExpressVPN!
2022 Vuelta a España expected highlights
Vuelta a España doesn't seem to be getting its due. Everyone knows Tour de France, but the Vuelta is often sidelined, even though it just might be the most brutal and competitive cycling competition of the year.
Even though Tadej Pogačar decided not to participate to get ready for the World Championship in Australia, the tournament is full of undisputed talent.
So far, the favorite is Primož Roglič of team Jumbo Visma. Although he is the undisputed king of the Vuelta with three consecutive wins under his belt, Primož is having a hard time defending his title after the nasty injury he got in the Tour de France. Naturally, the competition is looking to take him down, even though he is putting up one hell of a fight.
Hot on Roglič's tale is Remco Evenepoel from Quick-Step Alpha Vinyl. This young cyclist has been having an amazing season so far, taking 11 wins including the Volta ao Algarve, Tour of Norway, and, most impressively, Liège-Bastogne-Liège. On the other hand, Vuelta a España is primarily climbing, and the 22-year-old has had some trouble with that in the past.
Third in line for the win is the legendary Jai Hindley from Bora-Hansgrohe. He might not have as many trophies, but his win at the Giro d'Italia this year, as well as a consistently mature and strong performance, have made him a favorite of many.
By this point, the Vuelta has seen a lot of excitement already. Jay Vine is leading the way for the Alpecin-Deceuninck team and Evenepoel is hot on his track.
The races have also seen enough drama. Most recently, the brutal crash of Yevgeniy Fedorov from Astana Qazaqstan. And as the competition heats up, there will definitely be more of it.
So it's obvious you have to tune in and get on top of the action before it's too late! But how?
Where can you watch the 2022 Vuelta a España?
Your chances of watching Vuelta a España fully depend on where you are, and through how many hoops you're willing to jump to get there.
First of all, the host of the Tour, Spain, can only follow the entire race on RTVE. On the other hand, most of the rest of Europe, for a few exceptions, can watch the Vuelta exclusively on Eurosport.
In the US, the rights to the Tour are with NBC. This means you can either follow the races on NBC Sport, if you have cable, or stream the races on NBC's own streaming platform Peacock TV.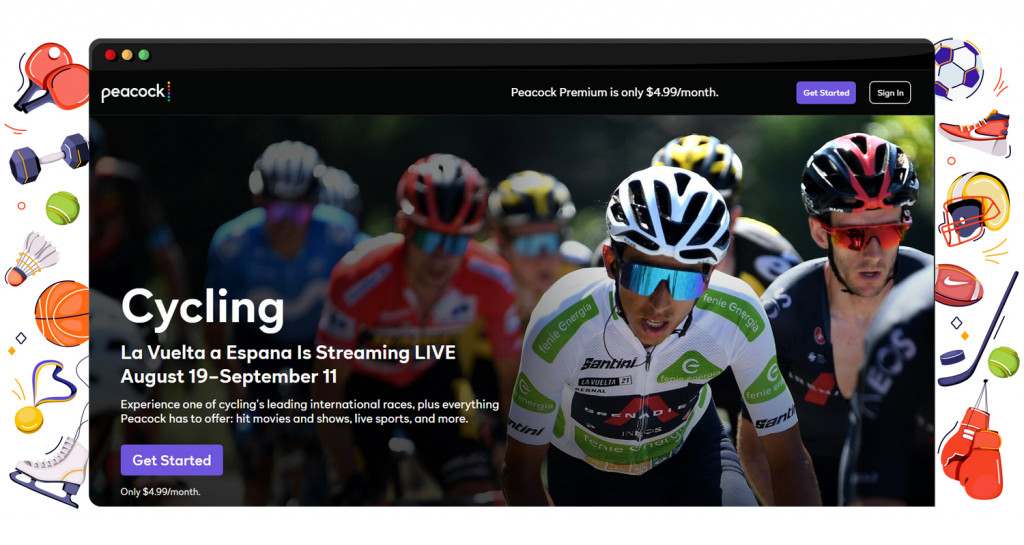 Canada's only streaming option, however, is FloBikes – a streaming platform dedicated exclusively to biking. The platform is available worldwide, however, you have to be a massive biking fan to take out its expensive subscription.
Speaking of expensive subscriptions. Any biking fan's only option for watching the Vuelta in the Middle East is BeIN.
So, this is streaming providers, cable, and sports rights holders keeping the competition we're all dying to see from the fans. Can we do anything about that? Well, we just might!
How to watch Vuelta a España for free in 2022?
Every country has its own way of watching Vuelta a España. So it's not like watching the Tour is impossible. However, not everyone has to suffer through a streaming subscription to get to the exciting stuff.
This year, the absolute best place for any Vuelta a España fan is Australia. Why? Because the locals can enjoy the entire Tour live, free, and without any kind of delay on their streaming platforms SBS and SBS On Demand! And if that's not cycling heaven, we don't know what is!

However, it's not all men with buff legs and tight pants.
While awesome, SBS isn't doing you any favors just because you're a fan. And the broadcast is only available in Australia. Hm, if only you could pass for one…
As a matter of fact, with the right VPN by your side, you can do just that and enjoy 2022 Vuelta a España completely free and truly live. Although, Australia is far away, and sports streams are extremely hard to crack, if you're going for it, you are going to need the best VPN by your side.
And the best one is, without a doubt, ExpressVPN!
Here're just a few things that make ExpressVPN stand out:
It's THE VPN to use when streaming sports. Not only is it able to crack any sports streaming platform, but it also makes absolutely sure it works with anything you might want to stream, wherever it might be. Whether it's Vuelta a España, Bundesliga, or the Premier League, ExpressVPN has got you covered on all fronts!
It's also fully optimized to unblock streaming services in Australia. And how many VPNs can brag about that?
As fast as Tadej Pogačar, ExpressVPN will let you stream anything from anywhere in perfect quality.
Sounds to good to be true?
Check out our full review to see how good it truly is!
Getting SBS from anywhere
Now that you're equipped with the best geoblock bypassing service that the VPN world can offer, unblocking SBS should be as easy as Tadej Pogač makes his wins seem.
Not to worry, though, we're about to leave you stranded in the middle of the Australian bush. Here's a quick guide to what you have to do to start enjoying the Vuelta right now:
First of all, get ExpressVPN if you haven't already!
Next, connect to a server in Australia. We've tested each and every one of them, and they all worked great.
Now, head over to the SBS online streaming platform. It does require an account to watch the live streams, but it takes about two seconds to get.
And now that everything is done, all you have to do is sit back and enjoy!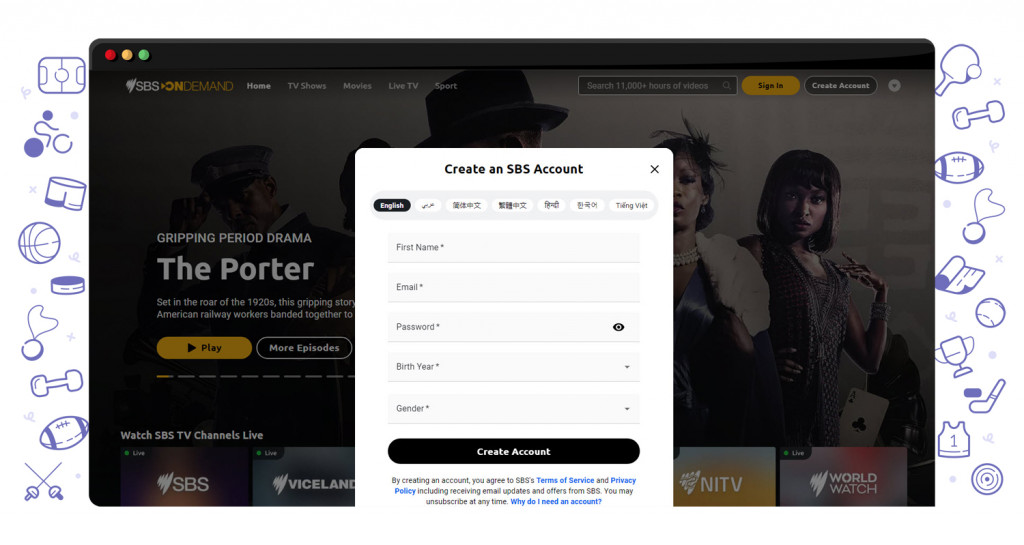 The last Grand Tour of the season
Vuelta a España is brutal. Vuelta a España is amazing. And it's definitely something you shouldn't miss!
Many might consider this Tour one that's primarily for climbers, but, in fact, there are plenty of stretches where sprinters can pull away and take home the victory. And this makes the tournament all the more exciting.
Sounds like something up your valley? Now you know what you have to do to enjoy it without having to spend a dime!