How to stream the 2022 F1 Hungarian GP live and free?
Another week, another Grand Prix. The last one was the French GP with its own special brand of excitement. Now it's time for the Hungarian GP before the season takes a nearly month-long break.
While never considered to be one of the most exciting tracks, Circuit Paul Ricard has produced some pretty exciting races. And the 2022 French GP fits perfectly into this category. While not quite a classic for the textbooks, it was filled with enough excitement and cool moments to keep any fan happy.
Dutchman Max Verstappen, after taking a lot of criticism over the last few races, has finally clutched a comfortable win. His teammate, Sainz Pérez, finished fourth, struggling with overtaking his opponent just as much as Verstappen.
Mercedes seems to finally be back in shape with Hamilton and Russel taking both second and third places. Probably a bit too late for a shot at the podium, but it's nice to see the team still has some fight left in them.
The true tragedy of the race, though, was Leclerc crashing. After the insane win last week everyone was eager to see what Charles would bring this time. But the track had other plans. And that is a massive bummer for Leclerc who has been driving the wheels off his car.
However, Leclerc's teammate Carlos Sainz was the absolute star of the race. With crazy speeds, daring overtakes, and overall great performance, Sainz was definitely the better of the two Ferrari drivers and should have been up there on the podium. Unfortunately, he finished 5th.
But all is not lost yet! The next race in the season is the 2022 Hungarian GP. And if the previous races have been any indication, everything can change on a dime. Plus, the Hungarian GP is the last race before Formula 1 takes a nearly month-long break. So you have got to catch this one. The question is: Where?

Stream the 2022 Hungarian GP live and free with ExpressVPN!
Who is streaming the 2022 F1 Hungarian GP?
Well, this depends on where you are. As the rights to Formula 1 races are the new hotness, everyone seems to be gunning for a piece of the F1 pie.
In the United States, you can catch all of the Formula 1 races exclusively on ESPN and ESPN Deportes, or any of the cable-cutting streaming services that carry the channel like YouTube TV, fuboTV, or SlingTV.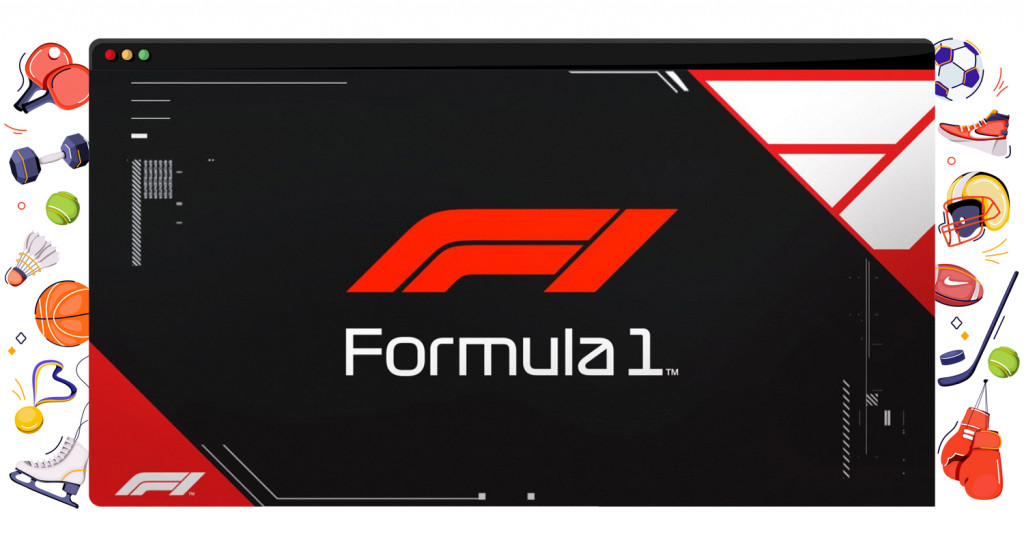 Canada has it a bit better with its options being TSN, RDS, RDS 2, or Noovo, but most of those options are still only accessible via cable.
Australia has its choice of either Kayo Sport or Foxtel. And, finally, the UK can only get its live Formula 1 coverage on Sky Sport. But you can always catch the highlights on ITV's Channel 4 for free.
---
And the rest of the world? Well, it honestly could be anything. Depending on the country, the rights to streaming Formula 1 can belong to DAZN, NowTV, beIN, Viaplay, or one of the many, many, many local streaming and cable services.
This does make following the races tough for the fans. Not just that, this actually cuts off certain fans from their F1 viewing pleasure entirely!
Is that fair? – We don't think so! But we also just might have a fix for that!
How can you stream the 2022 Hungarian GP live and free?
Out of the many streaming options the world over, there are bound to be a couple that will be streaming the 2022 Hungarian GP for free, right? Right!
Believe it or not, there are places in the world that let everyone enjoy the Formula 1 races. So they make all of their live race broadcasts free for everyone to enjoy. That is if you're local… And everyone else? Well, everyone else gets geoblocked.

Want to know who is streaming Formula 1 for free?
Check our our complete guide to the 2022 F1 season!
Is that it then? Not on our watch!
Did you know that there is a way you can bypass any block that the Internet throws at you? Well, that way is the VPN way!
But with online restrictions getting tougher every single day just about every VPN is getting kicked to the curb. And we're not even talking about the free stuff, even the best ones can't handle the sports blocks anymore. All, except for one: ExpressVPN!
So what makes ExpressVPN the best? How about all of this:
ExpressVPN has the most diverse server network out of any VPN provider.
This means that it has a way into any country's streaming services.
This is the single best VPN for sports streaming.
While most other VPN providers are giving up, ExpressVPN never gives you any trouble when it comes to streaming sports or anything else for that matter!
This is the fastest VPN around!
And when it comes to streaming pulse-pounding sports, speed is what matters most!
Want to know more?
Best check out our full ExpressVPN review!
Now that you have the right tools for streaming the Hungarian GP, time to find out where you can stream it.
The three ways you can stream the Hungarian GP live and free in 2022!
Just like with every race this year, we have gone through all of the streaming options to bring you the best ones.
This time we have found 3 foolproof ways to stream the F1 Hungarian Grand Prix for free!
ORF1
Nearly every weekend there's a Formula 1 race. And every weekend one of the two Austrian channels comes to the rescue to anyone and everyone who want to stream the races for free.
And with the 2022 Hungarian GP, it's ORF1 that comes to your rescue!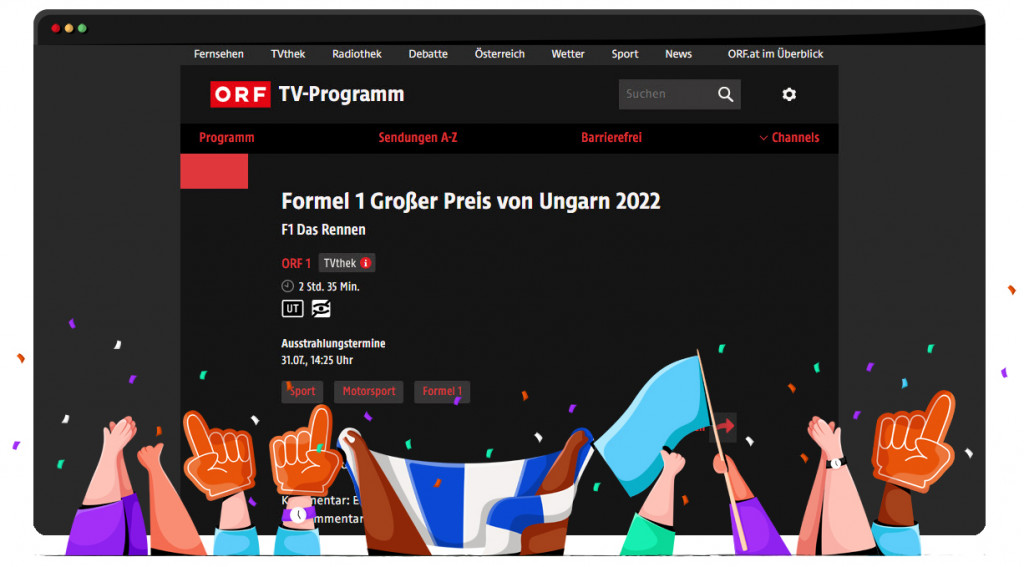 In the last few months ORF1 has ramped up security, but it's still no match for the likes of ExpressVPN. So here is what you do:
Get ExpressVPN!
Connect to one of the provider's stellar servers in Austria.
Go to the ORF1 website, find the stream and enjoy!
And that is it! No registrations, no accounts, no nothing. This is actually kind of refreshing!
RTL Zwee
Not enough Germanic languages for you? Don't worry, we've got more!
As a matter of fact, the Luxemburg channel RTL Zwee is streaming the entire 2022 Formula 1 season live and free through their streaming platform RTL Play. And this includes the Hungarian GP!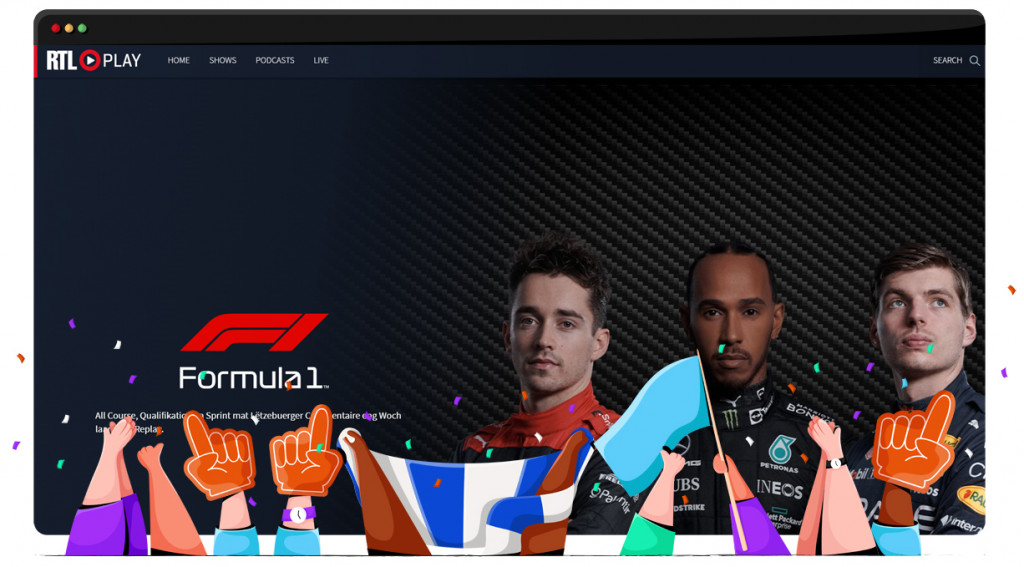 If you think that any old VPN will do – think again! Not only are you going to have to deal with RTL's blocks, you first have to find one with servers in the country. And we're not sure most of the providers know that the country exists.
However, if you have a knack for making the right decisions, you're already packing ExpressVPN which has got you covered. If not, this is all you have to do:
Get ExpressVPN.
Connect to its servers in Luxemburg.
Head to the RTL Play streaming platform, navigate to the RTL Zwee stream, and enjoy!
RTBF
Now, if the German languages don't cut it for you for some reason, you might still be able to enjoy the Hungarian Grand Prix live and free. Because there's still Belgian RTBF that's got you covered!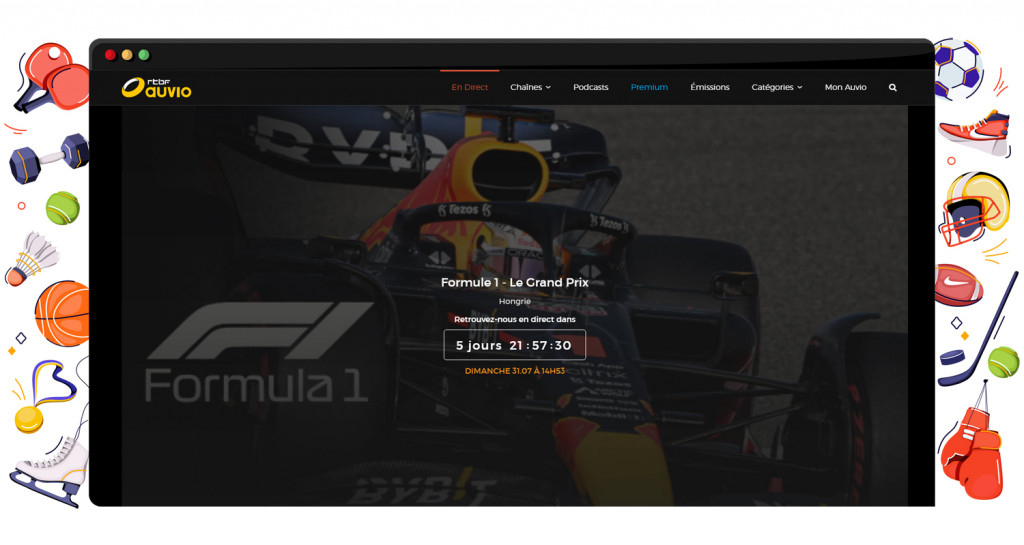 RTBF might be harder to crack, but the sweat and tears are well worth it, given how much this platform has to offer. We're not just talking Formula 1, it also has MotoGP, Tour de France, and so much more for free!
All you have to do to join all of this free streaming action in stunning French is:
Get ExpressVPN.
Connect to the provider's Belgian servers.
Then, head on over to the RTBF Auvio streaming platform and apply for a free account. You will have to provide a Belgian postcode, so you can just use this one: 2018 (no, this is not 'just a year').
Confirm your email and gain full, unrestricted access to the platform and everything it's got to offer.
Now all you have to do is navigate to the Hungarian GP stream and enjoy!
Let's go!
Lots of critics are saying that this season is in the bag. Verstappen seems to be too far ahead as well as getting his mojo back, and everyone else seems to be stuck too far behind. However, this Formula 1 season has been nothing but pure excitement, so we're definitely careful to draw conclusions. After all, a true Formula 1 fan is in it for the art.
And now that you know how to stream the Hungarian GP live and free, nothing stands in your way to pure Formula 1 joy. So you can draw your own conclusions on whether Hamilton's still got it.
What are you waiting for? The pizza's getting cold!