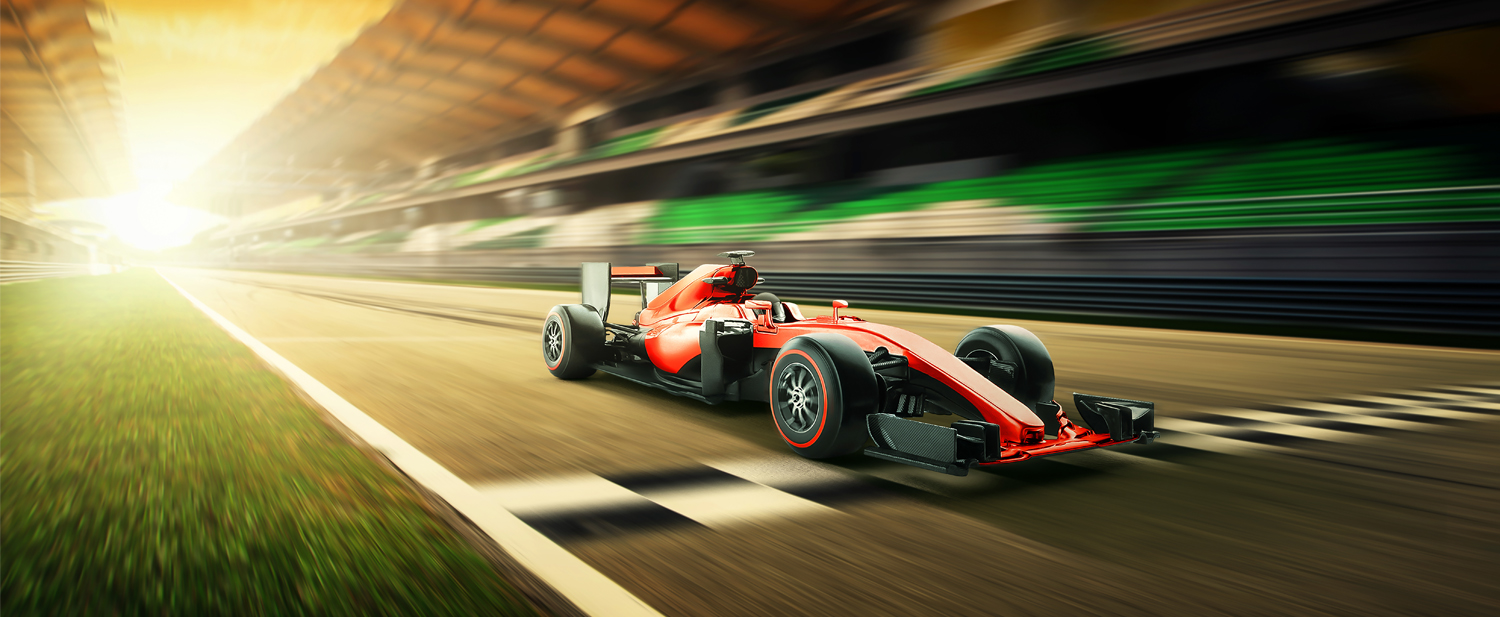 How to stream the 2022 F1 Mexican GP live and for free?
Wow, things must have gone really wrong at that pit stop for Red Bull! However, this didn't even seem to phase Verstappen as he still made it out of the United States GP with a confident win. But hey, at least it gave us some classic Verstappen vs. Hamilton action we have been dying for since 2021. And they said Formula 1 can't be exciting after Japan… Next up is the Mexican GP, and we can't wait to see what comes next!
The US GP was much more exciting than anyone could anticipate. Not that it's never not. However, lots of fans were worried that the season would lose its edge now that we all know who won (as though that was ever a secret). And yet, the Grand Prix did anything but disappoint.
Max Verstappen, of course, continued his ridiculous winning streak, landing himself a 13th win this season. And his now tied with the OG Schumacher and Vettel for most wins in one season. His teammate Pérez, though, got spun out by Russel in a minor accident that, eventually, still caused him to retire.
Hamilton placed second for the second time this season, and it was great to revisit the old Max/Lewis rivalry.
Leclerc finished third, driving at the end of the season as strongly as he did at the start.
Finally, the most heartwarming thing about the GP was Vettel getting the Driver of the Day vote, after majestically fighting his way from 13th to 8th letting us know that there's still a lot of the old champion still in there.
Now then! Time for the Mexican Grand Prix, and we can't wait to see what comes next!

Stream the Mexican GP live anf free with ExpressVPN!
Where can you stream the 2022 Mexican GP?
If you've been following this season, you probably have all the answers to these questions and are as fed up with going through all of the options as we are listing them every weekend.
But that won't stop us from going through all of them just in case you chose this particular race to jump on this season's streaming bandwagon.
Much like the winners of this F1 season, the streaming options are all the same and pretty much require you to have either cable or a very particular streaming subscription.
In the US, your only Mexican GP-watching option is ESPN. The funny thing about it is that Formula 1 isn't part of ESPN+, so you have to have cable. Otherwise, good luck paying for your fuboTV subscription!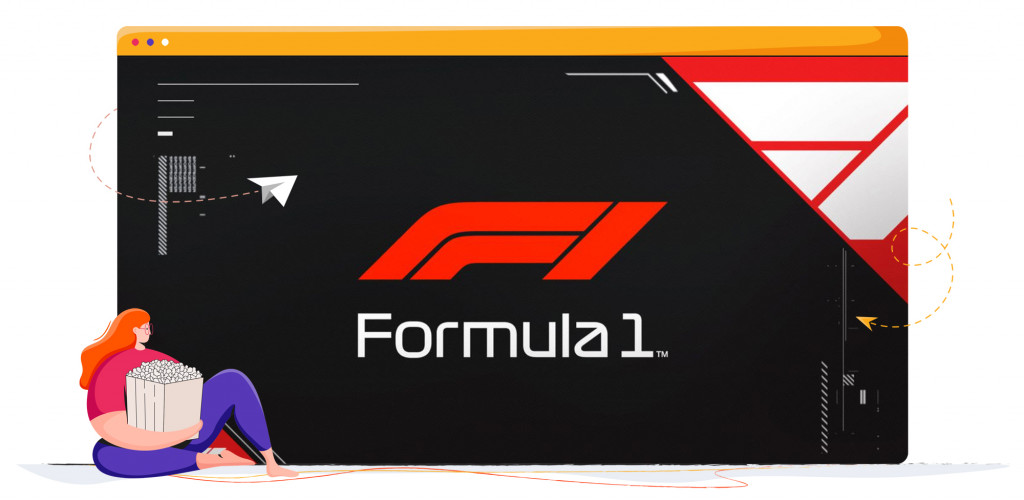 But it's not like the rest of the world has better options.
Take the UK, for one. Their only streaming options are either Sky, or you have to settle for the highlights on ITV. But hey, at least they are free!
Australia has its choice of Fox or Kayo. And Canada has a bunch of choices including TSN, RDS, and Noovo, although it just makes choosing the right streaming platform harder.
And the rest of the rest of the world?! Well, you might as well make it a coin flip, because it can be Now, Sky, Viaplay, BeIN, DAZN, or any number of local providers.
It seems, the more sports streaming options there are, the tougher it is to stream a sport. But what if it doesn't have to be?

Looking for the best sports streaming platform?
We might be able to help!
Any Formula 1 race for free!
Watching the Formula 1 season every year doesn't have to be tough or expensive. There are certainly places in the world that believe in that because they make their F1 broadcasts both free and live for anyone to see! Well, anyone local that is.
However, that doesn't necessarily mean that you have to miss out on the action. Online broadcasts determine where you are based on your IP address. And that's how they decide whether you deserve the right of passage, or should be kept out.
So, technically, if I change my IP address I can get access to the broadcasts that would otherwise be geoblocked? – That's a great observation, dear reader! It's a bit more complicated than that, but, in broad strokes, this is exactly how it works!
We'll even do you one better! There's even technology whose purpose is switching your actual IP address with that of your choosing. And it's called a VPN!
Sports streams are very well protected, however, so just about any old VPN won't cut it. You need one that can get the job done. And when it comes to streaming Formula 1 there is but one that can cut it – that's ExpressVPN!
And just so you don't have to guess, here's everything that makes ExpressVPN the best:
Thanks to its vast and diverse server network, it can get you an IP address from wherever you want!
It's the single best VPN for streaming sports and unblocking streaming services.
ExpressVPN is probably the only VPN that works with every single streaming option for the 2022 Mexican GP.
It has a 30-day money-back guarantee, so you can always get a refund if you're not happy.
Want ot know more?
Check out our full ExpressVPN review!
The three ways you can stream the 2022 Mexican GP live and for free
Much like every other time, we have gone through every possible F1 streaming option to bring you the best.
There's no time to waste!
ServusTV
Austria seems to be every Formula 1 and MotoGP fan's heaven. It might have something to do with Red Bull owning entire broadcasters there…
Regardless, Austrian channels ServusTV and ORF have been broadcasting the entire 2022 F1 season for free, alternating with one another. And this time it's the former's time to stream the Mexican GP 2022!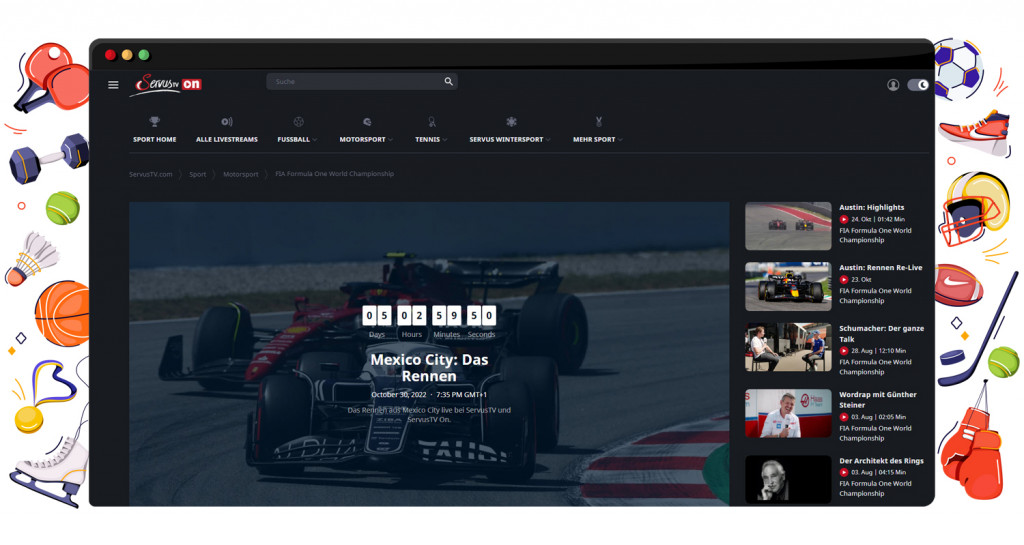 Getting your hands on some ServusTV streaming might not seem easy, but it's a piece of cake for any ExpressVPN user!
So, here's what you do:
Get ExpressVPN! Download and install the app on your preferred device.
Connect to a server in Austria.
Head over to ServusTV and stream the race!
No registration or anything required – now isn't that something!
RTL Zwee / RTL Play
Next pit stop – Luxemburg, where the local channel RTL Zwee will also be streaming the Mexican Grand Prix for free as it has the entire 2022 season. And locals can watch all of the action on the local streaming platform RTL Play.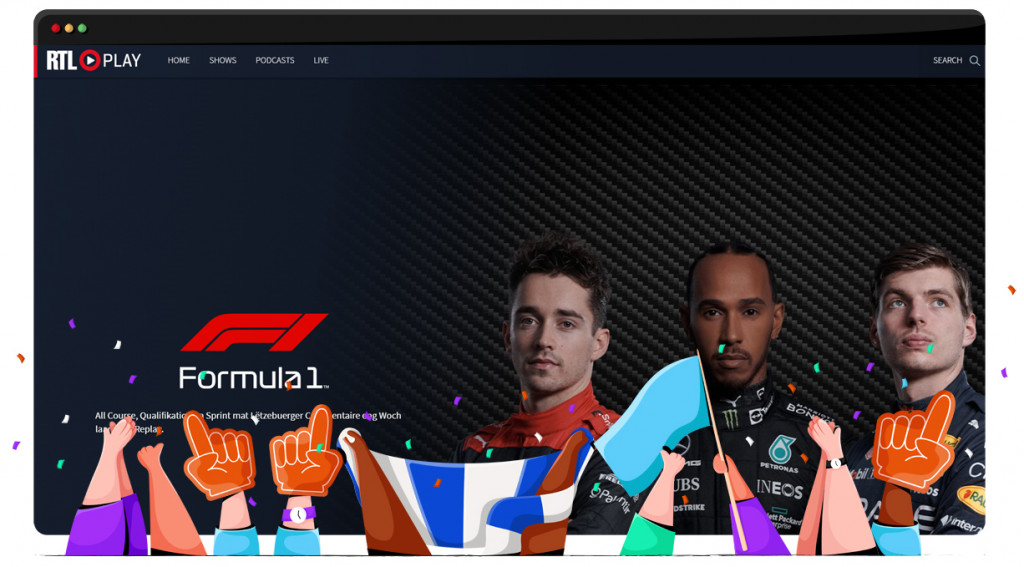 Want to join in? Good choice! But good luck finding a VPN that managed to land a server in this tiny (but awesome) country. Oh wait! It's ExpressVPN!
First of all, get ExpressVPN and install it on the device of your choice.
Connect to a server in Luxemburg.
Finally, head over to the RTL Play streaming platform and enjoy the Mexican GP live stream.
RTBF
Finally, we might want to stop in Belgium for fries, waffles, and yet another 2022 Mexican GP streaming option which is RTBF.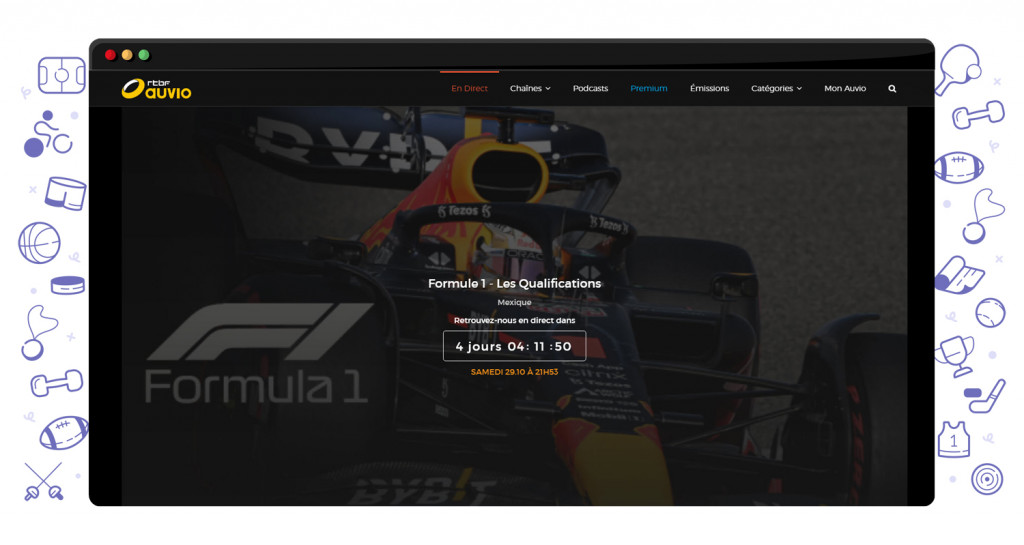 This one might be a tad tougher to crack than the rest, but it's still no match for the might that is ExpressVPN! So here's all that you have to do:
For the last time, get ExpressVPN!
Launch the app and connect to a server in Belgium.
Head over to the RTBF Auvio streaming platform and apply for a free account. The only obstacle you are going to have to surmount here is providing the platform with a local Zip code. So here are a few so you don't have to come up with one yourself: 6900, 1325, 3790, 9660, 1457, 3990.
Gear up and stream the race!
Is Verstappen going to go for more records?
At this point, we're just curious whether Verstappen will break any more Formula 1 records…
Just kidding, though, Formula 1 is as exciting as it was at the beginning of the season! Anyone who thought otherwise was proven wrong by the GP in Austin. So don't make the same mistake and tune into the 2022 Mexican GP.
Hey, at least you now know how to stream it for free!