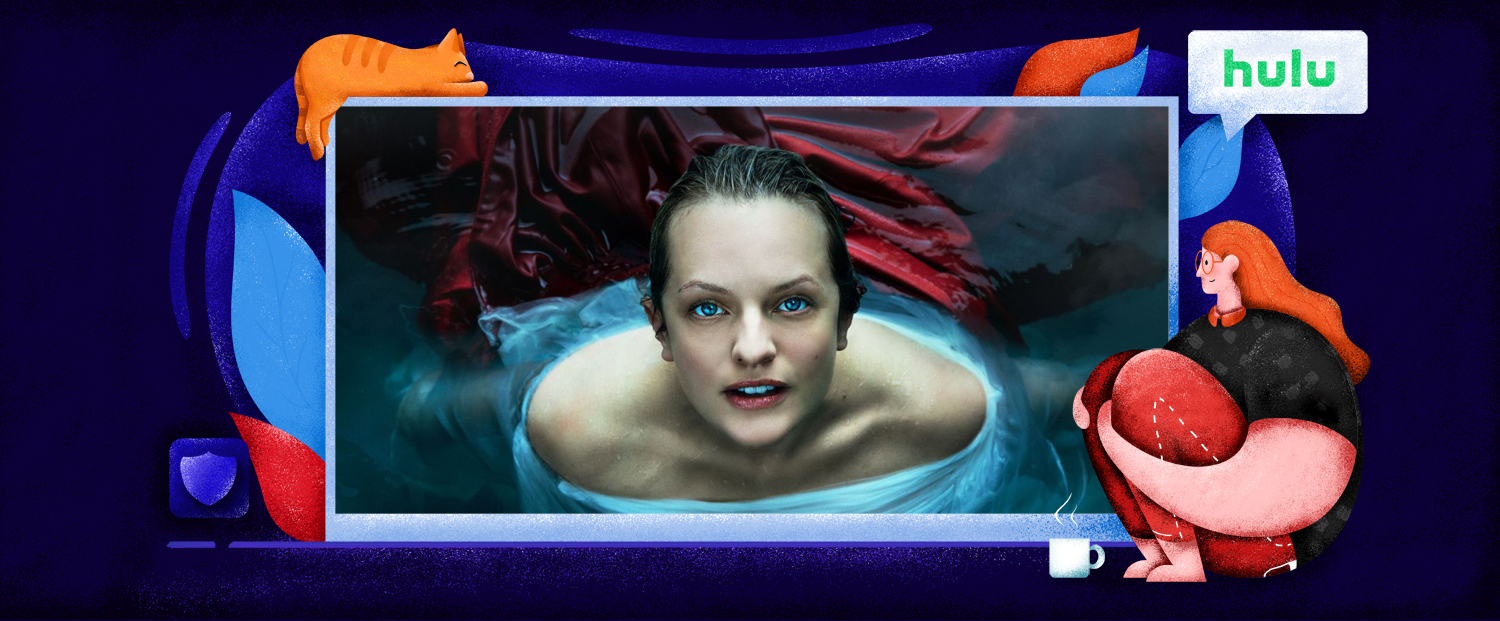 How to stream season 5 of The Handmaid's Tale from anywhere
After over a year of waiting and longing, The Handmaid's Tale season 5 is finally here to continue the epic story of June Osborn taking on an entire oppressive world. And it couldn't have come any sooner, because we were starved for the continuation of one of the best sagas today's TV has to offer!
Say what you will about the last season, it did go off the rails on its own terms. And that season 4 bonkers ending… The ending more than made up for a season that many thought was lacking without the direction of Margaret Atwood's novel. So, naturally, we can't help but get hyped about what season 5 (which will actually be second to last) will bring us.
The trailer makes it clear that June's and Serena's confrontation will be at the core of the season. And June will seemingly be continuing through her violent post-traumatic transformation. It almost feels like the trailer is trying to pitch her as the villain.
This makes for one heck of an interesting premise! And we can't wait to see whether June will be consumed by her own brand of righteous darkness to take on Gilead, or something else entirely is going to happen.
Look, we can speculate here all day long, but fortunately, we don't have to! The Handmaid's Tale season 5 is coming to the small screen on the 12th of September. So the question on any fan's mind is: Where can you stream it? And this is something we can actually help with!

Stream The Handmaid's Tale wherever you are with ExpressVPN!
Where can you stream The Handmaid's Tale season 5?
The answer to this question just might be a bit more complicated than it should be. It also solely depends on where you're asking it from. But, let's take it one step at a time.
First of all, The Handmaid's Tale is a Hulu exclusive. And it's not even just that! The show is basically the face of the streaming platform, much like Dexter is for Showtime, House of the Dragon is for HBO Max, and The Office is for Peacock.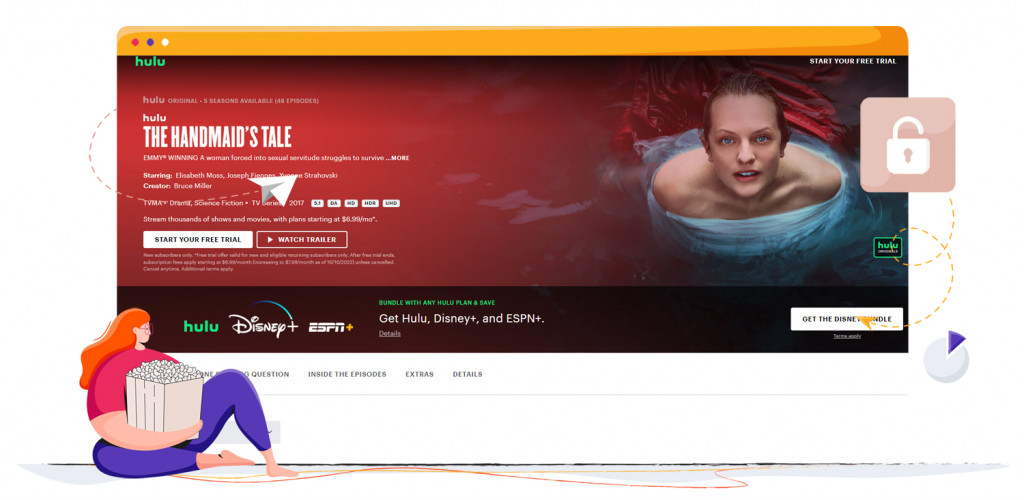 That sounds great and all, but Hulu is only available in two countries: The US and Japan! What about the rest of the world?
This is where things get complicated. It doesn't seem like Hulu got the memo that there are Margaret Antwood fans all over the world, so the streaming rights to one of TV's most popular shows are about as all over the place as it can get.
For example, in Canada, the show is streaming on Crave. In the UK it's Amazon Prime that has the rights to the show, and in Australia, it's Stan. But the new episodes don't drop on any of these platforms until after they've aired on Hulu.
That's not even as crazy as it gets, though! It seems that every streaming platform in existence has its shot and The Handmaid's Tale series. Depending on where you are, The Handmaid's Tale season 5 can drop on HBO Max, Viaplay, even Paramount Plus, or any of the local streaming platforms. And in other places still, there's actually no way to stream the show at all which is a travesty.
So, obviously, this isn't doing anyone any favors. As any true fan of the series, you want to get your hand on season 5 as soon as it drops. But how?
What do you need to watch season 5 of the Handmaid's Tale as soon as it airs?
Obviously, Hulu is pretty much the only place to catch The Handmaid's Tale season 5 as soon as it airs.
However, since Hulu is only available in the US, you are going to inevitably be dealing with some of the toughest geoblocks in the streaming business meant to protect one of the most influential originals.

Never heard of geoblocking?
Here's everything you need to know on how they effect you every day!
So the question is: How do you get Hulu somewhere where it's not available?
Well, first of all, this isn't as impossible as it may seem. If June managed to take on an entire society, you can definitely take on the arbitrary restrictions of one streaming platform. And to do that, you are going to have to solve two problems:
First and foremost, you are going to have to bypass Hulu's geo-restrictions and get access to the platform.
Second, you are going to have to subscribe to the platform, and for that, you need an American payment method, as Hulu only excepts those.
Want to know more?
Check out our full guide to unblocking Hulu from anywhere!
Sounds complicated? No worries! We've got a foolproof guide to help you out!
How to get Hulu from outside the US?
We should start by saying, that getting your hands on Hulu is quite easy. All you need are the rights tools. And as soon as you have those, it's going to be smooth sailing!
Here's a step-by-step guide to getting Hulu wherever you may be:
1. First of all, you need to convince Hulu that you are in the US. And the only thing that can do that is a VPN.
But not just any VPN. When restrictions get as tough as Hulu's you need a VPN that can match them in unblocking power. And currently, only ExpressVPN can do that!
Fast, powerful, and easily the best VPN for unblocking both Hulu and any of the other streaming platforms, this is the VPN to go for!
2. Now that you have the best VPN the world has to offer by your side, all you do is connect to a server in the US, head over to the Hulu streaming platform, and start applying for a shiny new account.
3. This is where the next obstacle comes in – the payment method.
So geoblocking wasn't enough for Hulu, and as an additional method of blocking out users, the streaming platform only accepts US-issued payment methods. And if you're not from the US, this could be a bit of an issue.
But it doesn't have to be with services such as US Unlocked or Wise. They let you get a virtual US bank account from wherever you may be and reap the benefits of shopping and streaming as a real American!
All you do, is apply for your preferred service, load it with the appropriate amount, and you're all set.
4. Finalize creating your Hulu account and start streaming!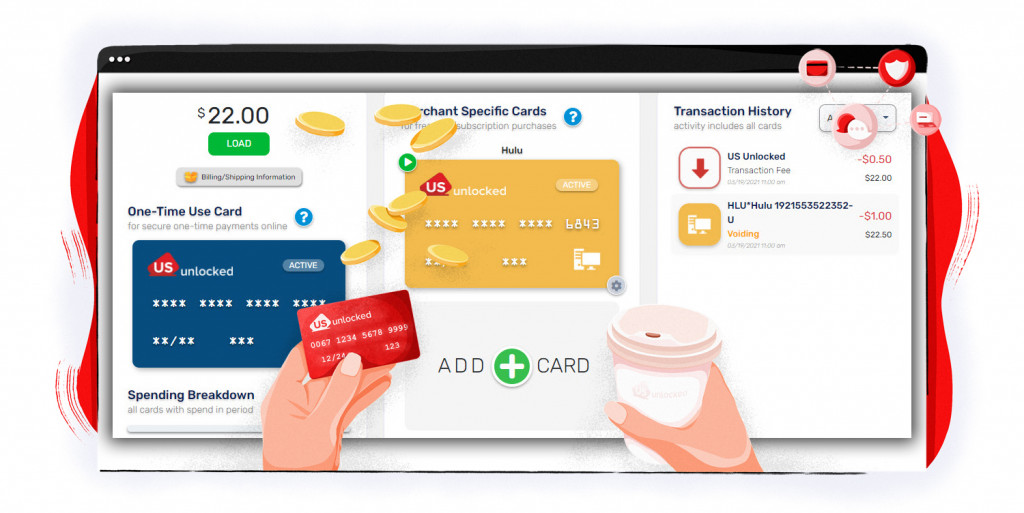 Blessed be the fruit
Now that the Handmaid's series has run out of novel to follow, there is no telling where the creators will take this amazingly engaging and grim story next.
Few can claim to have had as much of an impact on both the small-screen industry and even our society as a whole as The Handmaid's Tail. People all over the world use the iconic red dresses as a means to make a political point! How many stories can claim to have had this much of an influence? And that's enough to get us itching for The Handmaid's Tale season 5!
Fortunately, the wait is over. And with ExpressVPN and our awesome virtual payment solutions to guide your way through the restrictive dystopia that is the Internet, you won't have to wait any longer.
So gear up to take on the second to last season of the Handmaid's Tale. If it's going to be anything like the previous ones, it's going to be an emotional rollercoaster!