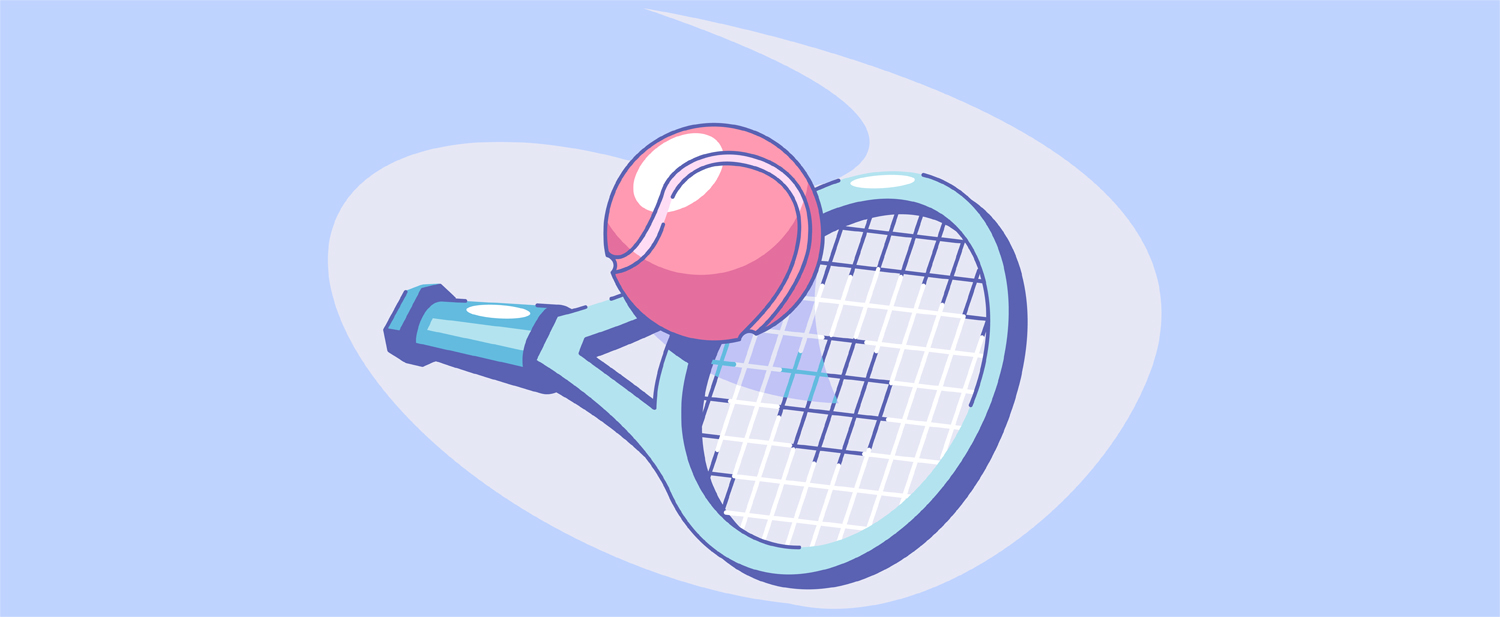 How to watch the US Open 2022 live and free?
It hasn't been that long since Wimbledon 2022 had us glued to our screens, but it's becoming increasingly difficult to suffer through the heat without our daily dose of tennis. Fortunately, we need not wait much longer, since the 2022 US Open Tennis Tournament is finally upon us!
Yes! Starting Monday the 29th of August and running until the 11th of September, we'll be back at the court in Flushing Meadows, New York, with the biggest names in modern tennis history (that is if Djokovic finally yields and takes the shot). This Grand Slam, however, just might be that much more exciting than Wimbledon. So you know you can't miss it!
That is… if you can.
Not everyone might be able to enjoy the US Open 2022 on the same level. But this is exactly what we're here to fix! So grab your rackets, it's going to be intense!

US Open 2022 preview
Before we get into streaming the final Grand Slam tournament of the year, we might want to jump into what makes it extra spicy.
First of all, unlike Wimbledon which he was forced to sit out due to circumstances out of his control, reigning US Open champion Daniil Medvedev was allowed to participate in the tournament. Medvedev's win last year was definitely the highlight of the event, and he's got plenty of motivation to give it his all this time around.
While, as fans, we're all for revisiting the Medvedev vs. Djokovic racket rivalry on the court, it's not yet clear if Novak will even be allowed to attend. While he is the current favorite in the rankings, his chances of entering the US remain unclear due to his unvaccinated status. But if we had to guess, we'd say he is probably going to be allowed to attend last minute.
What about the Women's US Open Championship?
While not as tense with drama, the Women's US Open is shaping up to be just as exciting. Probably even more so. Women's tennis, in general is looking pretty great for years to come.
Iga Świątek is currently the absolute favorite in the rankings after capturing the French Open this year.
Naomi Osaka, however,  is hot on her heels. And she's a formidable opponent on the hard court, one that should never be underestimated.
Regardless of the rankings, the women's singles have always been prone to unexpected twists of events. Emma Raducanu beat Leylah Fernandez in the US Open last year, and this year wasn't anything short of surprises with Elena Rybakina winning Wimbledon, and A. Barty taking the 2022 Australian Open.
So all in all, this is a Championship a true tennis fan can't afford to miss!
Who is broadcasting the 2022 US Open?
For whatever reason, watching and streaming the Grand Slam Tournaments is always a hassle, despite so many fans of the sport clamoring for it.
In the US the rights to the US Open are forever with ESPN. So you can either watch the championship on the ESPN channel, or follow it and a ton of additional content through ESPN 2, ESPN 3, and the ESPN+ online streaming platform. None of them, however, are streaming the tournament in its entirety, so if you're a die-hard fan, best prepare for two weeks of switching channels.

Outside of the US? Can't access ESPN?
Check out how you can fix that!
In Canada, the best way to follow the matches is TSN. However, it doesn't seem that it will be showing all of the matches.
The UK, which has been showing and streaming Wimbledon completely free on BBC iPlayer, can only get their hands on US Open through the Sky Sports platform. However, there just might be another option we'll touch upon later.
In Australia, Fox has the rights to broadcasting the US Open. This means that you can catch most of the tournament on Kayo Sport.
And most European countries can only watch the final Grand Slam of the year on Eurosport.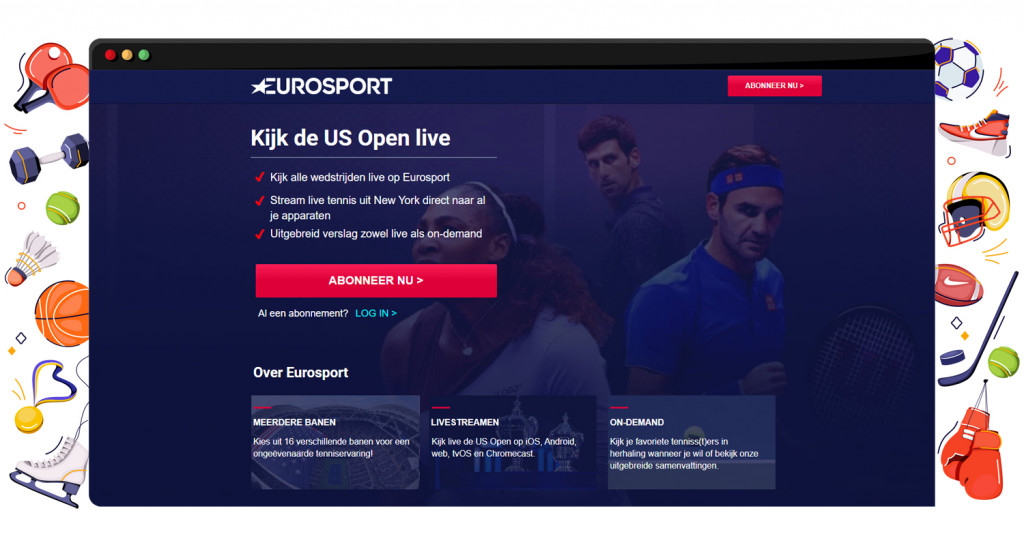 The options seem plentiful, but they hardly give you the full picture and require either a cable or a paid streaming subscription. Even then, it seems you have to be truly lucky to be able to stream the championship.
So us being us, we thought: Might there be a better way to watch the US Open in 2022? Spoiler alert: Sure there is!
The one thing you need to stream the 2022 US Open for free
While they are fewer every year, there are still places around the world that believe sports should be enjoyed by everyone. So they make their broadcasts free. And if you know where to look, this might even include the US Open.
There's just one hurdle you need to overcome on your road to free tennis streaming: The dreaded geoblocks.

What are geoblocks?
Find out how they affect you every single day!
And the only way you can backhand a geo-block these days is through the use of a powerful VPN.
This doesn't mean, however, that any VPN will do. No, no, no. You might as well forget about all the proxies, free, and weird VPNs that infest the app stores. They are too busy selling your personal information to China and are definitely unable to unblock anything. Sports streams are tough, and to beat them you need a VPN that's just as tough. And your best option here is ExpressVPN!
Why do we recommend this particular provider? Well, here's why:
First of all, this is the only VPN that dedicates as much effort to streaming unblocking as it does to keep you safe and sound online.
ExpressVPN is the hands-down best VPN when it comes to unblocking sports streams, so you can be confident it will work for you.
Thanks to it having one of the most diverse servers networks out of any VPN provider, ExpressVPN can unblock any platform wherever your stream might be hiding.
Finally, this is the fastest VPN in the world. And you'll definitely notice the difference when streaming from halfway across the globe.
Still not convinced?
Check out our full ExpressVPN review!
Now that that's done, on to streaming!
Who is streaming the 2022 US Open live and free?
Finding a free sports stream that doesn't involve torrenting or one of those Putlocker websites is getting tougher by the year. However, with us by your side, you needn't have to do any searching yourself.
We gave it all we had and went through the internet page by page to bring you the best US Open streaming solutions in 2022. Some of them might seem tougher than others, but with the right tools and our guide, none of them will present a challenge. Most importantly, we've tested all of them to make sure: They work!
So, without further ado, let's jump into what you came here to find out!
ServusTV
If you're a sports fan, you've probably heard of the Austrian ServusTV streaming service by now. And how could you not?! It's been streaming MotoGP and Formula 1 for free all year round!
But – guess what? – the fun doesn't stop there! The platform is also streaming the 2022 US Open live and free in its amazing entirety!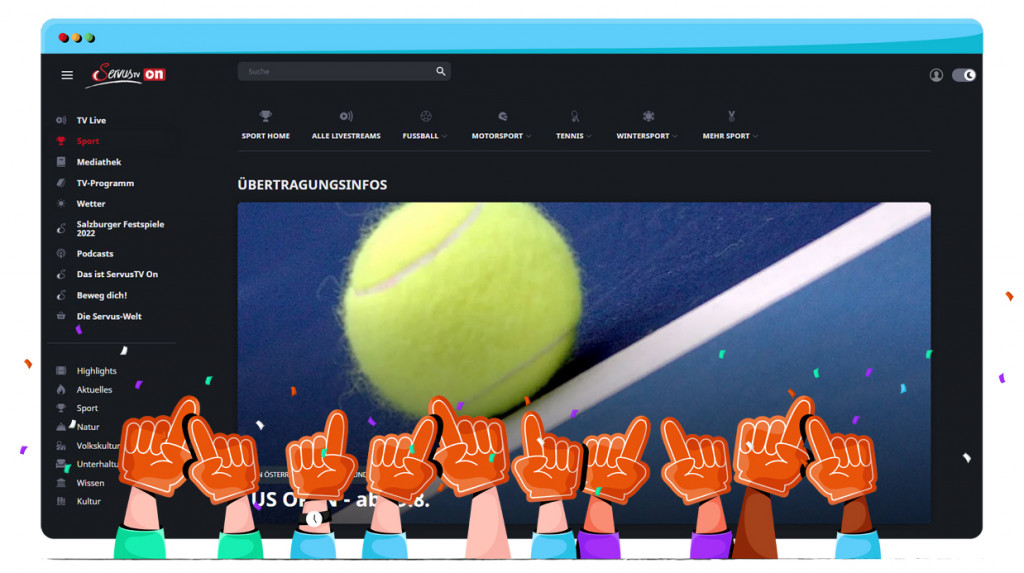 As you may have come to expect, the free stream is only available in Austria. However, if you're already packing ExpressVPN, this won't be any kind of issue.
So here's what you do to get your hands on some free US Open streaming:
Get ExpressVPN if you haven't already.
Connect to a server in Austria.
Head on over to the ServusTV streaming platforms and, well, start streaming!
Amazon Prime UK
You might not think that Amazon Prime has anything to do with sports, but that might be just your Amazon Prime.
In fact, in some countries, Prime Video is trying to get a firm hold on the sports streaming market, and the UK is one of them. And – check this – it comes complete with the 2022 US Open streaming rights!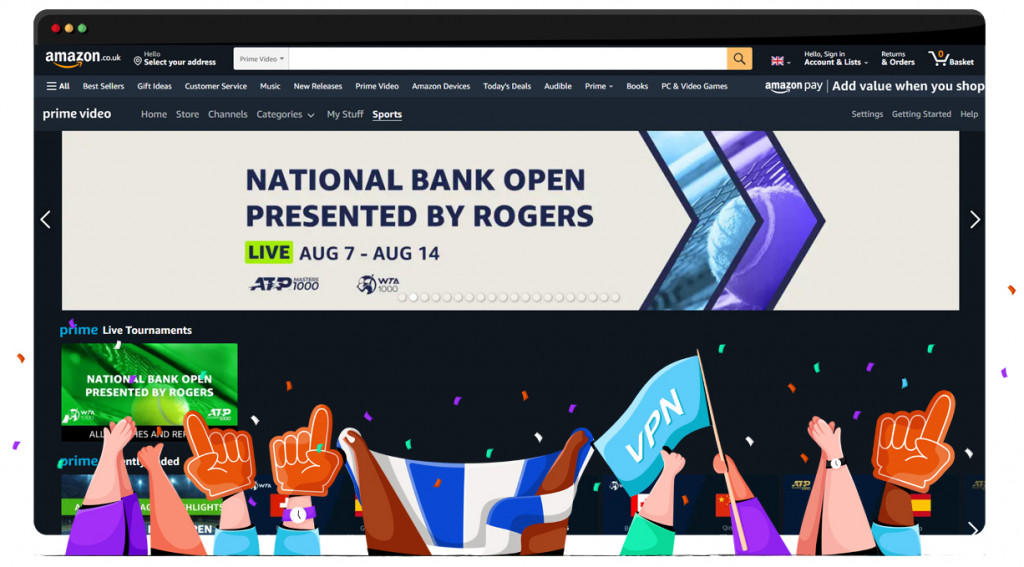 We get it, though, this hardly seems like a 'free' version, when Prime is a paid streaming platform. But hear us out.
Amazon Prime Video comes with a free 30-day free trial, and this gives you plenty of opportunities to stream the US Open in its entirety without having to spend a dime!
Still seems risky? Not to worry, we'll walk you through it:
Get ExpressVPN as it's one of the few VPN providers that can unblock Amazon Prime UK.
Next, connect to one of the provider's UK servers.
Head over to the Amazon Prime platform and apply for a new account. Prime isn't Netflix, so you can't simply hop libraries by changing servers. So make sure you are logged out of your own Prime account before embarking on this mission. Better yet, switch to Incognito mode.
You might need to provide details of a local bank account, but you can get one with Wise in a matter of minutes.
You're almost there! When the time comes: Enjoy the stream!
Oh, and don't forget to cancel your free trial month! Or don't. We mean, have you seen The Boys yet?! 
ESPN+
As mentioned, ESPN will be handling all of the US Open streams Stateside. So if you want to catch the stream from someone closest to the action, or are a fan of the signature ESPN commentary, this is the place to be!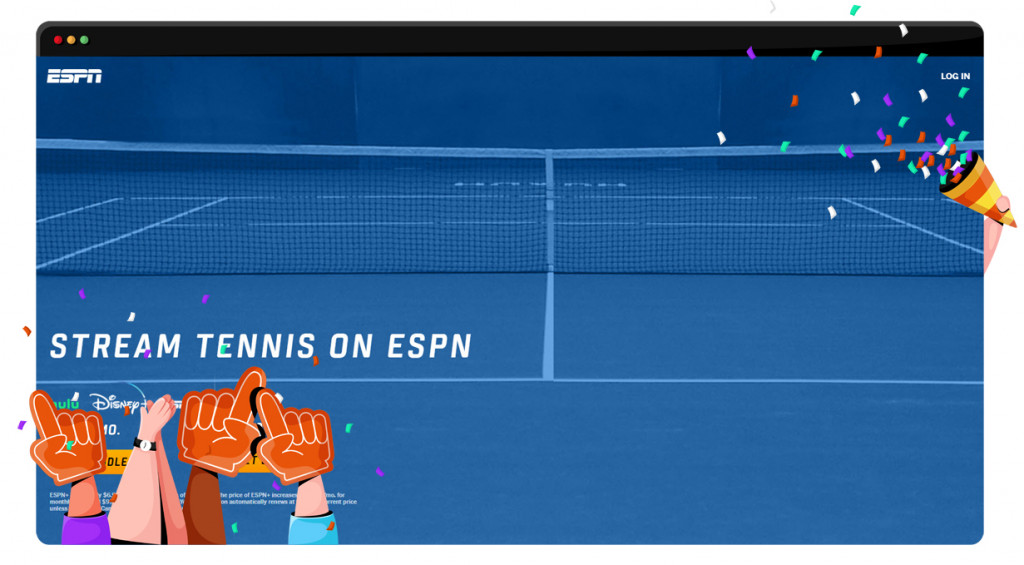 This is where things get a bit complicated.
ESPN+ – ESPN's own streaming option – will only be broadcasting select matches, with the rest being covered by ESPN, ESPN 2, and ESPN 3. This, however, shouldn't stop us from having fun, should it?
If select matches are enough for you, you should go for ESPN+, and here's how you do it:
Get ExpressVPN and connect to one of its amazing US servers.
Head over to ESPN+ and apply for an account.
If you need to provide US bank details, you can get them with US Unlocked or Wise – easy as that!
Enjoy!
ESPN channels
Is part of the tournament not cutting it for you? We get it! Let's get creative with streaming services then.
Every ESPN channel might not have its very own streaming platform, but you can get them through cable-cutting services, such as YouTubeTV, Hulu + Live TV, SlingTV, and fuboTV. And the best part is – most of them have trial periods!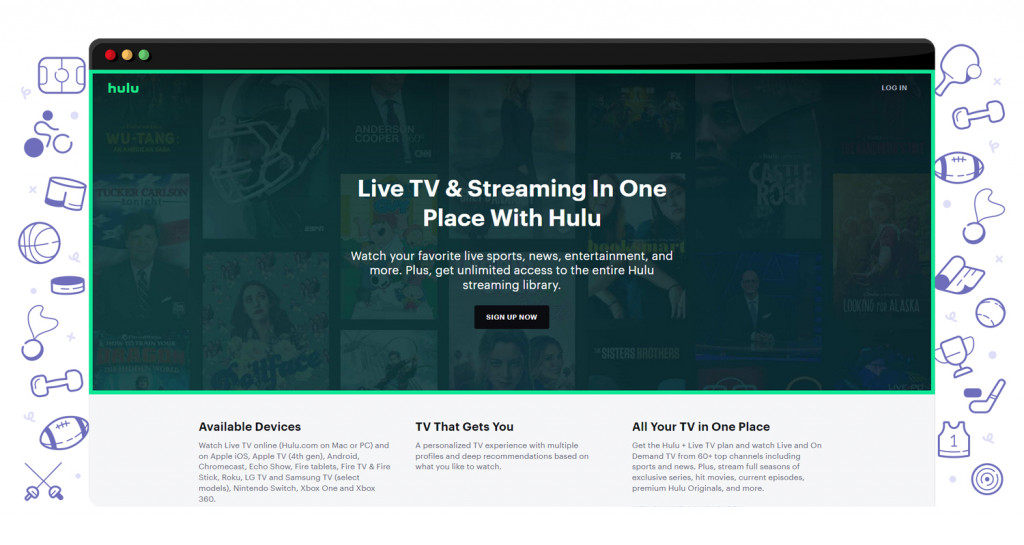 So here's how you take advantage of the system:
Get ExpressVPN and connect to a US server.
Head on over to the cable streaming service of your choosing.
Take out a free trial. If needed, you can get local American bank credentials with US Unlocked or Wise.
Enjoy the match! Just don't forget to cancel!
Match point!
There are certain things that you just can't miss in life. Getting your driver's license, your graduation, your kid's first steps, the 2022 US Open…
If you're a fan of the sport, you can't afford to miss this year's final Grand Slam. It's bound to be full of surprising events, noble matches, and amazing rising talent. The tournament hasn't even started yet, and we're already checking the US Open news every day to see if Djokovic is attending or not. They are truly keeping the suspense up! So can you imagine what's going to happen come August 29th?
You might not be able to afford to miss the US Open, but what you can afford is ExpressVPN! So get the world's leading VPN provider and enjoy the championship for free!